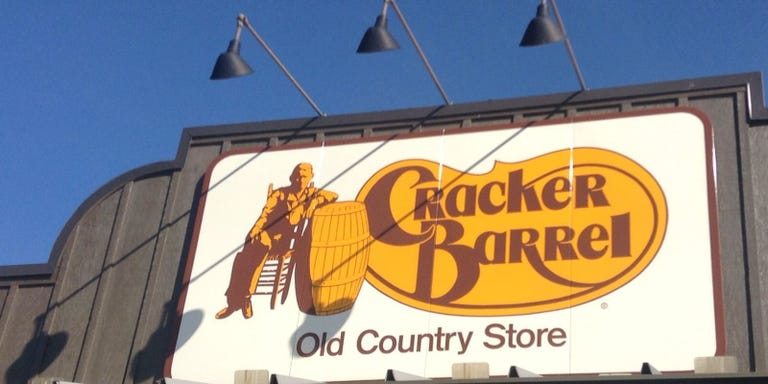 Cracker Barrel is known for its homestyle, country cooking—which is not exactly known for being healthy. There are a handful of gems on the menu that won't break your diet, but you're more likely to run into dishes that are calorie-packed and sodium-heavy. Avoid these ones.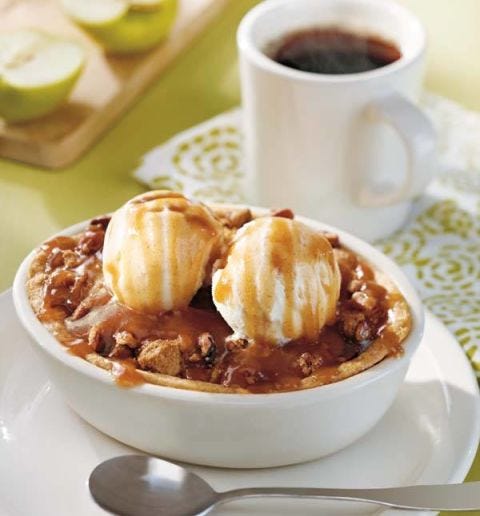 Courtesy of Cracker Barrel
Baked Apple Dumplin'
Every dessert at Cracker Barrel packs more than the maximum amount of sugar you should eat per day, but the apple bake is seriously scary. It comes covered with pecan streusel, vanilla ice cream, and apple sauce, which increases the sugar to 118 milligrams—a whopping five times the average amount a woman should have in a day. The calorie count will make you shudder, too: 1,720.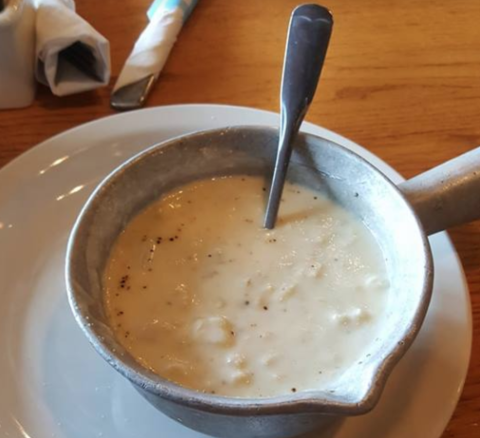 Courtesy of Cracker Barrel
Clam Chowder
Order anything but this seafood soup if you want something to warm you up. A bowl of it has 1,800 grams of sodium, 54 carbs, and 880 calories. It's served with not one but two packs of crackers too, which together have half as many carbs as just the soup.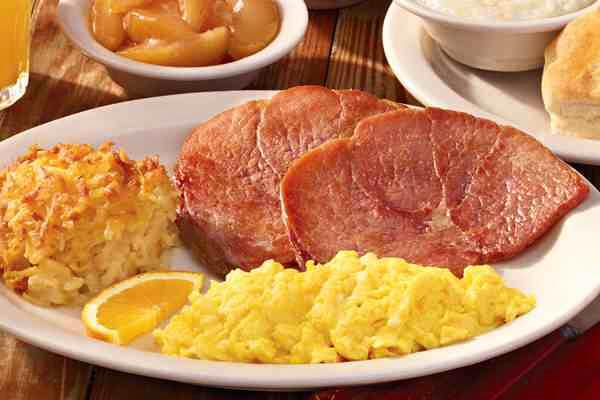 Courtesy of Cracker Barrel
The Cracker Barrel's Country Boy Breakfast
This is one of the heartiest morning meals you can find at the restaurant—and also one of the worst for you. Even the dish description starts with "Just loosen your belt…". The platter comes with three eggs, fried apples, and a hashbrown casserole to start, plus a choice of meat and all the fixings: gravy, buttermilk biscuits, butter, and jam. If you play your cards right (or wrong, actually), you risk eating a total of 1,615 calories, 74 grams of fat, and 140 grams of carbs.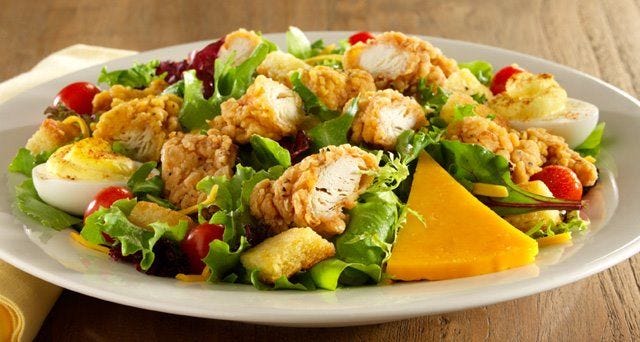 Courtesy of Cracker Barrel
Fried Chicken Salad
The base of this dish is a healthy bed of lettuce, but it's topped with fried chicken. That brings the calorie count to 790 and the number of carbs to 62 grams. (The grilled chicken option is a slightly better choice in both departments.) Pair it with the worst offender on the dressing list—honey French—and you'll add another 25 grams of sugar, 580 milligrams of sodium, 27 grams of fat, and 350 calories to the whole thing.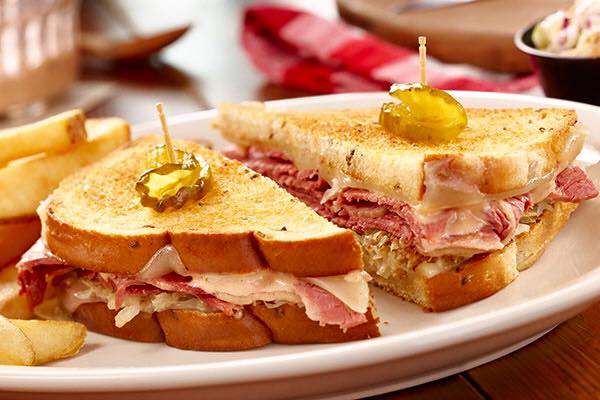 Courtesy of Cracker Barrel
Grilled Reuben
At 900 calories and 67 grams of fat, the sandwich alone would be bad for you. But when you consider the fact that it comes with a side of your choosing (which could add up to another 470 calories) and a sampling of coleslaw, it's best to avoid this dish altogether.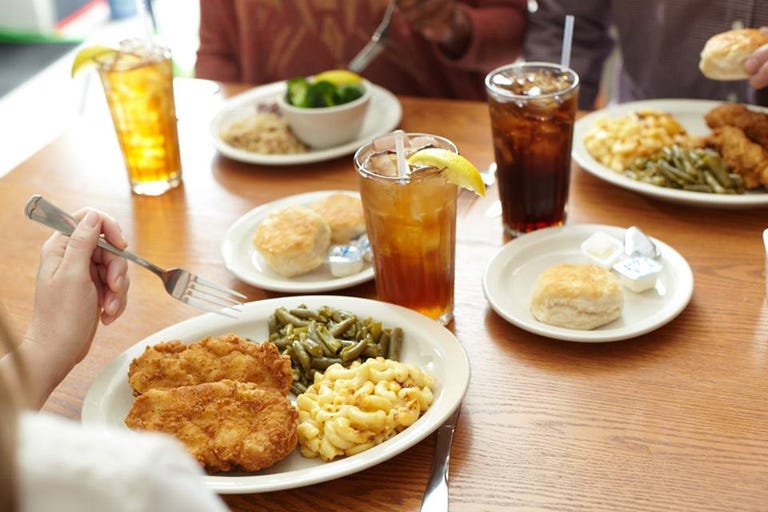 Courtesy of Cracker Barrel
Sunday Homestyle Chicken
The restaurant runs a dinner special every night of the week, and Sunday's is the worst in every way. Chefs fry two chicken breasts in a buttermilk batter, and alone those pack 1,350 calories and 3,200 milligrams of sodium (900 more than doctors recommend you top out at each day). The platter is served with two sides and a biscuit or muffin, which could add up to another 1,000 calories, depending on what you choose.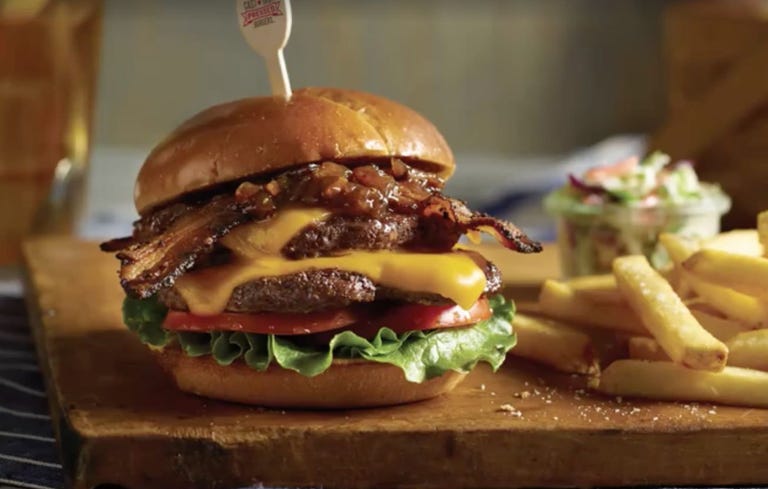 Courtesy of Cracker Barrel
Maple Jam n' Bacon Double Cheeseburger
If Cracker Barrel's regular entries are as unhealthy as we've proven, you can imagine anything with the word "double" in it will be bad. The two patties topped with maple bacon will cost you 930 calories and 49 grams of carbs. Obviously, the fries, coleslaw, and corn muffins it comes with only makes things worse.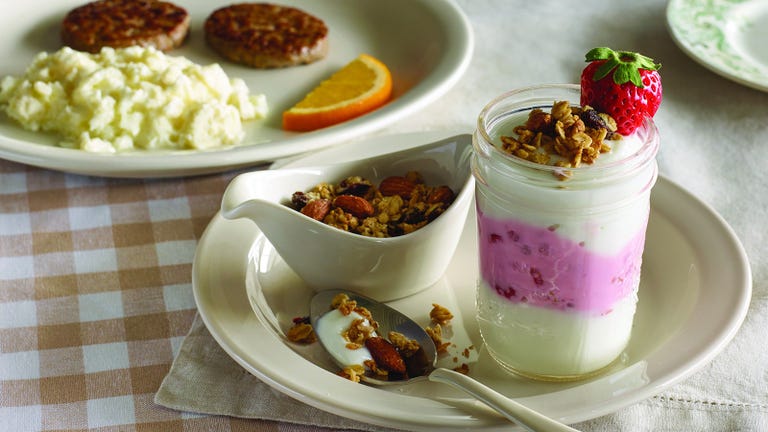 Courtesy of Cracker Barrel
Fresh Fruit 'n' Yogurt Parfait Breakfast
This morning meal is listed under Cracker Barrel's Wholesome Fixin's menu section, but nothing about it is all that wholesome. The low-fat vanilla yogurt is topped with so much fruit and granola, that it clocks in at 41 grams of sugar. You're better off skipping the parfait and ordering the sides it comes with—a turkey sausage patty and two egg whites.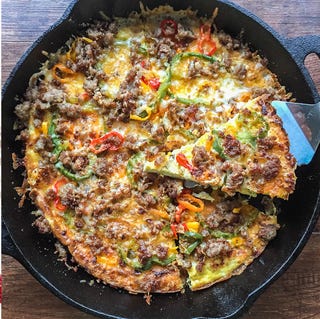 From: Delish
Source: Read Full Article