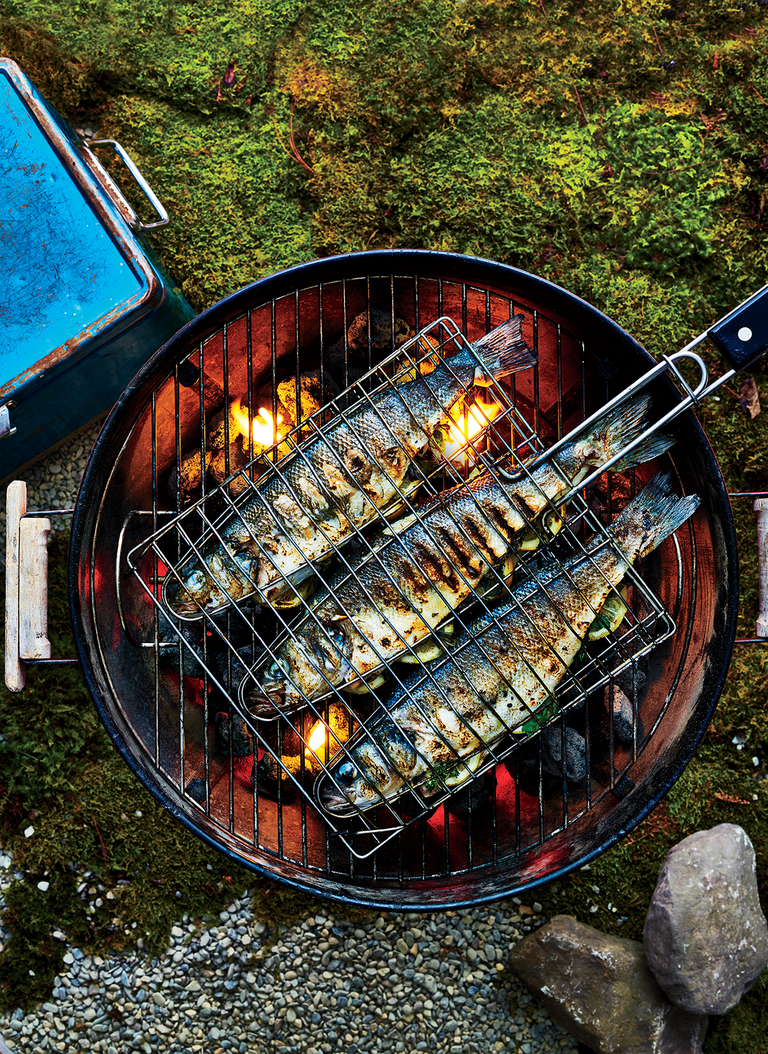 Tired of the same old backyard burgers and brats? Try grilling a whole fish at your upcoming summer barbecues. It's impressive, delicious, and way easier to cook than you think, especially with help from Alex Raij, chef of LaVara in Brooklyn, New York.
Raij is a master of whole ­fish cooking in the Spanish Basque style. This method works well with red snap­per, branzino, mackerel, trout, sea bass, or what­ever else your fishmonger recommends.
Raij spilled on how you can be a a fish grill master. It only takes six simple steps:
1. Order right
When you buy whole fish, make sure your speci­men has clear eyes and firm flesh——hallmarks of freshness. Then ask the fishmonger to have the fish gutted, scaled, and definned. Unless you love coroner's work, this chore is best left to the professionals.
2. Use a basket
Fish skin tends to stick to grill grates. A basket solves that problem, allowing you to cook over gentler heat and flip the fish, all while keeping the skin intact and steaming the insides tender. Your basket should be stainless steel (or, failing that, all-­metal and uncoated). You definitely don't want a melting plas­tic handle distracting you from your mission.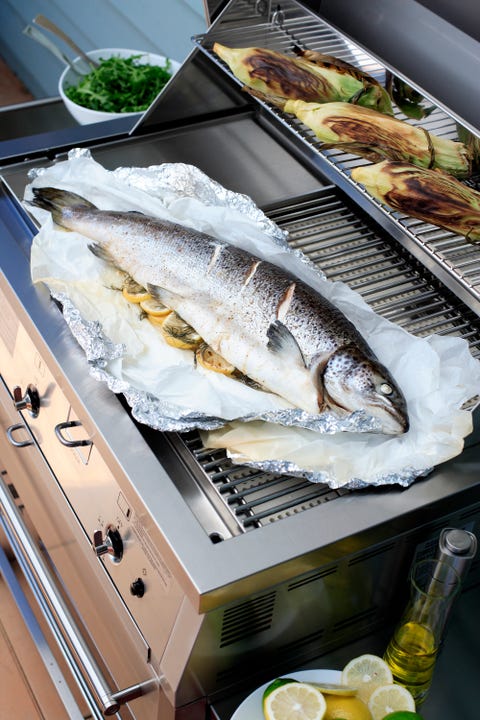 Getty Images
3. Give it one last swim
Raij quick­ brines the whole fish for fresher flavor and juicier meat. In a large bowl or pot, mix 5 cups of cold water and ½ cup kosher salt. Submerge the fish for 5 to 10 minutes, tops. Pat it dry. Then oil and liberally season it with salt inside and out.
4. Flip freely
The beauty of the basket is that your bad habit of constantly wondering how the fish is doing is rewarded: You can flip the basket every three minutes and end up with a fish that's more evenly cooked than if you'd left it undisturbed. Grill it until it's cooked through and browned in spots, about 12 minutes. The flesh should be firm when you poke it.
5. Give it a rest
When the fish is done, remove it from the grill, place it on a warm plate, and just let it sit a bit. Resting whole fish is as good an idea as resting meat. At this point, the gelatins that are re-con­gealing and staying inside your fish are going to provide suppleness and extra moistness.
6. Dress it up
You already know to stuff the fish cavity with lemon and herbs. For a finishing touch, turn to a simple sauce. In a cold pan, add a slick of olive oil and a few cloves of minced garlic. Heat on medium until golden, remove, add a fistful of chopped fresh parsley, and then spread it over the fish. Serve with lemon wedges.
Source: Read Full Article