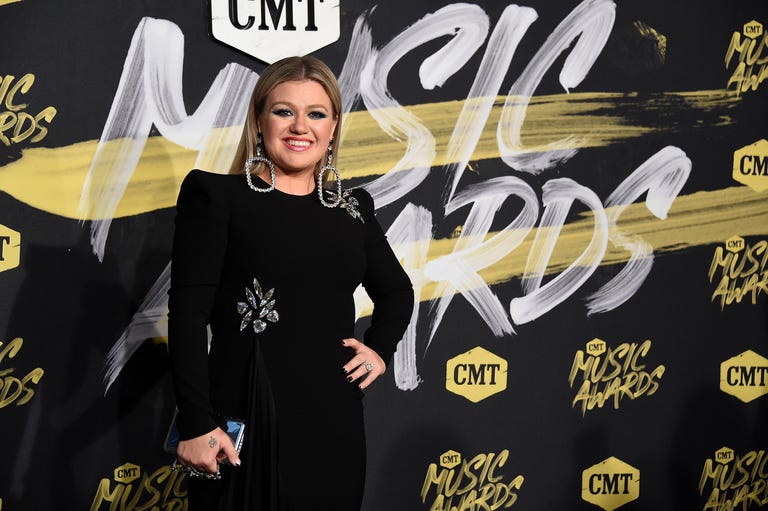 Kelly Clarkson has made it clear that she gives precisely zero effs what other people think of her body—but that doesn't mean she doesn't want to broadcast her weight-loss wins to the world.
In a new Twitter video, Kelly thanked Carrie Underwood for sending her a bunch of workout gear to mark the third anniversary of Carrie's activewear line, Calia.
"Carrie Underwood, this is adorable. I don't know if you came up with this, or if somebody came up with this idea, but your company is turning 3—congratulations. I love all your stuff that you always send me," Kelly said in the video.
Thank you @carrieunderwood This apparel cake idea was adorable! I'm just now receiving it because it's been at Starstruck! Love all your gear girl! #Calia #FannyPackForTheWin pic.twitter.com/aQTU6U6YL2
Then, she added, "I've lost weight since you sent this—so it's all too big for me, which made me feel really thin! Woo!" Still, Kelly says, the gear won't go to waste: "I'm gonna find someone that loves it."
Luckily, according to Carrie, Kelly's got more gear on the way:
So glad you love it!!! We will send you more! ? https://t.co/o12rRuSRUM
On Wednesday, Kelly showed up to the CMT Music Awards looking healthy, happy, and noticeably slimmer.
Walking the carpet with my dates @kalebleemusic and @knockdownmeagan at the #CMTawards
A post shared by Kelly Clarkson (@kellyclarkson) on
She also looked amazing during the season finale of The Voice, which she credited to her "glam squad": "I literally hired Harry Potter and SPANX; it's all like a sausage," she said in a post-show press conference.
The Voice Finale outfit!! ✨Stylist: @cdicelove13 Mua: @gloglomakeup Hair: @robertramoshair Nails: @nailsbytsha Dress: @ashish Belt: @aliceandolivia Shoes: @tomford #TheVoice @nbcthevoice Photo: @weisseubanks ✨
A post shared by Kelly Clarkson (@kellyclarkson) on
Kelly's weight has fluctuated over the years (you know, as most people's weight does). During an interview with Attitude magazine last year, Kelly talked about the pressure to be thin and how terrible it is. "When I was really skinny and unhappy, I wanted to kill myself. I was miserable, like inside and out, for four years of my life," she said. "But no one cared, because aesthetically you make sense."
"It was a very dark time for me," she continued. "I thought the only way out was quitting. I like wrecked my knees and my feet because all I would do is put in headphones and run. I was at the gym all the time."
She also told Redbook in 2017 that people assumed something was wrong with her when she put on weight in the years after American Idol. "I'm like, 'Oh, no! I'm sorry, but that represents happiness in my emotional world"', she said. "If you gauge your life on what other people think, you're going to be in a constant state of panic trying to please everyone."
Kelly hasn't talked publicly about doing a new exercise routine or eating plan, but whatever she's doing seems to be making her happy—and, tbh, that's the only thing that matters.
Source: Read Full Article