When it comes to buying in bulk, many people prefer Costco to any other warehouse-style store. But buyers shouldn't just be on the look out for food prices and deals — they should also beware of when food is recalled. Not sure what those products are?
Here's a look at foods carried at Costco that have been recalled. (The product on page 13 will make you think twice.)
Foster Farms Ready-To-Eat Chicken patties
Customers found plastic in chicken patties bought at Costco's. | iStock.com
Chicken shows up quite a few times on Coscto's list of recalled products. As does Foster Farms products. These breaded chicken patties were recalled in 2017 after consumers in western states complained that they found pieces of plastic in their food.
Next: This popular snack can make you seriously sick …
Jalapeno flavored potato chips
Don't add these chips to your cart. | FritoLay
Frito-Lay has a wide range of potato chip flavors out there. But one popular flavor, jalapeno, began flying off the shelves for the wrong reasons. In 2017, the company voluntarily recalled its jalapeno flavored Lay's Kettle Cooked chips and Miss Vickie's Jalapeno Kettle Cooked Chips due to seasoning being possibly contaminated with salmonella.
Next: Not-so-healthy health food shake  …
Organic Plant Based Protein Superfood 30 Shake
A protein shake that could those who are addicted to peanuts. | iStock.com
The U.S. Food and Drug Administration posted Nutiva's voluntary recall announcement in March 2017. The Organic Superfoods company issued a voluntary recall because their vanilla and chocolate shakes — carried at Costco — possibly contained traces of peanuts.
Next: This health food contained a deadly organism …
Sabra hummus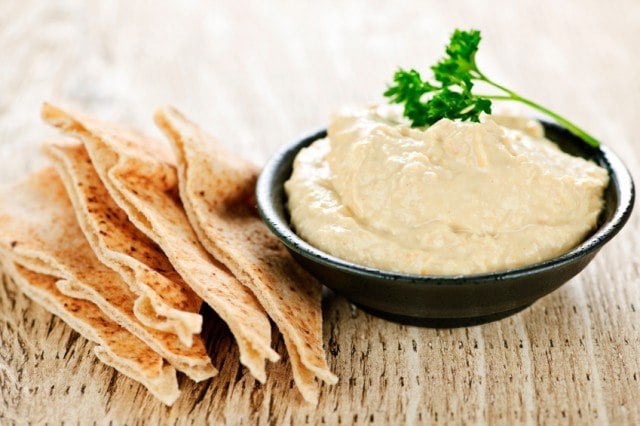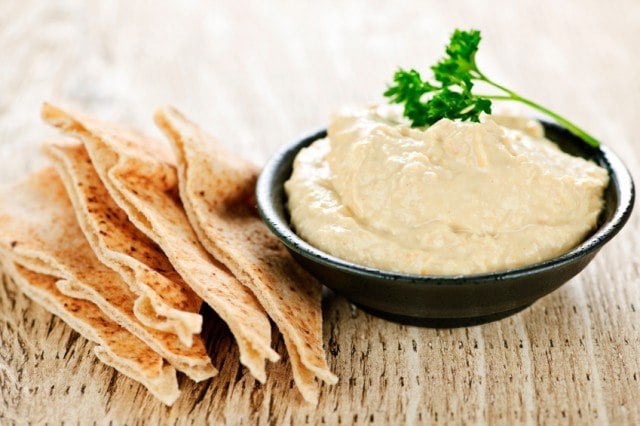 If you've recently purchased hummus at Costco's, you might want to be careful. | iStock.com
Sabra Dipping Company issued a recall of several products in late 2016. The reason? A deadly bacteria called Listeria monocytogenes was found at the manufacturing facility. (Get used to seeing that name, it's on our list a lot.) According the Center for Disease Control and Prevention, listeriosis kills more than 200 people a year and is especially dangerous in newborns and people with weak immune systems.
Next: Hummus wasn't the only food affected by listeria …
Chicken skewers
Costco's had recalled chicken products, including the chicken skewers. | Voltan1/Getty Images
The USDA announced in August 2017 a variety of chicken skewer meals carried at Costco were being recalled. Montreal-based company Expresco Foods Inc. recalled over 20,000 pounds of imported chicken skewers that were potentially contaminated with listeria.
Next: This treat is not so sweet …
Nestle drumsticks
Not the summer treat you want to give your kids. | Nestlee
Ice cream and other dessert goodies are common buys at Costco. But in October 2016, Nestle recalled its 16-count drumstick variety packs and 24-count vanilla drumstick packs after listeria was found at one of their production plants.
Next: More poultry problems …
Tyson chicken nuggets
The Tyson chicken nuggets also had plastic in them. | OlgaMiltsova/iStock/Getty Images
There are few things more synonymous with shopping at Costco than buying a huge pack of chicken nuggets. Sadly, some of those tasty bites were tainted. Tyson recalled its five pound bags of chicken nuggets in 2016 after consumers complained about finding pieces of plastic in the chicken.
Next: A familiar foe attacks everyone's favorite bars …
Nature Valley nut bars
You might want to be careful when it comes to these chewy granola bars. | Nature Valley
Costco's a great place to stock up on trail mix and snack bars, making Nature Valley products a popular buy. But some of the brands most popular bars were recalled in June 2016 when their sunflower kernel supplier SunOpta issued a national recall due to the presence of listeria. 
Next: More kernel troubles …
Clif Bar Energy bars
Costco's recalled these bars due to contamination. | Clif Bar & Company
Nature Valley wasn't the only company wrapped up in SunOpta's nation-wide recall. Popular protein bar company Clif Bar recalled their Nuts & Seeds and Trail Mix bars due to potential listeria contamination, although there were no reports of anyone getting sick.
Next: And the recall continued …
Kashi trail mix snack bars (and other products)
An easy and affordable snack, but not worth the risk. | iStock.com
The SunOpta recall also affected Kashi, who expanded their initial voluntary recall of snack bars to granola and other products. The listeria scare and recall — along with other reported problems with frozen fruit — cost SunOpta millions of dollars.
Next: Burger fans beware …
Dr. Praeger's veggie burgers
Another product you should avoid. | iStock.com
Heck, who doesn't like buying burger patties in bulk from Costco? Probably anyone that bought Dr. Praeger's veggie burgers between  November 26, 2015 and March 28, 2017. The reason for the recall? The patties were potentially contaminated with — drumroll, please — listeria.
Next: And it didn't stop at veggie burgers …
Ajinomoto Windsor dishes
Costco has a contamination issue to deal with. | AmandaLewis/iStock/Getty Images
As you have probably guessed, 2016 was a bad year for Costco foods with potential listeria contamination. Before the big SunOpta recall over the summer, chicken dishes made by Ajinomoto Windsor Inc were recalled over fear of the bacteria. These dishes included Ajinomoto Yakitori Chicken Fried Rice, Petite Cuisine Southwest Chicken Firecrackers, and the Petite Cuisine Chicken Poblano Firecracker. These products were sold at Costco warehouses nationwide, and could have contaminated dating back to May 2014.
Next: Not a food, per-say, but still a threat …
General Mills flour
You definitely don't want contaminated flour in your pantry. | Modesigns58/iStock/Getty Images
If you have to buy baking products in bulk, why not go to Costco? Just beware of what brand you buy. In 2016, General Mills recalled multiple kinds of its flour due to break out of E.coli. (Although to be fair, all cases came from consumers eating raw products such as cookie dough. No cooked products reportedly caused illness.)
Next: More bad news for this edible bird …
Foster Farms chicken nuggets
Plastic was found in different types of chicken products. | Kornnphoto/iStock/Getty Images
Before there were plastic fragments in the chicken patties, Foster Farms had a problem with plastic fragments in their chicken nuggets. In April 2016, Foster Farms alerted Costco customers that a limited recall was placed on five pound bags of nuggets that were produced at their Farmerville, Louisiana location.
Next: Last but not least …
CRF frozen foods
Some frozen vegetable packs have been recalled. | Issaurinko/Getty Images
CRF had to issue a major recall in May 2016 when listeria threatened their frozen fruits and vegetables.The recall included both organic and non-organic produce, spanning "358 consumer products sold under 42 separate brands" including some Bybee and Kirkland produce sold at Costco.
Check out The Cheat Sheet on Facebook!
Source: Read Full Article