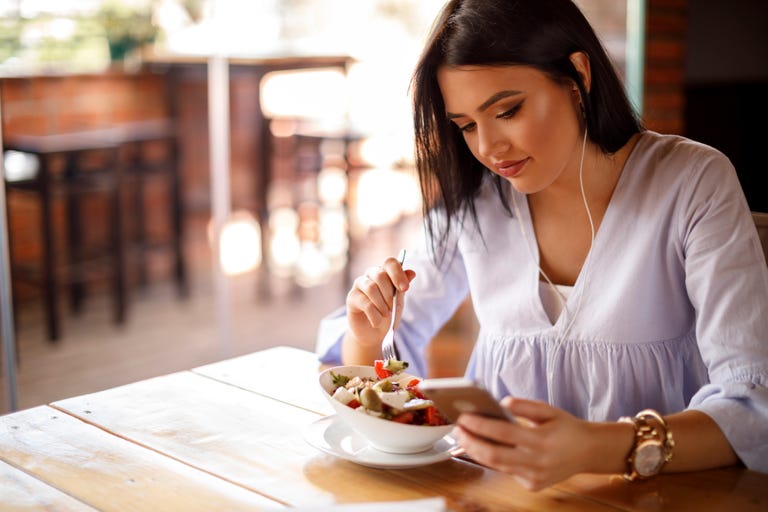 Oh, to be a celebrity—fame, fortune, and the ability to have personal trainers and nutritionists on speed dial when you want to lose a few pounds.
For mere mortals, however, weight loss isn't quite so easy. (Actually, that's generous—losing weight is hard AF.)
That's where Noom comes into play—a fitness and weight-loss app touted as "Weight Watchers for Millennials." But uh, what does that even mean? And what makes Noom any different than any other weight-loss program or app out there?
Noom? That's kind of a weird name. What is it?
So, Noom claims to be the "last weight-loss program you'll ever need," according to its website. It's like having a trainer, nutritionist, and health coach all in one place (i.e., your phone).
After filling out a quick questionnaire (mostly just your current weight, goal weight, and current issues with weight loss), you'll set goals and get a full plan to attack pounds over the course of 16 weeks.
Each day after that initial set-up, you'll get a customized list of steps to check off throughout the day to get you closer to your weight-loss goals. You'll also have to track your food and activity—which is pretty standard for any weight-loss app.
Progress photo!! Left: Me now weighing 159. Right: Me about two months ago weighing 172. ???#noom #weightlossjourney
A post shared by Amy (@amersak) on
Where Noom differs from other apps, however, is its focus on making behavioral changes surrounding dieting and weight loss.
The app will show you, for example, the best foods to eat (it rates them on a scale from green to yellow to red). It'll also prompt you to read tidbits on healthy habits and rate your motivation—and will quiz you after.
Honestly, it sounds kind of like a drag (who has time to read and take quizzes throughout the day?), but it could be the key to successful, sustained weight loss.
"The education elements of the app, such as reducing and understanding calories and carbohydrate intake, increasing physical activity, and gaining nutritional knowledge is imperative," says Sue Decotiis, M.D., a physician at NYU Medical Center and Lenox Hill Hospital.
It also has the ability to provide support and feedback from others doing the program—all 45 million of them. And it's not just message boards or automated blurbs—you can actually talk to others in a group chat in real time.
(It should be noted, too, that Noom provides users with "health and wellness coaches" that are approved by the National Consortium for Credentialing Health & Wellness Coaches—though that doesn't necessarily mean they are trained professionals like registered dietitians or certified trainers.)
"The on-demand rewards from the behavior modification and the social support have been shown to bolster an individual's success," adds Decotiis.
Can Noom really help me lose weight?
According to 2016 study in the journal Scientific Reports, definitely.
Researchers analyzed data from 35,921 Noom app users over the course of about nine months and found that 77.9 percent reported they lost weight. One interesting tidbit: Those who neglected recording their dinner in the app lost less weight than those who recorded their dinner regularly.
So while the app can definitely help you lose weight—you have to actually use it. "If the patient uses the elements and inputs honest data, the app should certainly help the user lose weight," Decotiis says. In other words, listen to the experts and follow the plan and you'll squash some goals.
Decotiis says the ideal user is someone with a busy lifestyle (hi, almost everyone on the planet!). And those who enjoy virtual support from like-minded peeps (shout-out to millennials) will also benefit.
This weeks #transformationtuesday features Maria, an awesome Noomer who has lost a total of 40lbs (20% of her body weight)! — "Noom has changed my life in many ways. I have always been an "emotional eater" and the past few years have definitely been trying for me. Through Noom's daily articles, I have learned more about the psychology of eating and it has taught me that food was not the answer to my problems. Using Volumetrics and Noom's red/yellow/green color system, I have learned how to eat healthier, lower calorie foods while still being happy and feeling full. My energy levels have increased significantly and making time to be active has become a priority. My biggest accomplishment has been making a lifestyle change and not just going on another diet. With @noom_coachlaurad 's support and the support of my group, I am confident these changes will stay with me beyond the program!" —- Congrats Maria on your fantastic success! Thank you for encouraging us to reach toward our goals #noomnation
A post shared by Noom Coach (@noom) on
"This app's unique feature of having access to doctors and nutritionists, as well as a large online support base separates it from many other app-based weight-loss programs that I have thoughtfully reviewed and recommended to my NYC weight loss patients," Decotiis says.
So…are there any downsides to Noom?
If you have an underlying medical condition that prevents you from shedding weight, well, the app won't know that—and that might leave you frustrated.
Decotiis suggests seeing a doc before you try it (as you should before jumping into any weight-loss program). Then you'll know if you have an issue like insulin resistance, thyroid problems, or hormone imbalances, and you can address those first.
Always "on" or "off"? Eating "crazy healthy" or "totally awful"? Sarah knew this feeling all too well… Until she found Noom. Now she's not "on it" or "off it", she's on an entirely different road! ✨ Check out Sarah's full story by tapping the link in our bio! ✨
A post shared by Noom Coach (@noom) on
Another thing: It's also pretty pricey, at just bout $50 per month—which makes it a little less than the most expensive Weight Watchers plan, but definitely more expensive than lacing up your sneakers and hitting the pavement.
Also—obvious alert—but the app isn't going to head to the grocery store and cook for you (or drive you to the gym), so you have to take some initiative to actually follow through with the healthy habits suggested.
"These app-based weight-loss programs work by educating users to make more informed decisions," Decotiis says. "The accountability aspect—inputting data such as caloric intake, sleep, exercise, etc—tends to be very effective in terms of behavior modification. And the visual rewards enforce positive behaviors." It's just up to you to make it stick!
The bottom line: Noom is pretty all-inclusive—diet tips, fitness advice, tracking possibilities—so it's definitely rich with all the tools necessary to lose weight…if you actually stick with it.
Source: Read Full Article