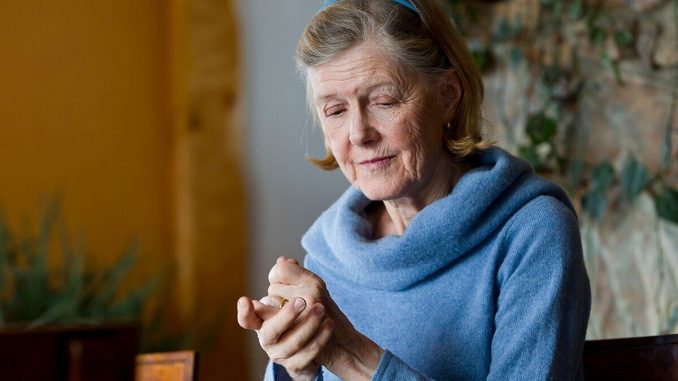 Alzheimers Research UK explain 'what is dementia?'
We use your sign-up to provide content in ways you've consented to and to improve our understanding of you. This may include adverts from us and 3rd parties based on our understanding. You can unsubscribe at any time. More info
TauRx Pharmaceuticals, who specialise in research on neurodegenerative diseases, has released promising results for its third phase of its Lucidity clinical trial. Dementia patients who were given the oral drug hydromethylthionine, also known as HMTM, sustained improvements in cognition over the 12-month study period. Professor Claude Wischik, executive chairman and co-founder of TauRx said "this is the first time any treatment has produced evidence of sustained improvement".
There were 598 participants, whose dementia ranged from mild cognitive impairment to a moderate stage of Alzheimer's disease.
The double-blind phase of the trial involved participants taking 16mg of HMTM daily, or taking 4mg of methylthioninium chloride (MTC) twice weekly.
HMTM is considered to have a strong safety profile, which is also a potent inhibitor of Tau aggregation pathology.
Professor Wischik explained: "Tau pathology of the disease is now recognised as an important target for treatment.
"And it is encouraging that cognitive improvement is seen at such an early stage of the disease with a drug targeting Tau.
"Our data are consistent with the evidence that Tau pathology begins at least 20 years before clinical symptoms appear and is a viable first-line target for treatment."
The primary objective of the Lucidity study was to demonstrate that HMTM therapy alone, in the absence of other Alzheimer's treatments, is effective compared to placebo in delaying the clinical progression of the disease.
Standard cognitive and functional assessments were made to test the effectiveness of HMTM compared to placebo.
DON'T MISS
The time you take statins can make blood levels 'too high' [ADVICE]
Man in 'agony' as teeth fallout after searching for dentist [INSIGHT]
Your eyes offer a 'window' into the years you have left [INSIGHT]
MRI and PET scans were also done to demonstrate if HMTM was effective in delaying the pathological progression of the disease.
The researchers found that there was minimal cognitive decline over the first year in participants receiving the 16mg daily dose of HMTM.
These results have been declared as statistically significant, and the results will soon be presented at the Clinical Trials in Alzheimer's Disease (CTAD) conference on Wednesday, November 30, 2022, in San Francisco.
What is amyloid and tau?
Dementias Platform UK explained amyloid and tau are two proteins "thought to interfere with the communication between brain cells".
In Alzheimer's disease, the tau proteins become damaged, clumping together, which is then "toxic" to brain cells, causing them to die.
As brain cells die, and messages are unable to be delivered as effectively as before, thinking difficulties emerge.
"Research is now focused on why tau is damaged in these conditions and how exactly it causes the death of neurons," Dementias Platform UK noted.
As for amyloid, it can be processed into a healthy soluble protein or toxic amyloid-beta.
Both of these processes happen normally, where toxic amyloid-beta is cleared from the brain before it can do any damage.
Scientists think people who have Alzheimer's disease overproduce amyloid-beta, or it's less effectively cleared from the brain.
"Evidence is now emerging that tau and amyloid affect each other in a complicated relationship," the organisation added.
"Research suggests that amyloid-beta clusters appear first and are followed by a surge in abnormal tau once amyloid-beta has accumulated to a certain level."
Source: Read Full Article