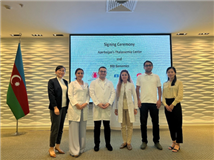 At BGI Genomics, we believe it is our responsibility to not only enhance global health outcomes, but also to help make the places we work and live in better. This year, we stepped up our social responsibilities in the four pillars of:
Global health outcomes
Our community
Environmental sustainability
Epidemic prevention and control
As a global integrated solutions provider of precision medicine, we seek to accelerate scientific and technological innovation, while ensuring ethical practices within our teams and getting our work done sustainably.
Global health outcomes
We are committed to leverage life science research and work in partnership with our partners to enhance global health outcomes.
Partnership with the Azerbaijan Thalassemia Center
Azerbaijan Thalassemia Center and BGI Genomics representatives at signing ceremony. Image Credit: BGI Genomics
In September, the Azerbaijan Thalassemia Center and BGI Genomics held a signing ceremony to seal a collaboration agreement. The partnership aims to improve thalassemia screening in Azerbaijan through genetic technology. This center will be one of BGI Genomics' pioneer overseas thalassemia projects in a country with a high prevalence rate of this disease.
It has been estimated that 5-7% of the world's population carries a mutated gene affecting the production or function of the hemoglobin molecule. Over 330,000 affected infants are born annually (83% sickle cell disorders, 17% thalassaemias). Screening for thalassemia through genetic testing is vital so that carriers and at-risk couples may be informed about their risk and the options for reducing it.
This is one of our pioneer overseas thalassemia projects and such agreement commits us to work together more closely towards common goals, the pursuit of screening and control of thalassemia, and the vision that in a not-too-distant future there will be a world without this disease."

Mr. Jeremy Cao, Vice President, BGI IntDx
Fueling innovation through cancer genetics and cell research

As of November 2022, BGI Genomics has published over 440 SCI (Science Citation Index) papers in the field of cancer research, with a cumulative impact factor of over 4,000 points. A consistent number of important papers have been published in Nature Medicine, Cell, Nature, Science, Cell Research, Nature Genetics and other top scientific journals.
The company's research scope covers 20 types of cancers, including lung cancer, esophageal cancer, colorectal cancer, gastric cancer, pancreatic cancer, liver cancer, breast cancer, cervical cancer, endometrial cancer, nasopharyngeal cancer, thyroid cancer, prostate cancer, lymphoma, melanoma, glioma, and brain tumors.
Our community
At BGI Genomics, we understand the importance of helping the communities around us to grow together, as we continue to expand our business and reach.
BGI Genomics contribute aid packages to Cianjur earthquake relief efforts
Bumame and BGI representatives visit Cianjur to contribute to relief efforts. Image Credit: BGI Genomics
In November, as part of earthquake relief efforts, BGI Genomics and its subsidiary Naleya Genomics Indonesia (NGI) partnered with Indonesia's leading healthcare services provider Bumame to contribute humanitarian aid packages for victims, which were distributed through the Cianjur district government.
Mr. Heru Dharmadi Wijaya, Director of NGI, said, "We visited the Cianjur earthquake disaster site to distribute aid directly to the victims. Furthermore, we also helped set up a mobile PCR laboratory using the Huo-Yan Air Laboratory with coordination from the Ministry of Health, to support and control infectious diseases in the affected area. We hope that post-earthquake recovery can be carried out quickly so that the victims affected by the disaster can carry out their activities as before.
Environmental sustainability
BGI Genomics believes that it is our responsibility as a growing business to be mindful of our impact on the environment, and continuously strived to make our operations more environmentally friendly. For example, the company targets to control the total amount of hazardous waste at 40 tons/year and reduce the reduce the annual electricity consumption per unit of test reports by 2% year-on-year.
First-ever social responsibility report of Chinese enterprises in Saudi Arabia
Mr. Weiqing Chen, the Chinese ambassador to Saudi Arabia, makes a video speech. Image Credit: BGI Genomics
In December, the Social Responsibility Report of Chinese Companies in Saudi Arabia was officially launched. This is the first report released by the Contact Office of Chinese Companies in Saudi Arabia. BGI Genomics initiatives in the Kingdom have been incorporated into this report, presenting the key projects and best practices of Chinese enterprises to fulfill their social and environmental responsibilities while advancing the Kingdom's industry development.
Mr. Weiqing Chen, the Chinese ambassador to Saudi Arabia, said, "The Report highlights Chinese enterprises' best practices in serving the local community, safe production, green and low-carbon development and promoting local employment."
Epidemic prevention and control
BGI Genomics has been a leader in the prevention and control of the global epidemic of COVID-19.
With nearly 100 overseas Huo-Yan laboratories, located in over 30 countries, our team is well-positioned to further contribute to post-pandemic public health, working with local medical institutions and the public health system to make breakthroughs in areas such as reproductive health, tumour prevention and control.
Donating a Huo-Yan Air Laboratory to the Thai Ministry of Public Health
Ministry and BGI representatives at Huo-Yan Laboratory handover ceremony. Image Credit: BGI Genomics
In September, senior representatives from the Ministry Department of Medical Sciences, received a Huo-Yan Air Laboratory donation from the Mammoth Foundation – represented by the BGI Genomics International Management Team –to help Thailand in battling against COVID-19 and other epidemic diseases that threaten public health.
This lab can be packed and moved for rapid deployment. It can also cater to other post-pandemic needs, such as immunology lab and point-of-care testing. The Ministry of Public Health will make full use of it to benefit the population."

Mr. Anutin Charnvirakul, Deputy Minister of Public Health
Hong Kong epidemic control measures
Albert Liu, General Manager of BGI Genomics Hong Kong, at the Community Testing Centre at Morse Park © WHO/Until Chan
As Hong Kong's COVID-19 cases spiked in February, BGI Genomics sent over 200 technicians to Hong Kong to conduct large-scale testing to trace and cut hidden transmission chains with citywide testing. These technicians were sent in several batches and rapidly enhanced Hong Kong's capacity for large-scale PCR testing, including gene sequencing, origin tracing, and antigen testing. They staffed the Tai Po laboratory, a temporarily inflated laboratory at the Ma On Shan Sports Center, and a laboratory at the airport.
In March, BGI Genomics also donated 10,000 sets of rapid antigen test (RAT) kits to the Share for Good platform, which was founded by property development company New World Development and features partners including Yan Chai Hospital and more than 30 NGOs.
In June, the World Health Organization (WHO) unveiled photos from its Feb-Mar 2021 visit to Hong Kong as COVID-19 affected the city, covering community testing facilities in key locations such as the Hong Kong International Airport and the Morse Park Sports Centre.