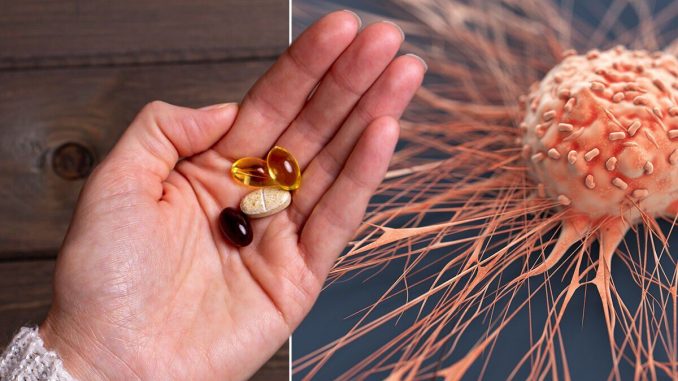 This Morning: Dr Michael Mosley discusses vitamin D dosage
We use your sign-up to provide content in ways you've consented to and to improve our understanding of you. This may include adverts from us and 3rd parties based on our understanding. You can unsubscribe at any time. More info
One in two people will develop cancer at some point in their lives and changing this sorry statistic is the primary goal of research. There are many different lines of attack and one of them is to probe the association between cancer and other characteristics. According to a review published in the peer-reviewed journal ASCO Educational Book, vitamin D deficiency is "relatively common" among patients with cancer.
Vitamin D is dubbed the "sunshine vitamin" because the body creates it from direct sunlight on the skin when outdoors.
It's also not clear what explains the association and there is no evidence establishing cause and effect. There are also conflicting reports.
For example, findings presented here at the 2011 annual meeting of the American Society for Radiation Oncology revealed more than three-fourths of people with a variety of cancers had low levels of vitamin D, and the lowest levels were associated with more advanced cancers.
For the study, the researchers collected blood samples from 160 men and women with cancer and measured their levels of vitamin D.
The five most common diagnoses were breast, prostate, lung, thyroid, and colorectal cancers.
Among people in the study, 42 percent had vitamin D insufficiency, defined as levels between 20 and 30 nanograms per millilitre (ng/mL) of blood.
An additional 32 percent had vitamin D deficiency, with levels less than 20 ng/mL.
The average level of vitamin D was about 24 ng/mL. People with levels below 24 ng/mL were nearly three times more likely to have stage III cancer than those with higher vitamin D levels.
DON'T MISS
Prostate cancer: 10 symptoms of a growing tumour [ADVICE]
Dementia: The type of fish linked to brain decline [INSIGHT]|
Erectile dysfunction: The surprising activity that puts you at risk [TIPS]
Phillip Devlin, MD, a radiation oncologist at Harvard Medical School, told WebMD at the time that such a study does not show cause and effect, only an association between low vitamin D levels and stage III cancer.
Indeed, Cancer Research UK says "there isn't enough good evidence to link low levels of vitamin D (vitamin D deficiency) to cancer".
However, evidence elsewhere suggests the link is worth probing further.
A 2022 review article published in the International Journal of Obesity states: "Moreover, it is now recognised that Vitamin D also influences the processes of cell proliferation, differentiation, adhesion potentially leading to carcinogenesis."
Carcinogenesis process by which normal cells are transformed into cancer cells.
The review article adds: "Indeed, data indicate a potential link between vitamin D levels and cancer, and higher vitamin D concentrations have been associated with a lower risk of developing different kinds of tumours, including breast, colon, lymphoma, lung, and prostate cancers."
In the meantime, it's important to make sure you are getting enough vitamin D regardless.
A lack of vitamin D can lead to bone deformities such as rickets in children, and bone pain caused by a condition called osteomalacia in adults.
Government advice is that everyone should consider taking a daily vitamin D supplement during the autumn and winter.
From about late March/early April to the end of September, the majority of people should be able to make all the vitamin D they need from sunlight on their skin.
But between October and early March we do not make enough vitamin D from sunlight.
Vitamin D is also found in a small number of foods.
Sources include:
Oily fish – such as salmon, sardines, herring and mackerel
Red meat
Liver
Egg yolks
Fortified foods – such as some fat spreads and breakfast cereals.
Source: Read Full Article