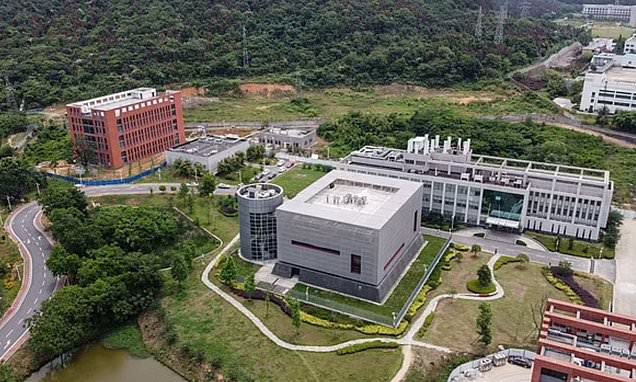 China insists it has been 'open and transparent' in search for origins of Covid as Beijing sensationally warns US that pushing lab leak theory 'will only damage your credibility'
China has been 'open and transparent' during investigations into the origins of Covid, officials have insisted after the US claimed the virus was leaked from a lab.
China has shared more data on tracing the virus than any other country, Foreign Ministry spokesperson Mao Ning told reporters today.
It comes after a report by the US Department of Energy concluded that Covid most likely swept the world following a lab leak.
Fuelling tensions between the two nations, Ms Mao said 'politicising' the origins of the virus 'will not smear China' but instead 'damage the US's own credibility'.
Her comments came amid continuing questions about how the virus that has killed more than 6.8million people worldwide first emerged.
Some say it's possible the coronavirus leaked from the Wuhan Institute of Virology (pictured), where researchers were conducting controversial research on the world's most dangerous pathogens
Studies point to Huanan Seafood Wholesale Market in Wuhan (pictured) as being the epicentre of the outbreak. Many of the earliest cases in December 2019 and January 2020 had visited the site, where live animals were sold
Most recently, the US Department of Energy, which oversees a network of labs in the US, concluded with 'low confidence' that the pandemic began with a lab leak.
The findings, shared with the Wall Street Journal, state that the classified report was based on new intelligence and noted in an update to a 2021 document. 
However, the conclusion contradicts those made by other US agencies.
In 2021, officials released a report that said four members of the US intelligence community believed with 'low confidence' that the virus emerged naturally.
However, a fifth believed with 'moderate confidence' that the first human infection was linked to a lab. 
'There is just not an intelligence community consensus,' John Kirby, the spokesman for the National Security Council, said on Monday.
White House officials on Monday declined to confirm press reports about the assessment.
Source: Read Full Article