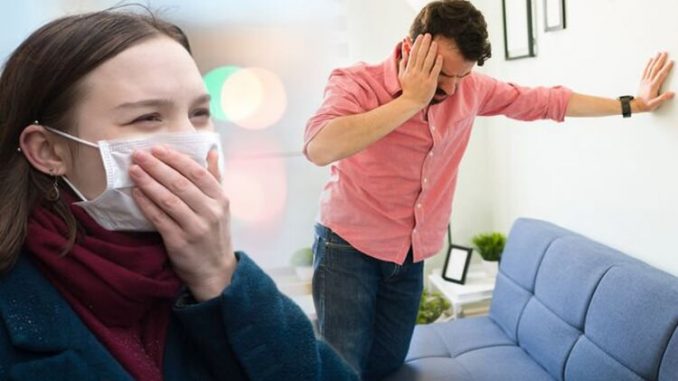 Nearly two years on from the first national lockdown, COVID-19 is still here. Like all viruses it has mutated to a point almost beyond recognition with many concerned about the new variant entitled, Deltacron. Denis Kinane, a world leading immunologist and Founding Scientist at Cignpost Diagnostics spoke exclusively with Express.co.uk. to discuss what you need to know about the Deltacron variant.
"The main elements of the Deltacron variant are derived from Delta, but its 'spike protein', which allows the virus to gain entry to human cells, comes from the Omicron variant," Mr Kinane began.
"In terms of being 'worried', this is perhaps not the best stance to take.
"As of today, there have been only 17 cases of it confirmed across the US and Europe, and 30 in the UK.
We use your sign-up to provide content in ways you've consented to and to improve our understanding of you. This may include adverts from us and 3rd parties based on our understanding. You can unsubscribe at any time. More info
"Caution is perhaps a better approach than worry or fear: measured approaches are more conducive to a viable strategy going forward.
"In addition, with our current 'presumably omicron' testing, what appears to be a dichotomy in patient response, some have high viral load and infectivity for approximately six days and others still have high viral load and infectivity after 10 days.
"Much of this variation could be due to genetic variation among subjects but could also be due to viral variance."
Regarding new symptoms signalling a Deltacron infection, the WHO has not changed its guidance and revealed that the new variant's symptoms are very similar to those of Omicron.
As a result, the symptoms to be mindful of are a high temperature, a new continuous cough, and a loss of taste and smell.
Meanwhile, the most common symptoms of Omicron are a runny nose, headache, fatigue, sneezing, and a sore throat.
If a person tests positive for Covid it is suggested, though not legally required, for them to self-isolate to stop the spread.
Kinane lists the most notable symptoms of the new variant being:
Runny nose
Scratchy throat
Vertigo.
"These symptoms have not typically been associated with Covid strains until now.
"Yet at the moment lots of signs and symptoms have been reported, none majorly consistently and no increase in immune or vaccine evasion, infectivity or virulence (disease severity caused by the virus) have been reported, although it is early.
"This underlines the need for testing surveillance and sequencing to be available."
Depending on its make-up, it is possible that a new strain could come about that surpasses the effects of prior Covid variants.
"It is difficult to predict, based on the current track record of COVID-19 variants. So far, the original variant has been the most destructive in terms of severity of symptoms.
"Omicron, on the other hand, has been shown in many cases to be more transmissible."
Source: Read Full Article