Fox News Flash top headlines for November 6
Fox News Flash top headlines are here. Check out what's clicking on Foxnews.com.
With daylight saving time coming to an end, millions of Americans will be setting their clocks back one hour before bed on Saturday.
It will be lighter earlier in the morning going forward, and grow darker earlier in the evening.
Hawaii, most of Arizona, American Samoa, Guam, Puerto Rico and the U.S. Virgin Islands do not observe the time change.
However, while residents of the other states gain an hour of sleep, many still question the health effects of daylight saving time.
According to Mayo Clinic, the human brain has a circadian, or biological clock, that runs on a 24-hour cycle.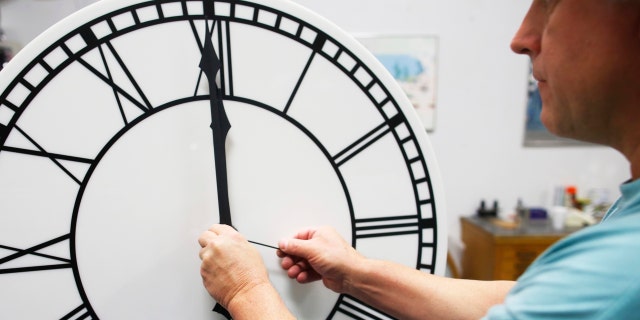 Scott Gow assembles a clock dial for a four-dial street clock headed to the Lincoln Haymarket Historic District in Nebraska at the Electric Time Company in Medfield, Massachusetts November 1, 2013.  
(REUTERS/Brian Snyder)
Disruptions due to daylight saving time – mainly in the spring – can impact a person's ability to focus during the day.
While sleep disturbances are less likely during the transition from daylight saving time to standard time in November, fewer daylight hours can also lead to traffic accidents, as well as mental health issues.
Treatments for SAD include light therapy using 10,000 lux light boxes, medications, vitamin D and psychotherapy.
The Cleveland Clinc also recommends that people who suffer from the disorder eat a well-balanced diet, exercise, see friends and spend more time outdoors.
Standard time begins at 2 a.m. local time on Sunday.
The Associated Press contributed to this report.
Source: Read Full Article