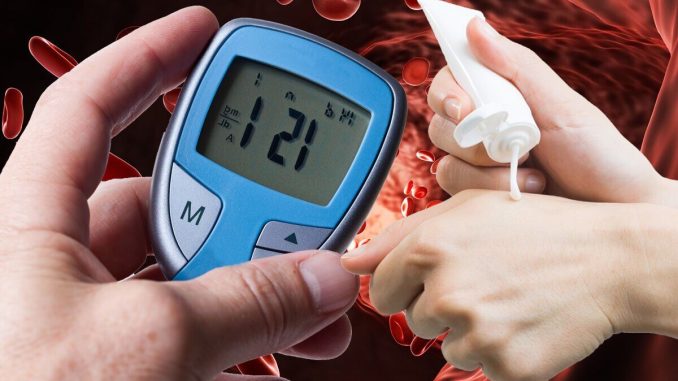 Type 2 diabetes can be a 'devastating diagnosis' says expert
We use your sign-up to provide content in ways you've consented to and to improve our understanding of you. This may include adverts from us and 3rd parties based on our understanding. You can unsubscribe at any time. More info
Diabetes occurs when the blood sugar in the blood isn't taken up by cells due to insufficiencies in insulin. Taming these high levels, however, is indispensable to prevent long-term nerve damage. One way to manage blood sugar spikes is to steer clear of foods with a high glycemic index. Certain corticosteroid creams too could contribute to high blood sugar, however.
Mayo Clinic explains: "Although rare, the corticosteroid in this medicine may cause higher blood and urine sugar levels, especially if you have severe diabetes and are using large amounts of this medicine.
"Check with your doctor before changing your diet or the dosage of your diabetes medicine."
According to the health body, nystatin and triamcinolone, are two topical corticosteroid treatments that are absorbed through the skin.
Although these steroids have many health benefits, an undesirable side effect is that they can raise blood sugar levels while you take them.
READ MORE: Diabetes: The 30p fruit that causes a 'highly significant' reduction in blood sugar levels
These types of creams are usually applied directly to the skin to relieve inflammation and irritation, explains the NHS.
They are available in different strengths, for the treatment of piles and itchy bottom, adds the health body.
Other common uses for topical corticosteroids include the treatment of inflammatory conditions such as eczema, contact dermatitis, insect stings, and eczema of scabies.
While they usually cause temporary rises in blood sugar levels, very rarely they can lead to a new diagnosis of diabetes.
The Mayo Clinic adds: "The corticosteroid in this medicine may be absorbed through the skin and may be more likely to cause side effects in children.
"Long-term use may affect growth and development as well. Children who must use this medicine should be followed closely by their doctor."
Certain steroids, such as prednisone, raise blood sugar for part of the day when taken orally.
According to the health platform Medtronic Diabetes, this is because corticosteroids increase insulin resistance.
Resistance to insulin means that the body's own insulin, or the insulin that is injected into it, does not work well.
"Some people are especially worried about what they do because they think the food is causing the unusually high glucose reading, but it is most likely from the steroid," notes Medtronic Diabetes.
In an early study published in the journal of Drug Safety, researchers investigated the association between topical corticosteroids and diabetes risk among 192,893 users.
In a discussion about their findings, the researchers wrote: "Current topical corticosteroid use was associated with a 1.24-fold increased risk of diabetes.
"The odds ratio increased to 1.32 with 180 days of topical corticosteroid use and to 1.44 with a cumulative topical corticosteroid load."
The researchers concluded their research by saying that the increased risk of new-onset diabetes should be an important consideration in the treatment of patients with topical corticosteroids.
This is especially true for patients who use higher-intensity creams, the authors added.
A second study published in the World Journal of Diabetes observed increases in blood sugar levels lasting for longer than 24 hours after steroid use.
It should be noted that in the majority of cases, however, the effects of steroid hyperglycaemia (high blood sugar) are usually transient and reversible.
Source: Read Full Article