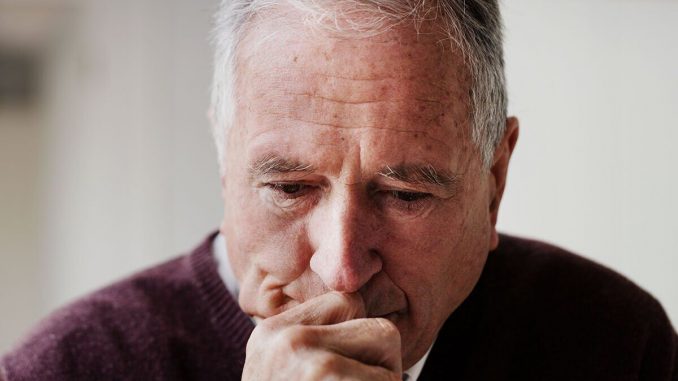 Dr Hilary lists the early symptoms of dementia
Dementia is a group of related symptoms associated with the ongoing decline of the brain.
As such it often causes issues such as memory loss and behavioural changes.
This can be extremely upsetting for not just the affected individual, but their loved ones too.
There are also some less well-known symptoms of dementia to be aware of.
This includes hallucinations, which are most common among those with Lewy body dementia and Parkinson's disease dementia.
READ MORE Alastair Stewart sparks frenzy with family insight after dementia diagnosis
However, they can also occur in people with Alzheimer's disease.
Now a charity has warned that these could be "triggered" or made worse by celebrations traditionally taking place on Bonfire Night – or November 5.
Chief executive officer and chief admiral nurse and Dementia UK, Dr Hilda Hayo, advised that fireworks could be particularly upsetting for people living with dementia.
She explained: "It is quite common for people with dementia to become distressed by firework displays which can be upsetting for the individual, family and friends.
Don't miss…
New drugs offer hope as dementia cases continue to rise[LATEST]
New study suggests popular breakfast foods could lower your risk of dementia[STUDY]
Five red flags in a person's driving that could be signs for dementia[SYMPTOMS]
Advert-free experience without interruptions.
Rocket-fast speedy loading pages.
Exclusive & Unlimited access to all our content.
"Distress is often caused by a person's inability to communicate something they are trying to express such as anxiety, disorientation or fear – so it's important we speak slowly and clearly to them when trying to reassure them and explain what is happening as well as listening to their concern."
The sound of fireworks could also be distressing to those who suffer from hallucinations.
"Some, but not all people living with dementia also experience hallucinations when their brain misinterprets information it receives from their various senses," she said.
"This can trigger traumatic memories from earlier in their lives and is more common in people who have served in the armed forces or emergency services."
What to do if someone is hallucinating
Hilda said it can be alarming if someone you love is hallucinating, but it is important that you talk slowly and calmly, asking what is wrong and listening to what they say.
She also advised: "You should explain what is happening but avoid contradicting them as this could increase their distress.
"Sit with them and hold their hand or stroke their arm to reassure them, or even try to distract them by moving to a different room, or making them a drink."
Dementia UK shared tips for preparing loved ones ahead of Bonfire Night.
"Explain what time of year it is and ask them about Bonfire Nights from their youth," they said.
"Stay close by to help provide reassurance if they need it. Turn the radio on or play soothing music you know they like.
"Close the curtains early to shut out any flashing lights or, if they like fireworks – keep them open to help the person see the source of the noise and light.
"Check with neighbours to see whether they are planning to let off fireworks."
If you need support or advice, contact Dementia UK's free admiral nurse helpline on 0800 88 6678 or by emailing [email protected].
The helpline is open 9am to 9pm Monday to Friday and 9am to 5pm on weekends.
Source: Read Full Article