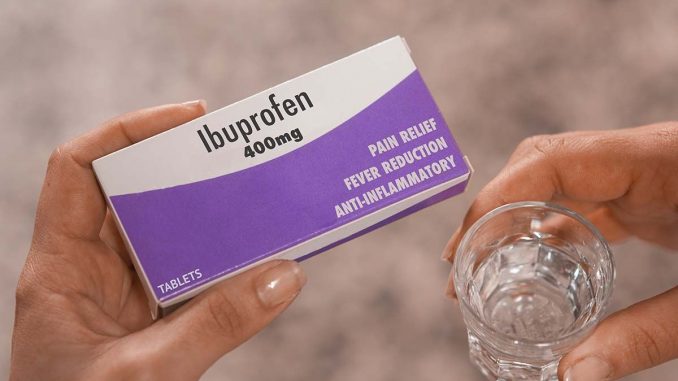 Pharmacist explains how paracetamol and ibuprofen work
Although best known as a little pill, ibuprofen taken orally also comes as a capsule, granules or liquid.
Taken for various aches and pains that occur daily, the painkiller is readily available in most pharmacies and supermarkets.
Just like any other medication in your medicine cabinet, ibuprofen comes with a list of side effects to be aware of.
However, taking large doses of the pain relief could spell a serious risk, according to Dr Deborah Lee, from Dr Fox Online Pharmacy.
The doctor explained that ibuprofen is a drug known as COX enzyme inhibitor.
READ MORE Doctor warns of ibuprofen side effects that mean you need to stop taking it
COX enzymes are needed to produce prostaglandins that provide gastric mucosal protection.
When COX enzymes are switched off, the production of stomach mucus is reduced which can lead to gastrointestinal (GI) problems.
The doctor told Express.co.uk: "Large doses can cause gastrointestinal bleeding, peptic ulcers and/or pancreatitis. Liver and kidney failure can also occur."
These adverse effects can strike as early as three days into ibuprofen treatment, according to Dr Lee.
Don't miss…
Doctor warns of ibuprofen side effects that mean you need to stop taking it[WARNING]
Pharmacist advises if ibuprofen or paracetamol can prevent Covid symptoms[EXPERT]
Taking ibuprofen for a bad back might do more harm than good – study[STUDY]
Support fearless journalism
Read The Daily Express online, advert free
Get super-fast page loading
She said: "In one study, gastrointestinal bleeding occurred in some healthy volunteers, as early as three days after starting ibuprofen 800 mg three times a day."
According to the NHS, the usual dose for adults is one or two 200mg tablets or capsules three times a day.
However, your doctor may prescribe a higher dose of up to 600mg to take four times a day in some cases.
If you experience GI bleeding caused by the painkiller, your poo can be the first to ring alarm bells.
Dr Lee said: "If bleeding occurs at the top end of the GI tract, as the blood passes through the GI tract it is partially digested and passes out at the other ends as tarry, black, foul-smelling stools, known as melaena.
"If bleeding occurs lower down the GI tract, in the large bowel, the blood will be fresher and will look red. It is often mixed in with the stool."
As melaena or blood in the stools is considered a medical emergency, the doctor advised anyone with these symptoms to get an urgent GP appointment, or phone NHS 111.
She added: "It is possible to overdose on ibuprofen either intentionally or unintentionally. Always read the product labels and follow instructions carefully. Never exceed the maximal dosage."
Source: Read Full Article