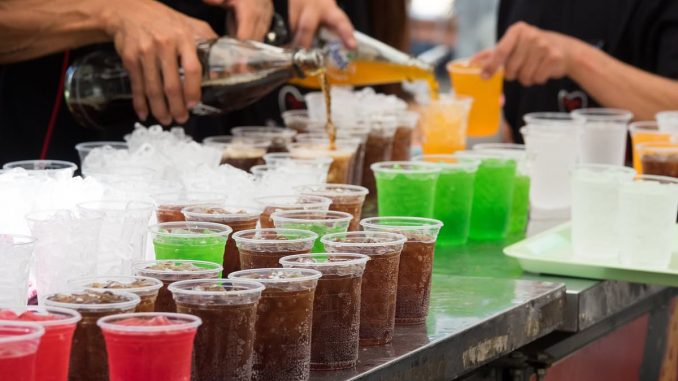 Going sober for October? Be careful: Doctor reveals how soft drinks are NOT automatically better for you…
Alcohol free drinks are not always healthier option as some contain 30g of sugar 
Sugary fizzy drinks are no better for our waistlines, heart or teeth, experts say
Going sober for October is a popular way to cut down on booze.
But just because you swap alcoholic drinks for something soft, doesn't mean it's automatically healthy.
Packed full of sugar, many fizzy drinks, juices and mocktails are no better for our waistlines, heart or teeth, experts say.
Here, Dr Jay Verma, a GP in North West London reveals the best way to avoid the sugar trap when cutting out alcohol.
Just one 175ml glass of wine contains 2.3 units of alcohol and 159 calories and a pint of 4 per cent beer is 2.3 units and 182 calories. A few drinks in the evening can stack up to the calorie equivalent of another meal
Swapping beer for sugary mocktails is not much better as obesity and diabetes are still risks when drinking too many sugary drinks, experts say
How soft drinks are not necessarily a healthy swap for alcohol 
Swapping booze for soft drinks as part of Sober October may seem like a healthy move.
However, alcohol-free beverages can be packed with sugar.
The NHS recommends adults consume no more than 30g (seven sugar cubes) a day, to reduce the risk of weight gain and tooth decay.
This threshold applies to free (added) sugars, such as those included in fizzy drinks, chocolate and biscuits.
However, sugars found naturally in fruit, vegetables and milk don't count towards this toll. 
Fruit juice per 150ml glass
Calories: 70
Sugar: 15.8g
Coca-Cola (330ml can)
Calories: 139 
Sugar: 35g 
Lemonade 330ml can
Calories: 59
Sugar: 14g
J2O 275ml bottle
Calories: 52
Sugar: 11g
Just one 175ml glass of wine can contain 2.3 units and around 160 calories, while a pint of 4 per cent beer is roughly 2.3 units and 180 calories.
This means treating yourself to a couple of drinks in the evening can stack up to the calorie equivalent of another meal.
However, going sober comes with its own challenges. 
Not drinking any booze can make it feel like you are missing out, but sipping on water all evening isn't going to make going sober feel any more exciting, says Dr Verma, also president of the general practice with primary healthcare section of the Royal Society of Medicine.
Although water is hydrating, he admits it can also be boring. 
He suggests drinking sparkling water or adding lemons, limes or mint to water for a refreshing non-alcoholic drink. 
Alternatively, drinking a G&T without the gin is another alcohol free drink. 
Dr Verma said: 'It's better to go for slimline tonic to avoid the sugar and anyone taking warfarin needs to be careful because it reacts with the quinine which gives tonic its bitter flavour.'
Fruit juice is another alternative that's also packed with vitamins, but many fruit juices contain some added sugar. 
A 150ml glass of pure orange juice contains about 13g of sugar and an orange and passionfruit J2O contains about 30g per bottle.
That's around the limit of added sugars adults are recommended to consume a day, according to the NHS.  
'Always go for the pure fruit juice, rather than juice drinks, as these tend to have hidden sugars and other additives in', says Dr Verma. 
He added: 'Don't go too heavy on the fruit juice, though, as even the freshly squeezed drinks contain free sugars. 
'You can get your recommended daily amount of vitamin C from one 8oz/250ml of freshly squeezed orange juice.'
Soft drinks such as lemonade and cola are often the go to alcohol-free options, but Dr Verma warns the 'original versions can be laden with sugar'. 
A 330ml measure of lemonade has 14g of sugar and a regular can of Coca-Cola has 35g of sugar.
He suggests opting for diet and sugar-free versions which are better for your 'waistline and heart health'.
Government guidance says that men and women shouldn't regularly drink more than 14 units a week — around six medium glasses of wine or six pints of beer.
Dr Verma said: 'If you find yourself drinking more than that, you should look at ways to cut down. It might be that alcohol is masking some other problems and if that's the case, you should always ask for help. 
'There's no need to stay silent particularly when support is available. Your GP practice will have advice and support you can draw upon and there are other wonderful charities out there to help with issues which may be leading to you drinking more.'
DO YOU DRINK TOO MUCH ALCOHOL? THE 10 QUESTIONS THAT REVEAL YOUR RISK
One screening tool used widely by medical professionals is the AUDIT (Alcohol Use Disorders Identification Tests). Developed in collaboration with the World Health Organisation, the 10-question test is considered to be the gold standard in helping to determine if someone has alcohol abuse problems.
The test has been reproduced here with permission from the WHO.
To complete it, answer each question and note down the corresponding score.
YOUR SCORE:
0-7: You are within the sensible drinking range and have a low risk of alcohol-related problems.
Over 8: Indicate harmful or hazardous drinking.
8-15: Medium level of risk. Drinking at your current level puts you at risk of developing problems with your health and life in general, such as work and relationships. Consider cutting down (see below for tips).
16-19: Higher risk of complications from alcohol. Cutting back on your own may be difficult at this level, as you may be dependent, so you may need professional help from your GP and/or a counsellor.
20 and over: Possible dependence. Your drinking is already causing you problems, and you could very well be dependent. You should definitely consider stopping gradually or at least reduce your drinking. You should seek professional help to ascertain the level of your dependence and the safest way to withdraw from alcohol.
Severe dependence may need medically assisted withdrawal, or detox, in a hospital or a specialist clinic. This is due to the likelihood of severe alcohol withdrawal symptoms in the first 48 hours needing specialist treatment.
Source: Read Full Article