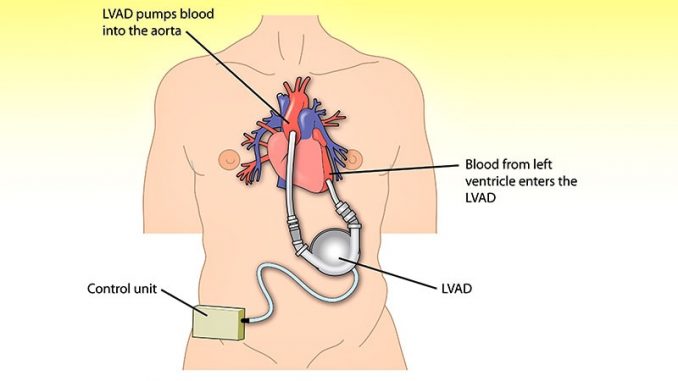 The prognosis for patients with advanced heart failure (HF) who fail guideline-directed medical therapy is poor, but contemporary durable left ventricular assist device (dLVAD) therapy can improve survival and quality of life for these patients. However, it remains underutilized.
Those are the key takeaways from a scientific statement on durable mechanical circulatory support, published online September 25 in the Journal of the American College of Cardiology (JACC).
"I think it is important to highlight this issue because of the sheer impact that heart failure has on American citizens," corresponding author Jennifer Cowger, MD, MS, advanced heart failure specialist, Henry Ford Health, Detroit, Michigan, told theheart.org | Medscape Cardiology.
"End-stage heart failure has no medication that has shown a gain in survival, and most are dead by 1 year," she said.
This scientific statement highlights the "amazing evolution of LVAD support and associated improvement in outcomes," Cowger said.
Yet because LVADs are only implanted at roughly 170 US centers, "many cardiologists are not aware of the amazing survival improvement with modern LVAD technology, and patients are under-referred," Cowger noted.
Contemporary Outcomes on Par with Heart Transplant
The authors note that survival with durable LVAD (dLVAD) has markedly improved over the years. Current survival is approximately 87% at 1 year for patients supported with a contemporary LVAD.
Average patient survival is now similar to that of heart transplantation at 2 years, with 5-year dLVAD survival now approaching 60%, they point out.
Contemporary dLVAD yields significant and sustained improvements in functional capacity. Data show that roughly 80% of patients improve to NYHA functional class I and II, with significant improvements in 6-minute walk distances and health-related quality of life, the authors note.
In addition, innovations in dLVAD technology have reduced the risk of several adverse events, including pump thrombosis, stroke, and bleeding.
"Novel devices are on the horizon of clinical investigation, offering smaller size, permitting less invasive surgical implantation, and eliminating the percutaneous lead for power supply," the authors note.
"Unfortunately, greater adoption of dLVAD therapy has not been realized due to delayed referral of patients to advanced HF centers, insufficient clinician knowledge of contemporary dLVAD outcomes (including gains in quality of life), and deprioritization of patients with dLVAD support waiting for heart transplantation," they write.
In addition to highlighting contemporary outcomes with dLVAD support, the 18-page statement also includes sections on:
Current indications and timing of referral

Surgical considerations (device selection, surgical techniques and approach to concomitant valvular disease, and management of acute right ventricular dysfunction)

Unique patient populations (women, children, and adult congenital heart disease)

Summary, gaps, and future directions
A recent workshop held by the National Heart, Lung, and Blood Institute (NHLBI) identified critical gaps in the field of advanced HF.
One of the major gaps identified was the need to improve mechanical circulatory support use as a "complement or alternative" therapy to heart transplantation. The workshop also emphasized the need to "synergize" LVAD and heart transplant in the same patient to maximize health-related quality of life and survival benefit.
The NHLBI workshop also highlighted the need to model how different patient subset characteristics may affect mechanical circulatory support outcomes to inform bridge-to- transplantation or bridge-to-decision/candidacy opportunities more appropriately.
This research had no commercial funding. A number of study authors disclosed relationships with industry. The full list is available with the original article.
J Am Coll Cardiol. Published online September 25, 2023. Abstract
For more from theheart.org | Medscape Cardiology, join us on X (formerly Twitter) and Facebook
Source: Read Full Article