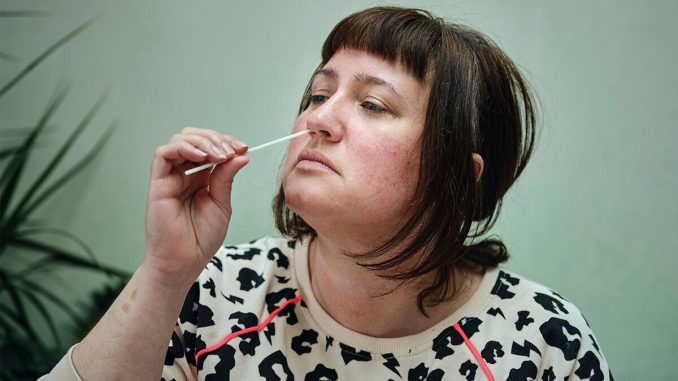 Dr Hilary discusses possible Covid wave
Access to free Covid tests for the majority of people in the UK was scrapped last year, as the threat of coronavirus was judged to have reduced.
And it is no longer mandatory to test for the infection if you notice symptoms.
But as cases of COVID-19 have been rising again in the UK, some people may wish to test in order to minimise the risk of spreading the disease to others.
Taking a test is the only way to be sure whether your symptoms, which could easily be mistaken for those of a cold or the flu, are caused by Covid.
However, when you choose to test for Covid could have an influence on the result you get.
READ MORE Red flag sign when you get up in the morning could be Covid-related disease
According to George Sandhu, deputy superintendent pharmacist at Well Pharmacy, testing "too late" after your symptoms start could result in a false negative.
He recommended taking a lateral flow test (LFT) as soon as your symptoms start.
Speaking exclusively to Express.co.uk , he explained: "You should use a LFT as soon as you start to show symptoms.
"LFTs cannot detect very low levels of coronavirus in a sample, therefore if you have only recently been infected, are currently in the incubation period, or if you have recovered the LFT may not give a positive result."
Don't miss…
Pharyngitis is 'early' symptom of Covid that can also occur with new variants[SYMPTOMS]
Pirola variant spreading in UK – GP shares symptom that could ring alarm bells[EXPERT]
Covid warning as figures show spike in cases – three key symptoms to watch[LATEST]
We use your sign-up to provide content in ways you've consented to and to improve our understanding of you. This may include adverts from us and 3rd parties based on our understanding. You can unsubscribe at any time. More info
He continued: "In addition, the sensitivity of LFTs is very dependent on the person who is doing the test.
"It is important to read and follow the instructions provided with the test carefully as it might be different to one you have done previously."
His advice is backed by the Centres for Disease Control and Prevention (CDC), which says: "If you have symptoms, test immediately".
The CDC says: "If you use an antigen test [lateral flow test], a positive result is reliable, but a negative test is not always accurate.
"If your antigen test is negative, take another antigen test after 48 hours."
If you do not have symptoms but have come into contact with someone who had or has tested positive for Covid you should still test, it says.
"If you do not have symptoms but have been exposed to COVID-19, wait at least five full days after your exposure before taking a test," the CDC adds.
What to do if you test positive
Although self-isolation is no longer mandatory, the NHS recommends avoiding contact with others for at least five days after testing positive – or even if you are just experiencing symptoms.
The NHS says: "Avoid meeting people who are more likely to get seriously ill from viruses, such as people with a weakened immune system, for 10 days after the day you took your test."
Symptoms of Covid can include:
A high temperature or shivering
A new, continuous cough
A loss or change to your sense of smell or taste
Shortness of breath
Feeling tired or exhausted
An aching body
A headache
A sore throat
A blocked or runny nose
Loss of appetite
Diarrhoea
Feeling sick or being sick.
In a recent report, the UK Health Security Agency stated the overall COVID-19 hospital admission rate was 6.13 people per 100,000 of the population, an increase from 4.36 per 100,000 in an update on September 28.
Intensive care admissions due to Covid also increased – from 0.11 per 100,000 people to 0.2.
Source: Read Full Article