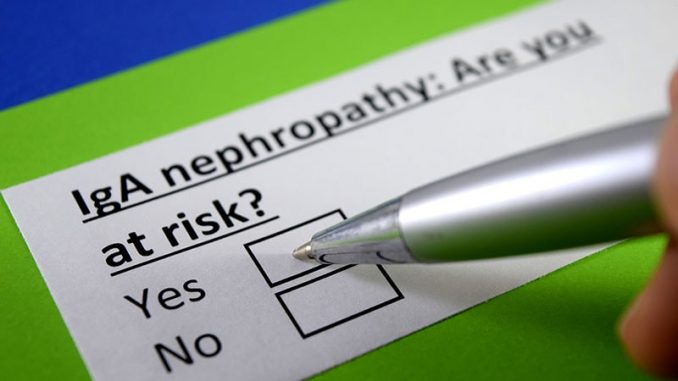 The US Food and Drug Administration (FDA) gave accelerated approval on February 17 to sparsentan (Filspari), the first non-immunosuppressive therapy labeled for treating adults with primary immunoglobulin A (IgA) nephropathy.
The approval is specific for "patients at risk of rapid disease progression, generally a
urine protein-to-creatinine ratio (UACR) ≥1.5 g/g," a population estimated at 30,000-50,000 people out of roughly 150,000 US adults with IgA nephropathy. This condition, also known as Berger disease, is the most common form of primary glomerulonephritis. Despite that, it is considered a rare kidney disease.
The company that developed and will market sparsentan, Travere Therapeutics, said in a statement that it plans to have the agent available by the end of February 2023, but it made no comment about the drug's cost.
Sparsentan is taken orally once daily, and its proven efficacy in people with IgA nephropathy is currently limited to reducing UACR in higher-risk patients, based on findings from the ongoing PROTECT study. This trial is comparing a 400-mg dose of sparsentan with a 300-mg daily dose of the angiotensin-receptor blocker irbesartan in 404 randomized patients.
Sparsentan Tripled Proteinuria Decrease vs Irbesartan
Travere released in August 2021 results from the trial's prespecified interim primary efficacy endpoint, which showed that after 36 week of treatment, sparsentan led to an average UACR reduction of about 50% from baseline compared with an average drop of about 15% with irbesartan (P < .0001).
These results have not yet been published but were the basis for the FDA's accelerated approval, which also focused on an agency-mandated, post hoc sensitivity analysis limited to the first 281 randomized patients. This analysis showed a 45% average cut in UACR from baseline with sparsentan compared with a 15% reduction among those on irbesartan.
In its statement, Travere cautioned that it is not yet proven that sparsentan slows kidney function decline in patients with IgA nephropathy. Continued approval may be contingent on confirmation of clinical benefit for this outcome in PROTECT, an assessment that requires longer follow-up.
Travere said that the company expects having these clinical-endpoint results by the end of 2023.
The label for sparsentan includes a black-box warning for potential hepatotoxicity and embryo-fetal toxicity. As a result of these warnings, patients receiving a prescription for sparsentan will need to participate in a restricted-distribution program. Travere announced that it also has in place a "comprehensive" patient support program.
'A New Standard of Care'
The approval of sparsentan creates "a new standard of care for IgA nephropathy patients. A high proportion of individuals diagnosed with this disease do not sufficiently respond to the historical standard treatment, which has been therapies that are not specifically indicated for IgA nephropathy such as ARBs, angiotensin-converting enzyme (ACE) inhibitors, and systemic glucocorticoids," said Brad Rovin, MD, in the company's statement.
"As a result, many patients have struggled to manage their disease and have progressed more quickly to kidney failure," said Rovin, professor and Director of the Division of Nephrology at The Ohio State University Wexner Medical Center in Columbus, and a member of the PROTECT steering committee.
"For decades, people living with IgA nephropathy have had limited treatment options while facing a progression toward kidney failure. Today is a day of celebration for the rare kidney disease community, for our patients, and their families," commented Bonnie Schneider, executive director and co-founder of the IgA Nephropathy Foundation, in the company's statement.
Sparsentan is a dual endothelin angiotensin receptor antagonist
that selectively targets the endothelin A receptor and the angiotensin II subtype 1 receptor. Preclinical data have shown that in models of rare chronic kidney disease this activity reduces proteinuria, protects podocytes, and prevents glomerulosclerosis and mesangial cell proliferation.
Travere is also running a second phase 3 trial of sparsentan, the DUPLEX study, which is testing the agent's safety and efficacy in adults with focal segmental glomerulonephritis. The company expects to report topline results from the 2-year confirmatory endpoints from DUPLEX later in 2023, and it said that it anticipates submitting a supplemental new drug application for traditional approval for this indication in the second half of 2023.
The PROTECT and DUPLEX studies are sponsored by Travere, the company that markets sparsentan (Filspari). Rovin has been a consultant to Travere and to numerous other companies. The IgA Foundation, a nonprofit public health organization, organizes activities (IgA Nephropathy Awareness Day) that receive support from Travere and Novartis.
Mitchel L. Zoler is a reporter for Medscape and MDedge based in the Philadelphia area. @mitchelzoler
For more news, follow Medscape on Facebook, Twitter, Instagram, and YouTube
Source: Read Full Article