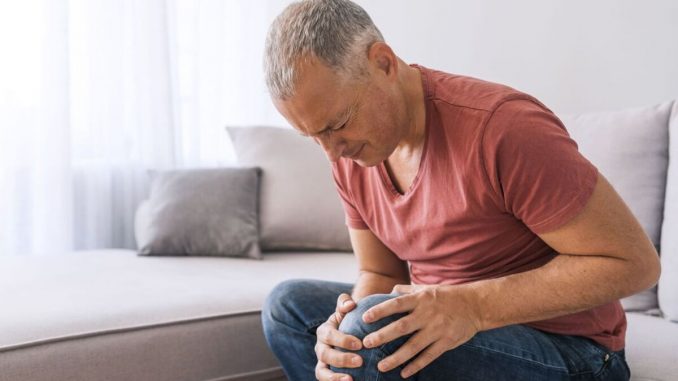 This Morning's Dr Chris discusses the signs of high cholesterol
Pharmacist Abbas Kanani revealed the warning signs of extremely high cholesterol.
When there is too much cholesterol in the blood, there may not be any symptoms, but this can change when levels become dangerously high.
Abbas Kanani, the pharmacist at Chemist Click Online Pharmacy, cautioned about peripheral artery disease (PAD).
Kanani said: "PAD can occur when plaque builds up in the walls of the arteries, blocking blood flow in the arteries that supply blood to your legs and feet, as well as your kidneys, arms, and stomach."
The first sign of this condition, caused by too much cholesterol, is a "painful ache in the legs when walking, which usually disappears after a few minutes' rest".
READ MORE… 'I'm a personal trainer – these dietary tweaks could slash your cholesterol'
This is medically referred to as intermittent claudication, which tends to affect both legs at the same time.
It's not unusual, however, to experience the pain more intensely in one leg compared to the other.
"Pain can vary from mild to severe and tends to stop after a few minutes when you rest your legs," added Kanani.
Symptoms of PAD can include:
Cramping
Aches
Fatigue
Pain in your legs during exercise
Discomfort in your legs and feet.
Don't miss…
Three 'painless' symptoms that could be first red flag signs of testicular cance[SYMPTOMS]
Gardener recommends three bedroom plants to boost your health while you sleep[LATEST]
'I'm a doctor and there's one food I'll never eat – people think it's healthy'[EXPERT]
We use your sign-up to provide content in ways you've consented to and to improve our understanding of you. This may include adverts from us and 3rd parties based on our understanding. You can unsubscribe at any time. More info
You should see your GP if you experience recurring leg pain while exercising, Kanani advised.
"Many people mistakenly think this is just part of growing older, but there's no reason why an otherwise healthy person should experience leg pain," said Kanani.
High cholesterol is extremely dangerous as it puts you at risk of not only PAD, but strokes and heart attacks, the NHS says.
The build-up of cholesterol is greatly influenced by what you eat and how much you exercise.
By eating an unhealthy diet, and not exercising enough, you are more than likely to develop high cholesterol.
If you have reached the stage where symptoms of high cholesterol have become apparent, you most likely need prescribed medication to control your symptoms.
Whether you are prescribed medication, such as statins, or not, you will need to lead a healthier lifestyle to help prolong your life.
The NHS advises you to swap unhealthy foods such as cakes and biscuits for healthier foods such as fruits, nuts and seeds.
For more information on how to lower your cholesterol, the NHS details which healthy foods you should be eating more of.
Source: Read Full Article