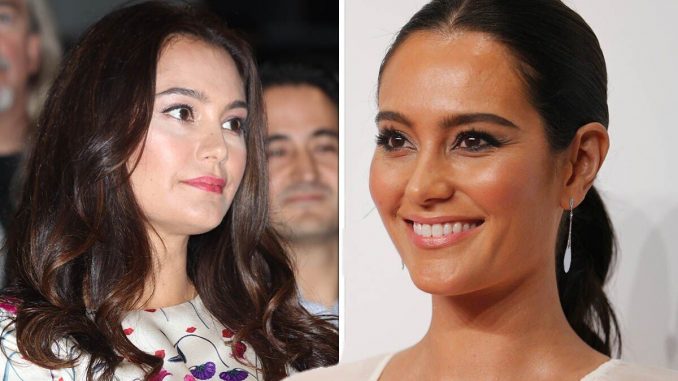 Bruce Willis to step away from acting after aphasia diagnosis
We use your sign-up to provide content in ways you've consented to and to improve our understanding of you. This may include adverts from us and 3rd parties based on our understanding. You can unsubscribe at any time. More info
Aphasia typically occurs in individuals after they have had a stroke and affects the four main ways in which people understand and use language. This includes reading, listening, speaking and typing or writing. Although the Die Hard star's diagnosis came as a complete shock to many, according to those who have worked with the star in his older age on his recent films, he has been exhibiting signs of decline in recent years. Speaking about the toll the condition has had on the family, since it was announced back in March of this year, Emma spoke poignantly about how their time together was precious, and how she does not take it for granted.
Making the comments to a US parenting website, she said: "I struggle with making the time for self-care every day.
"I put my family's needs above my own, which I found does not make me any kind of hero.
"That amount of care for everyone else within my household had taken a toll on my mental health and overall health, and it served no one in my family.
"Someone told me not long ago that when you over-care for someone, you end up under-caring for yourself.
"That stopped me in my tracks and really resonated with me."
The NHS explains that symptoms of aphasia differs for every individual, with some only getting a few words mixed up, to others having difficulty with all forms of communication.
Although there has been little released about Bruce specifically, apart from the fact that the disease is "impacting his cognitive abilities," it can only be assumed that the star is not only
having trouble speaking but also reading, writing and perhaps listening.
"I don't mother myself perfectly, but I know that I have some basic baseline needs that are a must, like first and foremost, exercise," Emma continued to say.
"It's a time I can disconnect and can do something that I know makes me feel good overall. I think it's important to find that one thing that makes you feel good and build from there."
Bruce, 67, and Emma, 43, share two daughters, Mabel, 10, and Evelyn, eight, whom she said bring "so much love, laughter and life into [their] home".
She added: "For us as a family, it's always been about making memories.
"I'm not even sure we have rituals or traditions.
"We just love spending time with each other, and we know that time is precious, and I don't take that for granted."
Clearly finding it "hard" to watch her partners decline, the family, which includes Bruce's ex-wife actress Demi Moore and their three daughters are planning to "live it up" united as a "strong family unit".
Although the condition typically strikes immediately as a result of sudden brain injury, there are cases where damage to the brain occurs gradually over time, similar to dementia or a brain tumour.
The type of aphasia which has most in common with Alzheimer's and vascular dementia is known as primary progressive aphasia. Usually, the first problem people with primary progressive aphasia (PPA) notice is difficulty finding the right word or remembering somebody's name.
However, problems gradually get worse, and can include:
Speech becoming hesitant and difficult, and making mistakes with the sounds of words or grammar
Speech becoming slow with short, simple sentences
Forgetting the meaning of complicated words, and later also simple ones, making it more difficult for them to understand other people
Speech becoming more vague and the person having difficulty being specific or clarifying what they're saying
Becoming less likely to join in with or start conversations.
The recommended treatment for aphasia is usually speech and language therapy, which aims to restore as much of an individual's speech as possible in order for them to be able to participate in normal everyday activities and conversations.
An intensive course of speech and language therapy may be recommended for some people. This involves a number of sessions given in a shorter period of time. But this can be exhausting, and an intensive course of treatment won't be suitable for everyone.
For others, shorter and less intensive sessions may be recommended, either as part of a group or individually. Improvements can continue to be seen many years, and even decades, later.
Source: Read Full Article