We're living in a time when wellness is a booming industry fueled in part by conversation on social platforms. And if celebrities and influencers want to get in (read: capitalize) on the discussion, they need to do so wisely.
Take Kim Kardashian, who recently shared a sponsored Instagram post with her 111 million followers where she was pictured sucking on a Flat Tummy Co "appetite suppressant" lollipop. The company's website claims the product "helps control food intake, cravings and weight."
In the caption of her post ― which has since been deleted ― Kardashian called the product "literally unreal." Social media users and celebrities slammed her for promoting unhealthy weight loss habits. (Kardashian and Flat Tummy Co did not immediately respond to requests for comment for this story.)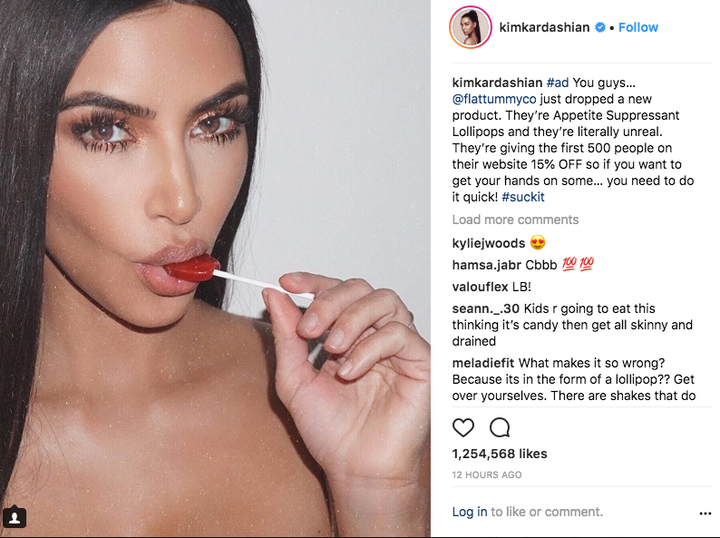 Kardashian isn't the only entertainer who has peddled health advice. From former "The Bachelor" contestants to Gwyneth Paltrow's "Goop" to various A-list actors, there's a ton of noise in the marketplace, and not all of it is trustworthy. Social media posts rarely paint the whole picture, according to Laura Manning, a clinical dietician for the Susan and Leonard Feinstein Inflammatory Bowel Disease Center at Mount Sinai Medical Center.
"Celebrities have access to so many things that may help them achieve the appearance that we see," Manning said. "Maybe they're able to see trainers all the time, maybe they have personal cooks. They might have wardrobe assistants, they have makeup artists… and that's just not reality [for the rest of us]."
Moreover, promoting any kind of "get thin quick" strategy ― whether it's cleanses, suppressants, drastic calorie-cutting or something else ― can send the message that food is the enemy and an appetite is something undesirable. This mentality can lead to unhealthy eating habits, Manning explained.
"Having an appetite is a very normal thing," she said. "To think that's a negative sign in our bodies is wrong. You want to be fueling your body to achieve whatever it is you're doing."
Mental as well as physical health risks
Research shows that social media browsing can lead to social comparison ― the phenomenon where viewers stack their lives up against someone else's, often to damaging effect. This in turn can pave the way for further mental health issues.
"People often do not realize that the online look or image of a person can be highly curated or manipulated, and this can lead a viewer to have really inaccurate impressions or expectations of themselves ― how thin they should be and how to get there, what their hair or physique should look like," said Victor Schwartz, chief medical officer of the Jed Foundation, a mental health organization. "This can contribute to self-consciousness, frustration, anxiety and depression."
Celebrity weight loss posts in particular can trigger disordered eating or crash dieting habits, which can also have negative mental health consequences.
"Ads or communications that show someone who appears very thin and are suggesting 'magical' ways to be super thin can create unreasonable and dangerous expectations about what is a normal or healthy appearance and how one gets there," Schwartz said. "When inevitably a person does not reach this level of thinness as quickly as they feel they've been promised, they can be left feeling like a failure. This can again lead to dangerous methods trying to reach the goal."
Ultimately, if celebrities are going to dole out wellness wisdom to their thousands or millions of followers, they should do so with caution and care.
"On the simplest level, many people ― and maybe especially young people ― imagine celebrities to be successful, knowledgeable and cool, and as a result seek to emulate them," Schwartz said.
And as consumers of this content, we should make an effort to separate appearance from reality. Miracle products are rarely what they seem, and the public figures soliciting them are rarely benefiting solely from the product itself.
"When you are making decisions about your health, and most other important things for that matter, you should try to find objective, factual, reliable information as much as possible," Schwartz said.
That's likely not going to come from an Instagram #ad.
Source: Read Full Article