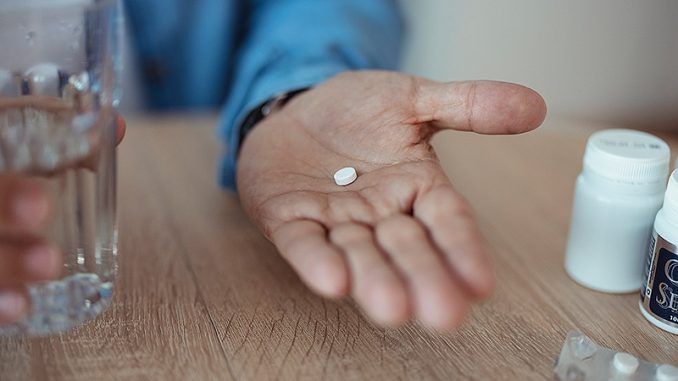 BOSTON — Patients with metabolic-associated steatotic liver disease (MASLD, formerly NAFLD) without cirrhosis who took daily low-dose aspirin in a double-blind randomized trial demonstated significant reductions in liver fat content over 6 months compared with similar patients who took a placebo, study results show.
"In MASLD without cirrhosis, low-dose aspirin, 81 milligrams daily, led to decreases in liver fat and improved markers of hepatic inflammation and fibrosis," reported Robert M. Wilechansky, MD, a transplant hepatology fellow at Massachusetts General Hospital in Boston.
"It was safe and well tolerated in this study, but we would like to see larger, longer-term clinical trials to test the efficacy of aspirin for improving histology and preventing adverse outcomes in MASLD," he said here at The Liver Meeting 2023: American Association for the Study of Liver Diseases (AASLD).
"We don't have current plans, to my knowledge, to test full-dose aspirin," he told Medscape Medical News. "I'm encouraged by the results with low-dose aspirin, and I think that, given the risk profile, using a lower dose is preferable."
Reduction in Inflammation
Although promising therapies for MASLD are in development, none are currently approved by the US Food and Drug Administration, prompting Wilechansky and colleagues to investigate aspirin, with its anti-inflammatory properties, as a potential treatment.
In preclinical studies, aspirin has been shown to have both anti-inflammatory and antitumor effects in the liver through inhibition of cycloxygenase-2 and platelet-derived growth factor signaling, as well as through modulation of bioactive lipids, Wilechansky said.
In observational studies, use of aspirin was associated with a reduction in the prevalence of hepatic steatosis and fibrosis progression in patients with MASLD, and there was a decrease in the incidence of hepatocellular carcinoma and liver-related mortality among patients with viral hepatitis, he noted.
As for the potential mechanism of action of aspirin for patients with MASLD, Wilechansky noted that there may be some reduction in steatosis, and "if there is a reduction in inflammation, we may see some reduction in steatohepatitis."
Study Details
To see whether the so-called "wonder drug" could work wonders for patients with MASLD without cirrhosis, the researchers recruited 80 adults with MASLD and randomly assigned them to receive either aspirin 81 mg once daily or placebo for 6 months.
Patients with baseline cirrhosis or other liver disease, heavy drinkers, those who had used aspirin within 6 months, or those who used other antiplatelet or anticoagulant agents were excluded, as were patients with severe renal or cardiovascular disease, active cancer, pregnancy, were breastfeeding, had thrombocytopenia, or had undergone bariatric surgery within the past 2 years.
At baseline, 36.3% of all patients had F2-F3 fibrosis, as determined by vibration-controlled transient elastography (VCTE), and of 44 patients who had previously undergone liver biopsy, 37 (84.1%) were confirmed to have steatohepatitis.
At 6 months, the absolute change in hepatic fat fraction (HFF) from baseline, the primary endpoint, was a decline of 6.1% for patients taking aspirin compared with a 4.2% increase for patients taking placebo, which translates into a 10.3% difference in favor of aspirin (P = .009).
The relative change in HFF, a secondary endpoint, for aspirin vs placebo was -59.2% (P = .003).
In addition, the use of aspirin was associated with a relative reduction in HFF of at least 30% among 16 of the 40 patients who received it.
Aspirin was significantly better than placebo for the secondary endpoints of absolute change in hepatic fat by MRI proton-density fat fraction (MRI-PDFF), with -2.9% vs placebo (P = .018), and the relative change in hepatic fat by MRI-PDFF, with a difference of -24.8% vs placebo (P = .009).
Aspirin was also associated with significantly greater reductions in liver transaminase levels and liver stiffness by VCTE.
About one third of patients in each study arm had at least one adverse event. There was only one aspirin-related adverse event (heartburn) that led to discontinuation. There were no serious bleeding events in either arm.
"We're going to have to consider stratifying by aspirin use now in our trials," said Mark Hartman, MD, from Eli Lilly & Co. in Indianapolis.
Significant Weight Gain in Placebo Group
Mary E. McCarthy Rinella, MD, FAASLD, professor of medicine at the University of Chicago Pritzker School of Medicine, commented that the 4% increase in liver fat in the control arm "is kind of a lot for a placebo, and I'm wondering how much that accounts for the [difference] that you saw." Rinella served as a co-moderator of the session.
Wilechansky said that there were a few outliers in the placebo group who experienced significant weight gain during the study, including one patient who gained 15 kg over 6 months.
A post hoc analysis suggested that most of the increase in hepatic fat among patients who took placebo could have been among that handful of patients, he added. When those patients were removed in an adjusted analysis, the difference between the aspirin and placebo groups was smaller but remained significant.
The trial was sponsored by Massachusetts General Hospital. Wilechansky, Rinella, and Hartman had no relevant disclosures.
Neil Osterweil, an award-winning medical journalist, is a long-standing and frequent contributor to Medscape.
Source: Read Full Article