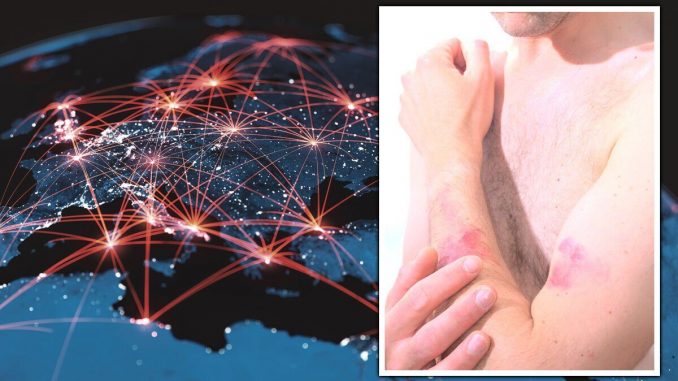 Monkeypox: Dr Chris outlines the main symptoms
We use your sign-up to provide content in ways you've consented to and to improve our understanding of you. This may include adverts from us and 3rd parties based on our understanding. You can unsubscribe at any time. More info
Around 20 cases of monkeypox have been recorded in the UK alone, but health officials have insisted the risk to the wider public remains low. Typically the virus struggles to be passed between humans, with symptoms clearing up after several weeks. During the weekend a handful of countries reported new outbreaks while the World Health Organization (WHO) has warned more infections are likely.
Where has monkeypox been detected?
Austria, Israel and Switzerland have become the latest countries to report cases of monkeypox, taking the overall number of nations to 15.
A single infected person was detected in both Israel and Switzerland. The former has confirmed it's investigating other suspected cases.
On Monday, Scotland also announced its first case of the virus, adding to the 20 already confirmed within the British Isles.
According to official data from the WHO, there have been 92 laboratory confirmed cases globally.
A further 28 suspected cases are being investigated – correct as of Saturday, May 21.
Its figures showed the following countries have confirmed cases of the virus:
Australia: One to five cases
Belgium: One to five cases
Canada: One to five cases
France: One to five cases
Germany: One to five cases
Italy: One to five cases
Netherlands: One to five cases
Portugal: 21 to 30 cases
Spain: 21 to 30 cases
Sweden: One to five cases
UK: 21 to 30 cases
US: One to five cases
Cases of monkeypox are rare outside of central and western Africa, where it was first detected in humans in 1970.
Before then, the virus had been picked up in laboratory monkeys during the 1950s.
Although monkeypox does not spread easily between humans, it can still be passed on.
Ways this can be done include:
Touching clothing, bedding or towels used by someone with the monkeypox rash
Touching monkeypox skin blisters or scabs
The coughs or sneezes of a person with the monkeypox rash
DON'T MISS:
Pancreatic cancer symptoms: The sign that shows up on the loo [EXPLAINER]
Skin cancer symptoms: What does skin cancer look like? 10 signs [INSIGHT]
London bus explosion: Five electric buses go up in a fireball [NEWS]
The UK Health Security Agency (UKHSA) has advised anyone who has had direct or household contact with a confirmed case to isolate for 21 days.
Contacts have also been issued guidance to provide details for contact tracing, cease travelling and avoid contact with immunosuppressed people, pregnant women, and children under 12.
Dr Susan Hopkins from the UKHSA confirmed that the agency has detected cases which have no contact with anyone who has visited West Africa, where the disease is endemic.
Symptoms of monkeypox can include, but are not limited to:
Fever
Headache
Muscle aches
Backache
Swollen lymph nodes
Chills
Exhaustion
Source: Read Full Article