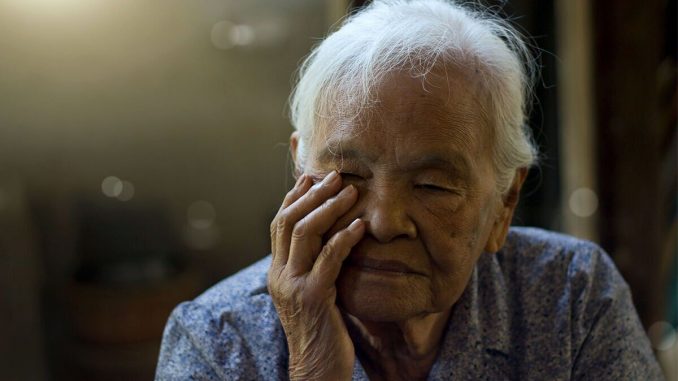 Alzheimers Research UK explain 'what is dementia?'
We use your sign-up to provide content in ways you've consented to and to improve our understanding of you. This may include adverts from us and 3rd parties based on our understanding. You can unsubscribe at any time. More info
For both the patient and their loved ones dementia can be a difficult diagnosis to live with. It is a group of symptoms linked to the progressive decline of the brain. As a result, it often leads to memory loss and behavioural changes among other issues.
Due to the nature of dementia it can affect people differently.
However, a charity has warned that relatives and friends of those with the condition should be especially alert to changes in behaviour following the clocks changing, which will be happening at 1am on March 26.
Dementia UK explains: "Sundowning is a term used for changes in behaviour which occur in the evening or around dusk, when some people living with dementia can experience an increased sense of agitation or anxiety
"Sundowning has several causes. As the day goes on, the person with dementia becomes more tired, and this can lead to their dementia symptoms worsening.
"Hunger, thirst and physical pain can also play a part.
"As darkness falls and people settle in for an evening, these changes can make someone with dementia concerned that they are in the wrong place or have forgotten to do something important during the day.
"To help carers and families deal with a potential increase in sundowning brought on by the clocks changing, Dementia UK has pulled together a list of tips and advice to help spot, manage and prevent sundowning."
How to spot sundowning
"Sundowning often can make people living with dementia feel strongly that they are in the wrong place," Dementia UK says.
Don't miss…
New hope as Alzheimer's drug slows decline in 'historic breakthroug… [DEMENTIA]
Alzheimer's could be halted by protein that helps hedgehogs hibernate [STUDY]
Clocks springing forward associated with 'troubling' health risks [EXPERT]
"They might say they need to go home, even if they are at home, or that they need to pick the children up from school even if their children are now adults.
"Other symptoms can include shouting, arguing, pacing or becoming confused about who people are and what's happening around them."
Tips for managing sundowning
If you believe someone you know with dementia is experiencing sundowning, there are some techniques that could help them feel more at ease.
Dementia UK recommends:
Use distraction techniques – go into a different room, make the person a drink, have a snack, turn some music on or take them out for a walk
Ask the person what the matter is – listen carefully to their response and if possible, see if you can deal with the reason for their distress
Talk in a slow, soothing way
Speak in short sentences and give simple instructions to try to avoid confusion
Hold the person's hand or sit close to them and stroke their arm.
Tips for preventing sundowning
"Introduce an evening routine with activities the person enjoys and try to keep to television and radio stations set to something calming and quiet," Dementia UK advises.
"Follow a daytime routine with activities the person enjoys.
"Try to limit their intake of caffeinated and alcoholic drinks – try offering them caffeine and alcohol-free alternatives.
"And try to limit daytime naps to encourage them to sleep well at night
"Close the curtains and turn the lights on before dusk to ease the transition into night-time.
"Cover windows, mirrors and glass doors with a sheet or curtain – reflections can be confusing for people with dementia.
"Avoid large meals in the evening as this can disrupt sleep patterns."
If you think someone you know has dementia but has not yet been diagnosed, you should organise a GP appointment.
Source: Read Full Article