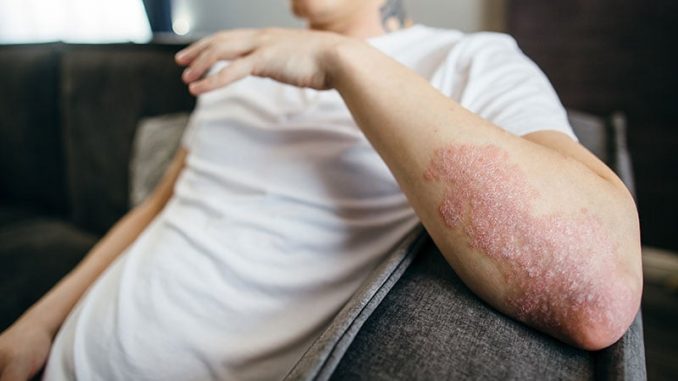 MILAN — The day after deucravacitinib became the first TYK2 inhibitor approved for the treatment of moderate to severe psoriasis, long-term data were presented at the annual congress of the European Academy of Dermatology and Venereology, suggesting that a high degree of benefit persists for at least 2 years, making this oral drug a potential competitor for biologics.
As a once-daily drug, deucravacitinib has "the potential to be a treatment of choice and a new standard of care for patients who require systemic therapy for their moderate to severe plaque psoriasis," said Mark G. Lebwohl, MD, professor of dermatology and dean of clinical therapeutics, Icahn School of Medicine at Mount Sinai, New York.
Just 2 months after the 52-week data from the phase 3 POETYK PSO-1 trial were published online in the Journal of the American Academy of Dermatology, a long-term extension study found essentially no loss of benefit at 112 weeks, according to Lebwohl.
One of the two co-primary endpoints was a 75% clearance on the Psoriasis and Severity Index (PASI75) score. At 52 weeks, 80.2% of patients on deucravacitinib had met this criterion of benefit. At 112 weeks, the proportion was 84.4%.
The other primary endpoint was a static Physician's Global Assessment (sPGA) score of clear or almost clear skin. The proportion of patients meeting this criterion at weeks 52 and 112 weeks were 65.6% and 67.6%, respectively.
When assessed by Treatment Failure Rule (TFR) or modified nonresponder imputation (mNRI), results were similar. For both, the primary endpoints at every time interval were just one or two percentage points lower but not clinically meaningfully different, according to Lebwohl.
The same type of sustained response out to 112 weeks was observed in multiple analyses. When the researchers isolated the subgroup of patients who had achieved a PASI 75 response at 16 weeks (100%), there was a modest decline in the PASI 75 rate at week 52 (90.2%) but then no additional decline at week 112 (91.3%).
There were essentially no changes in the PASI 90 rates at week 16 (63%), week 52 (65.3%), and week 112 (63.1%), Lebwohl reported. PASI 100 rates, once achieved, were sustained long term.
The target, TYK2, is one of four Janus kinase (JAK) inhibitors. Until now, almost all JAK inhibitors have had greater relative specificity for JAK 1, JAK 2, and JAK 3, but several inhibitors of TYK2 inhibitors other than deucravacitinib are in development for inflammatory diseases. Deucravacitinib (Sotyktu), approved by the Food and Drug Administration on Sept. 9, is the only TYK2 inhibitor with regulatory approval for plaque psoriasis.
In the POETYK PSO-1 trial, 666 patients were initially randomized in a 2:1:1 ratio to 6 mg deucravacitinib (now the approved dose), placebo, or the oral phosphodiesterase 4 inhibitor apremilast. At week 16, patients on placebo were switched over to deucravacitinib. At week 24, patients who did not achieve a PASI 50 on apremilast (which had been titrated to 10 mg daily to 30 mg twice a day over the first 5 days of dosing) were switched to deucravacitinib.
In the previously reported data, deucravacitinib was superior for all efficacy endpoints at week 16, including an analysis of quality of life when compared with placebo (P < .0001) or apremilast (P = .0088). At week 52, after having been switched to deucravacitinib at week 16, patients on placebo achieved comparable responses on the efficacy measures in this study, including PASI75.
Relative to JAK inhibitors commonly used in rheumatoid arthritis and other inflammatory diseases, the greater specificity of deucravacitinib for TYK2 appears to have meaningful safety advantages, according to Lebwohl. Targeted mostly on the TYK2 regulatory domain, deucravacitinib largely avoids inhibition of the JAK 1, 2, and 3 subtypes. Lebwohl said this explains why deucravacitinib labeling does not share the boxed warnings about off-target effects, such as those on the cardiovascular system, that can be found in the labeling of other JAK inhibitors.
In the published 52-week data, the discontinuation rate for adverse events was lower in the group randomized to deucravacitinib arm than in the placebo arm. In the extended follow-up, there were no new signals for adverse events, including those involving the CV system or immune function.
The key message so far from the long-term follow-up, which is ongoing, is that "continuous treatment with deucravacitinib is associated with durable efficacy," Lebwohl said. It is this combination of sustained efficacy and safety that led Lebwohl to suggest it as a reasonable oral competitor to injectable biologics.
"Patients now have a choice," he said.
Jashin J. Wu, MD, a board member of the National Psoriasis Foundation and an associate professor in the department of dermatology, University of Miami, has been following the development of deucravacitinib. He said that the recent FDA approval validates the clinical evidence of benefit and safety, while the long-term data presented at the EADV congress support its role in expanding treatment options.
"Deucravacitinib is a very effective oral agent for moderate to severe plaque psoriasis with strong maintenance of effect through week 112," he said. Differentiating it from other JAK inhibitors, the FDA approval "confirms the safety of this agent as there is no boxed warning," he added.
Lebwohl reports financial relationships with more than 30 pharmaceutical companies, including Bristol-Myers Squibb, the manufacturer of deucravacitinib. Wu has financial relationships with 14 pharmaceutical companies, including Bristol-Myers Squibb, but he was not an investigator for the phase 3 trials of deucravacitinib.
This article originally appeared on MDedge.com, part of the Medscape Professional Network.
Source: Read Full Article