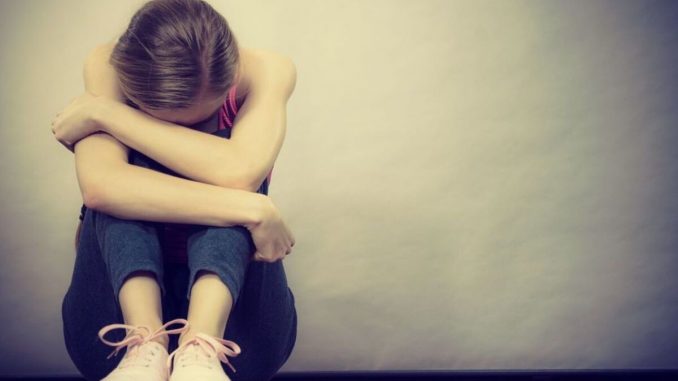 Ruby Barker: Bridgerton star addresses mental health struggles
We use your sign-up to provide content in ways you've consented to and to improve our understanding of you. This may include adverts from us and 3rd parties based on our understanding. You can unsubscribe at any time. More info
Annie Arkwright spoke out after shock figures showed 215 children in that age group killed themselves last year – the highest number since 1988, according to the Office for National Statistics.
Charity YoungMinds said the total was 35 percent up on 2020. Annie's daughter Lily, a "vibrant" university student, took her own life in 2020.
Her mother is convinced lockdown rules had a drastic effect on the 19-year-old's anxiety levels. She says: "If I had one message for a teen in Lily's situation, I would say this… look out for others.
"Don't wait to see tangible signs of mental unwellness in someone, or to think, "I would know, I would see clues"."
Meanwhile, the number of young people referred to child and adolescent mental health services is at a record high. NHS figures reveal a 23 percent rise in the number of under-18s needing treatment compared with the same point last year.
In the first quarter of 2022, 241,791 young people were referred to the NHS – half the total figure referred in the whole of last year – and they are yet to be treated.
YoungMinds external affairs chief Olly Parker, said: "These statistics show an alarming jump in the number of young people taking their own lives.
"We know from our own work, NHS data and every other available measure that more and more young people are struggling with their mental health.
"Services can't cope with demand, leaving schools and communities to plug the gaps. We are witnessing a crisis in young people's mental health and we need urgent action."
Mubeen Bhutta, head of policy and public affairs at the Samaritans, said: "Suicide is complex but not inevitable. Young people bore the brunt of pandemic restrictions and have also been more affected by insecurities in the job market and the economic impact of the pandemic.We know this has been linked to poor mental wellbeing."
Psychologist Professor Ellen Townsend, of Nottingham University, an expert in suicide and self-harm, said: "We should all be worried about these figures. Suicide is the biggest killer of under 35 year olds and in many cases is preventable.
"We know the UK fares badly in terms of happiness among young people compared with other nations. Our work also shows a strong link between mental health problems and lockdown interventions."
Prof Townsend said it was time to "destigmatise" the topic of suicide, particularly as youngsters' lives have been so disrupted by the pandemic.
She added: "We need to boost resilience in young people, destigmatise suicide and self-harm as a discussion topic and help those at risk."
The number of 15 to 19-year-olds dying by suicide each year has more than doubled since 2010. More than a decade ago, it was 3.1 per 100,000, but that figure is now 6.4.
Annie, 52, is backing the calls for more open discussion about suicide. She said: "If Lily were alive today, she would have graduated from Cardiff University this July with a degree in history.
"Please don't think "suicide is something that won't happen in our family or to anyone I know". Don't think suicide is something that only happens to other people. Talking about suicide openly will make it less likely to happen, not more."
Annie recalled how the "light and the life" began to drain from Lily as Covid restrictions closed in.
She said: "Lily was charismatic, bright, bubbly. She was empathetic, intelligent, kind, thoughtful, engaging and well liked. She had never suffered from anxiety, but she was very conscientious, concerned about the quality of her work.
"For Lily, the combined pressures created a perfect storm, together with a potential lack of support, as the counselling clearly didn't address her needs. Lily said she was feeling trapped by the restrictions, so we agreed she should come home and she arrived back on October 18.
"She was tired and quiet when she came home. I cooked her a roast dinner which she always loved. I gave her a hot water bottle and an extra duvet when she went to bed. I said, "Goodnight darling"… and that was the last thing I said to her."
The father of Molly Russell also said parents should not be frightened of asking their children if they are thinking about taking their lives. A coroner ruled social media contributed to the 14-year-old's death in 2017. She had been looking at sites on self-harm, suicide and depression.
He said: "It's far less dangerous to even ask them very direct questions like "are you thinking about ending your life?" That's not going to implant anything in their mind. That's going to offer them a chance to talk."
A Department of Health and Social Care spokesperson said: "Mental wellbeing is a priority for the Government. We will invest an additional £2.3billion a year into mental wellbeing services by 2024 – giving two million more people the help they need.
"We will improve the availability of mental wellbeing support for all ages so people get the care they need, when they need it." Call the Samaritans free on 116 123, email [email protected], or call the suicide prevention charity Papyrus: 0800 068 4141.
Source: Read Full Article