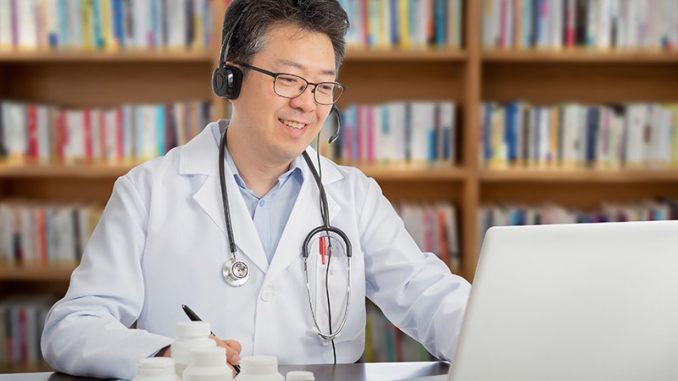 There was an explosion in the use of telemedicine during the COVID-19 pandemic, but usage has stabilized and varies between specialties. However, telemedicine use is still somewhat high among rheumatologists, according to speakers at the 2023 Rheumatology Winter Clinical Symposium.
Speaking in general about the future of rheumatology, Jack Cush, MD, a rheumatologist based in Dallas and executive editor of RheumNow.com, said it is up to rheumatologists to adapt to the changing winds in the specialty.
"The future is going to happen no matter what, so the question is, are you going to go along with it? Are you going to be a part of it? Are you going to be resistant to it?" Dr. Cush asked attendees. "Your recent experience with COVID would tell you maybe what your path is going to be if you're dying to get back to the way it once was."
Rheumatologists can expect changes in where they work, how they're paid, increases in their workload, and new innovations in connecting with patients, he said.
"You're going to be integrating a new style of medicine, you're going to be digitally connected," he explained. "All these networks are going to be working together to make you supposedly better at what you do, or maybe they're working together to make you obsolete – and I think you better start protecting your space."
One major area of change, telemedicine, already occurred as a result of the COVID-19 pandemic and will "begin to dominate" over the next decade, Dr. Cush said. An analysis conducted by consulting firm McKinsey & Company found telehealth usage increased 78-fold between February and April 2020 before leveling off at a 38-fold higher rate, compared with prepandemic levels. In the same analysis, rheumatology ranked third in terms of telehealth usage claims behind psychiatry and substance use disorder treatment, Dr. Cush observed, as other specialties have "fallen off quite a bit."
"The common denominators are chronic care, cognitive care, nonprocedural care, pattern recognition, and monitoring, and this is what you do," he said. "This is why, in many ways, for you to abandon telemedicine I think is a gigantic mistake."
Changes to telemedicine
The most immediate change to telemedicine will come when the Biden administration officially ends the COVID-19 public health emergency in May 2023, and temporary telehealth services will be extended for approximately 5 months after the end of the public health emergency. Legislation passed by Congress will ensure some of the flexibilities in telemedicine will be extended until the end of December 2024.
Alvin Wells, MD, PhD, director of the department of rheumatology at Advocate Aurora Health in Franklin, Wisc., said he sees telemedicine as persisting even after the official COVID-19 public health emergency ends. "There's a lot of push from the American Medical Association, from the American College of Physicians. You're going to see people – this will not go away because [there's] also going to be that demand."
Despite decreased usage since April 2020, telehealth was estimated to be a $60 billion industry in 2022 and will likely increase over the next decade, Dr. Cush noted. "I question [the decline] because I think it still is a major part of your [future in] 2033."
The number of physicians who have at least three licenses to practice in other U.S. states increased from 50,454 in 2010 to 72,752 in 2020, and that trend will continue, Dr. Wells explained. It is now becoming easier for physicians to become licensed in other states with companies like CompHealth that offer services to simplify obtaining medical licenses with states that participate in the Interstate Medical Licensure Compact.
"It's a telemedicine easy pass," Dr. Cush said.
This article originally appeared on MDedge.com, part of the Medscape Professional Network.
Source: Read Full Article