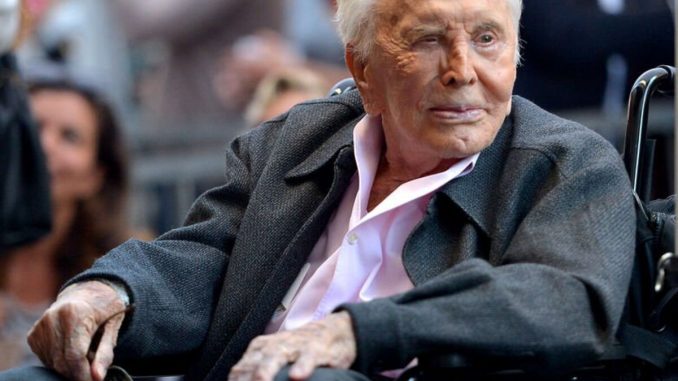 Golden Globes: Kirk Douglas receives standing ovation
We use your sign-up to provide content in ways you've consented to and to improve our understanding of you. This may include adverts from us and 3rd parties based on our understanding. You can unsubscribe at any time. More info
Hollywood legend Kirk Douglas starred in iconic films such as Lust For Life (1956), Spartacus (1960), and The Final Countdown (1980). In 2002, the grandfather penned his book My Stroke Of Luck, which referenced his stroke that occurred six years prior. "After a stroke, I made two films with impaired speech," Douglas wrote. "Now I am waiting for another part to play before the sun sinks below the horizon."
When the stroke suddenly occurred, while Kirk was enjoying a manicure in his home, anything that came out of his mouth at that point sounded like gibberish.
Kirk struggled to regain his verbal communication, but his daily speech therapy helped a lot.
There are more than 100,000 strokes each year in the UK, the National Institute for Health and Care Excellence (NICE) pointed out.
Moreover, a stroke is noted as "a leading cause of death and disability".
READ MORE: The 'first noticeable' sign that cholesterol is dangerously clogging your arteries
While Kirk was fortunate to survive his stroke, the incident did lead to speech impairment, but it could have been much worse.
In the UK, there are over 1.2 million stroke survivors, but two thirds of survivors left hospital with a disability.
According to the NHS, a stroke can lead to problems with co-ordination and balance, communication issues, and swallowing difficulties.
A stroke can also lead to visual issues, and problems with bladder and bowel control.
Movement problems
Weakness or paralysis on one side of the body
Walking difficulties
Communication problems
Problems with speaking and understanding
Issues with reading and writing
Visual problems
Only being able to see the left or right side of what's in front of you
Double vision
How to prevent a stroke (or another one)
Important lifestyle changes include eating a healthy diet, exercising regularly, not smoking, and drinking alcohol within the recommended limits of 14 units per week.
READ MORE: The 'first noticeable' sign that cholesterol is dangerously clogging your arteries
The best diet for stroke prevention is a "low-fat, high-fibre diet" that includes plenty of fruit, vegetables, and wholegrains.
People should eat no more than 6g of salt everyday, which can be hidden in everyday foods, such as bread.
In order to benefit from exercise, it's recommended to have your heart beat a bit faster for at least 150 minutes per week.
An easy way to achieve this goal is to complete a fast-paced walk for 30 minutes each day.
"Regular exercise may not be possible in the first weeks or months after a stroke," the NHS adds.
"But you should be able to begin exercising once your rehabilitation has progressed."
Taking healthy lifestyle measures is one of the best ways to help extend your life.
Kirk Douglas starred in the Last Train From Gun Hill, which is broadcast on Film4, Tuesday October 11 at 2:50pm.
Source: Read Full Article