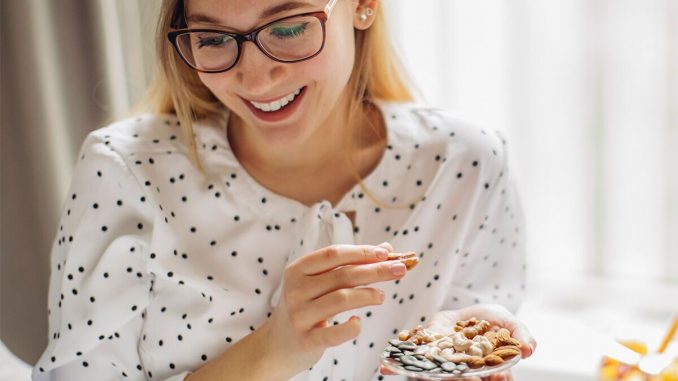 Weight loss: When you eat can help results says expert
When it comes to weight loss some experts will warn against snacking between meals.
However, new research suggests this doesn't have to be the case – depending on the type of food you are reaching for.
A study, published in Obesity journal, found that snacking on almonds could help you shed the pounds.
In the largest study of its kind, researchers from the University of South Australia discovered that including almonds in an energy restricted diet not only helped people to lose weight, but also improved their cardiometabolic health.
Using data from 106 participants, the team found that combining an energy restricted diet with Californian almonds or carbohydrate-rich snacks, on average reduced body weight by about seven kilos.
READ MORE Leading diet expert shares 3 surprising fruits that might slow down weight loss
University researcher and study author Doctor Sharayah Carter believes the study proves nuts can support a healthy diet for weight management and cardiometabolic health.
"Nuts, like almonds, are a great snack," she said.
"They're high in protein, fibre, and packed with vitamins and minerals, but they also have a high fat content which people can associate with increased body weight.
"Nuts contain unsaturated fats – or healthy fats – which can improve blood cholesterol levels, ease inflammation, and contribute to a healthy heart."
Don't miss…
The two hour period you need to exercise to lose the most weight – study[STUDY]
'I'm a doctor and here are three drinks that can help to burn fat'[EXPERT]
POLL: Should the NHS be offering drugs for weight loss?[POLL]
We use your sign-up to provide content in ways you've consented to and to improve our understanding of you. This may include adverts from us and 3rd parties based on our understanding. You can unsubscribe at any time. More info
Participants in the study completed a nine-month eating plan, which included a three-month energy-restricted diet for weight loss, followed by a six-month energy-controlled diet for weight maintenance.
In both phases, 15 percent of participants' energy intake comprised unsalted whole almonds with skins or 15 percent carbohydrate-rich snacks – such as rice crackers or baked cereal bars.
Dr Carter continued: "In this study we examined the effects of an almond-supplemented diet with a nut-free diet to identify any influence on weight and cardiometabolic outcomes.
"Both the nut and nut free diets resulted in approximately 9.3 percent reduction in body weight over the trial."
However, she explained that eating almonds had additional benefits.
"Yet the almond-supplemented diets also demonstrated statistically significant changes in some highly atherogenic lipoprotein subfractions, which may lead to improved cardiometabolic health in the longer term," she said.
"Additionally, nuts have the added benefit of making you feel fuller for longer, which is always a pro when you're trying to manage your weight."
Her colleague Dr Alison Coates added: "Sustaining weight loss after a weight management program can be challenging, with many people gaining weight back at the end of the calorie restriction phase of their program.
"This study showed that adding almonds to a weight management eating plan can not only promote meaningful weight loss but also offer a healthy and sustainable dietary addition."
The findings come as a separate study, recently published in the American Journal of Clinical Nutrition, found that almonds, when eaten long term as a snack, can improve overall diet quality without causing weight gain.
It concluded: "Almonds can be incorporated into the diets of habitual snackers to improve diet quality, without evidence for changes in body weight, compared with a popular discretionary snack food."
Source: Read Full Article