We are now well and truly into winter, the season of snooze buttons and Netflix nights on the couch.
But, how does one spend June through to August… not doing those things?
We asked the experts for their tips on sticking with your exercise program through the colder months.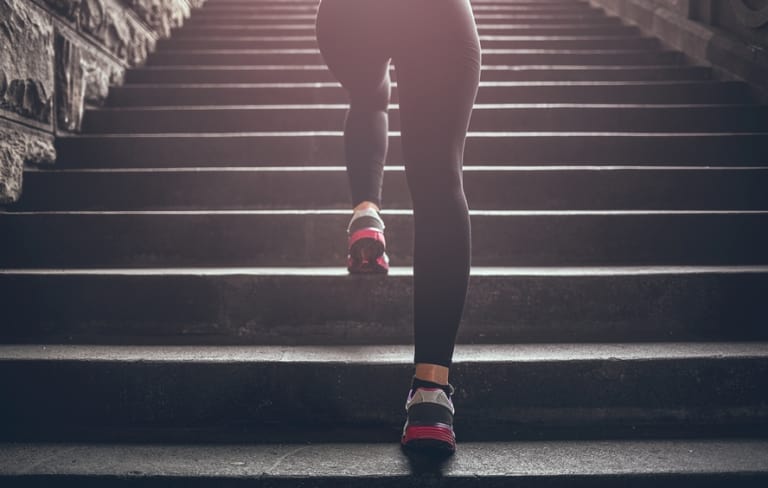 How to complete your workout when it's cold outside.
Aim for an early start
Personal trainer and co-founder of Sydney's Flow Athletic yoga studio Ben Lucas recommends aiming for early morning workouts in winter.
"That way if you sleep in you still have the option to workout in your lunch break or after work. Having a contingency plan is always a good idea."
To help you get there, Lucas says it helps to do some preparations before you go to sleep.
"Laying everything out the night before, from your outfit, to your joggers and gym bag is a great way to not only be prepared in the morning, but to get your head in the game the night before so you are mentally ready and excited to do your workout," he says.
Eat something substantial
How much you should eat before a workout depends on the time of day. For the day or evening, clinical nutritionist Jessica Sepel recommends a "light, energising snack" rather than a big meal before a workout.
"Having a slow-releasing carbohydrate and protein-rich snack would be ideal," she says. "I recommend green apple with cinnamon, a banana, a homemade protein ball, some cooked oats with a scoop of protein, a or natural yoghurt with cinnamon topped with some sugar-free granola."
For early morning workouts, focus on what you have for dinner the night before. Sepel recommends a "satiating dinner that is rich in protein, fibre and greens, with a small addition of a healthy, slow-releasing starch such as sweet potato, pumpkin or brown rice".
"This combination assists with good sleep and promotes good energy in the morning," she says.
In winter, we can want to eat heavier meals than in summer. And Sepel says this isn't necessarily an urge we should fight.
"I believe we should aim to be more connected with our bodies and in tune with our appetites," she says. "In winter, we tend to crave more grounding, nourishing and warming foods. It's important to listen to your body's needs and eat according to your signals."
Rug up 
Curtin University exercise and sports scientist Associate Professor Kevin Netto says it is important to remember that our bodies do not perform as well in the cold.
"Research has shown muscle performance reduces by 5 per cent for every 1°C drop in temperature," he says, adding that this will affect your jumping, running, kicking and striking ability, as well as possibly affecting your ability to maintain balance.
To help counteract this, Netto recommends wearing tight, warm workoutwear.
"Our lab has shown that an appropriate next-to-skin garment with insulative properties can negate the negative effects of the cold."
And warm up
We know we are supposed to warm up before a workout, but Kusal Goonewardena, physiotherapist and founder of Melbourne's Elite Akademy clinic, says it is a mistake to think that your warmup consists of stretching alone.
"Once you are warmed up, it's best to ease into any exercise without going flat out right away," he says. "In winter we often see spinal-related injuries such as low back pain and muscular strains, often because the body's central areas become overused to compensate for the lack of warm up for the extremities."
Stay hydrated 
Netto says that, just because you might not be sweating like you do in summer, it is still important to drink plenty of water when you're exercising in winter.
"Even though there will be less sweat loss, hydration is important and thirst is not a good indicator of hydration status," he says. "Follow a similar hydration routine to that in summer, drink often but perhaps smaller amounts."
Be realistic
If you find your outdoor training sessions being rained out, Goonewardena's advice is to not be too hard on yourself. "Weather may prevent you from working out as often, so don't be too dismayed if you need to drop a couple of sessions a week," he says.
However, you should be careful about trying to go harder next time to make up for lost sessions.
"This is a common mistake people make which increases injury risk."
Source: Read Full Article