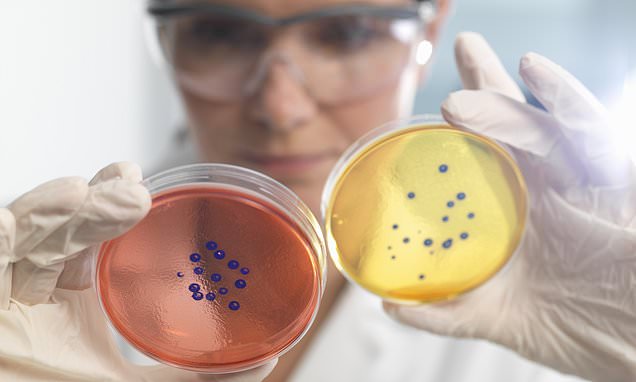 UK approves first new antibiotic in more than 20 years that kills superbugs, which cause 10,000 UTIs every year, and outperforms drug currently available to NHS patients
Study shows antibiotic gepotidacin is highlight effective for bladder infections
GSK, who developed the drug, are in talks to greenlight it for use on the NHS
The first new antibiotic in more than 20 years that is capable of treating agonising bladder infections is set to be approved in the UK after a groundbreaking study revealed it was highly effective.
The drug, called gepotidacin, outperformed one of the antibiotics currently used to treat NHS patients suffering from the infections, curing more than half the participants who took it.
Experts believe gepotidacin – which was discovered in Britain – represents a huge step forward in the fight against antibiotic resistance, because the bugs have not had a chance to become resistant to its attacks.
These drug-resistant bugs are responsible for tens of thousands of aggressive, repeating urinary tract infections (UTIs) every year in the UK.
GSK, the pharmaceutical firm which developed the drug, is in discussions with UK medical regulators about green-lighting gepotidacin for NHS patients with drug-resistant infections.
TESTING WORK: A scientist analysing antibiotic resistance
Dozens of people in the UK have already received the treatment as part of the worldwide trial, the results of which were presented yesterday at a scientific congress in Copenhagen.
READ MORE: At just 28, Kirsty has achieved something that hasn't been done for nearly 40 years – created a new class of antibiotics – but devastatingly, she now has just months left to live
'This drug offers hope for patients living with recurrent UTIs who are in need of a new treatment,' says Dr Aruni Mulgirigama at GSK.
'This is a condition which can disrupt patients' lives, leaving them fatigued by the experience of constantly fighting these infections. The data shows this drug helps those most at risk of these infections.'
Up to 1.7 million Britons – the majority of whom are women – suffer from chronic UTIs, classed as three or more infections a year. Symptoms include a burning pain when going to the toilet, going more often than usual and feeling as if you need to go when the bladder is empty.
In older patients, the infection can cause a dementia-like condition called delirium. There is also a risk of sepsis, which accounts for about 50,000 deaths a year.
While there are a number of antibiotics capable of treating UTIs, these medicines have, over time, become less effective because bacteria are capable of building up resistance to antibiotics.
Studies suggest the NHS treats about 150 drug-resistant bacterial infections every day. Some estimates suggest that as many as 10,000 people in the UK die every year due to these superbugs.
However, developing new antibiotics is time-consuming and expensive and many major pharmaceutical firms no longer invest in antibiotic research. This means that, despite the rising threat of superbugs, no new antibiotic has been developed in more than two decades.
Up to 1.7 million Britons – the majority of whom are women – suffer from chronic UTIs, classed as three or more infections a year (file photo)
However, gepotidacin – first created in Stevenage – could soon break this curse. The new data shows that more than 50 per cent of patients who were given the drug saw their UTI cured. By comparison, nitrofurantoin, a commonly used UTI antibiotic, clears the infections in 47 per cent of patients.
Crucially, the trial shows that gepotidacin is effective against drug resistant forms of E.coli, the most common bug that triggers a UTI.
It was also successful in treating patients with a history of recurrent UTIs as well as those over 50, who are most at risk of suffering severe UTI symptoms.
Experts believe gepotidacin could benefit thousands. 'It's great news it has been shown to be such a useful new treatment to combat UTIs,' says Dr Cat Anderson, a GP and women's health specialist. 'We have waited a long time for a new antibiotic.'
Source: Read Full Article