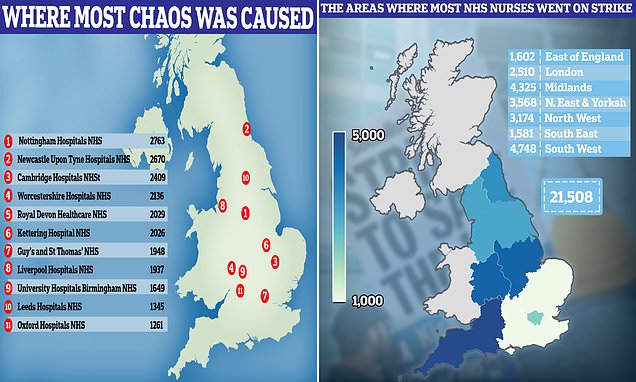 Up to 30 THOUSAND appointments and ops were cancelled due to NHS nursing strikes… so how badly was YOUR hospital hit?
Do YOU think ambulance workers are right to strike? Vote here and tell us why…
Click HERE for MailOnline's Q&A answering all your questions about the strike 
Have you faced a delay to an ambulance due to the strike? Email [email protected] 
Almost 30,000 operations and appointments were cancelled because of the NHS nursing strikes.
It was the biggest ever industrial action to rock the health service, with picket lines on December 15 and 20 causing chaos for patients. More strikes are planned in the New Year.
The true extent of the disruption, orchestrated by the Royal College of Nursing, has now been laid bare by an NHS England analysis. Separate data on the chaos caused by today's devastating ambulance strikes is expected tomorrow.
Some 4,560 inpatient procedures were rescheduled because of the RCN action over the two days. 
Striking nurses at Leeds General Hospital mocked Health Secretary Steve Barclay with a jokey rendition of Santa Clause Is Coming To Town while on the picket line yesterday
This includes routine procedures like hip and knee replacements, which require an overnight stay in hospital.
Another 25,000 outpatient appointments were postponed across England because of the walk-outs last Thursday and yesterday. This usually includes appointments, X-rays and minor procedures.
Most of the chaos was caused at Nottingham University Hospitals (2,413), followed by Newcastle-Upon-Tyne Hospitals (2,313). 
Who is Pat Cullen? The 'taskmaster' organising NHS's biggest walkout 
Royal College of Nursing boss Pat Cullen 
READ MORE: The Bob Marley-loving 'taskmaster' organising NHS's biggest ever walkout: Pat Cullen grew up in Northern Ireland during the troubles and has FIVE nursing sisters… as she wields placard on picket line
Dozens of hospitals took part in the strikes, which saw a bank holiday-style service ran in many wards.
Many services were exempt, including chemotherapy, emergency cancer services, dialysis, critical care units, neonatal and paediatric intensive care. 
The true disruption toll from the NHS strikes will be higher than 30,000 because not every location taking part logged data.
The figures also only looked at England. Services in Wales and Northern Ireland also took to picket lines.
Yet it is lower than the 70,000 figure branded about by the Government last week — based on worst-case scenario modelling from the RCN itself, which had planned for up to 100,000 staff to strike.
But only a fraction actually turned up, data suggests.
For instance, 9,999 staff were absent from work due to the walk-outs on December 15. Another 11,509 were recorded for December 20.
Most disruption was logged in the South West, with 4,748 staff taking part over the two days.
It comes after the RCN last night threatened fresh walkouts in the New Year unless ministers hold wage talks with her. Such action — which could rumble on until May — is expected to be even more disruptive.
The union has asked for an inflation-busting 19 per cent pay hike. 
Its boss, Pat Cullen, has since hinted that she will compromise in order to achieve a deal.
The Government, however, has refused to budge on its position. It has only offered nurses a pay rise worth around £1,400, or 4 per cent.
In other related news…
What MailOnline readers really think about ambulance strikes… so do YOU agree with the 20 best-rated comments? 
Barclay isn't coming to talk! Nurses on picket line heckle Health Secretary Steve with jokey rendition of popular Christmas carol… as No10 refuses to budge on tough stance 
Don't do anything 'risky' tomorrow! Health minister makes plea as up to 10,000 nurses strike today on eve of biggest ambulance crew walk-out in 30 years that experts fear will put lives at risk 
What is the truth about the nursing crisis? 
NHS nurses: A workforce where women outnumber men by a significant margin and a significant number are approaching retirement or seeking a better work-life balance. Pay is the central issue at the heart of the strikes, with the average nurse earing £37,000. This estimate includes both new graduates, who start on £27,055, and very senior nurses who earn more
READ MORE: What IS the truth about NHS nursing crisis? Fascinating graphs show how crippled sector's pay has stagnated over past decade, record one-in-ten roles are now vacant and UK is reliant on foreign-trained medics
Source: Read Full Article