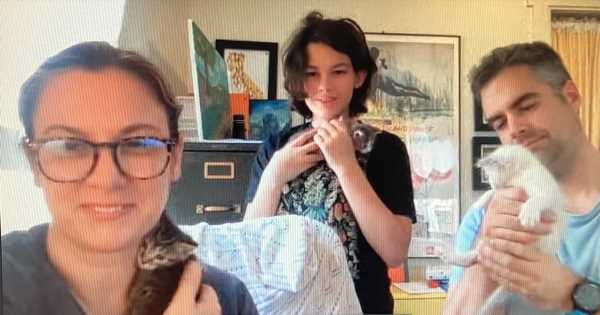 The ASPCA has operated its Kitten Foster Program out of the Los Angeles County Animal Care Centers since 2016, but this year has seen an unusually large spike in kittens needing care.
"Compared to 2021, there's been a 21% increase in kittens arriving at L.A. County's seven animal care centers through July, or 600 more kittens than at the same time last year," says Tina Reddington Fried, Senior Director of L.A. Feline Programs. "The increase for kittens under six weeks old is 26%." 
Kittens under eight weeks old are the most threatened cat population in animal shelters. They need more care than shelter staff can provide and are very susceptible to disease in a crowded shelter setting due to their vulnerable immune systems. 
Foster caregivers are the surest way for found kittens to survive. To help the LA County Animal Care Centers with the flood of kittens arriving at their doors, the ASPCA is always looking for foster caregivers, but that doesn't just mean individuals. Full families can be involved in fostering, as demonstrated by the two stories below.  
"We Always Take the Sick Ones"
Karen D. and her son, Aaron, 26, have fostered bottle babies and weaned kittens since June 2019. 
"We always take the sick ones, as the need is so high," says Karen, who has fostered 27 kittens over the last three years and is now caring for two: Sally, a one-week-old who has not yet opened her eyes, and Harry, who is two weeks old. "We usually keep them for two months."
Karen, an operating room nurse who lives with her son in the San Fernando Valley, gets up at night to bottle feed kittens every few hours. While she is at work, Aaron steps in.
"Many of our kittens stand out because they require so much care," she says. "But what I like most is helping them get better. That's the reward for me. Seeing that sick, fragile animal get healthy is a blessing, and it can bring joy and happiness to someone else." 
Karen acknowledges that caring for high-risk and delicate beings is an emotional investment.
"I've lost three over the years, and it's rough," she says. "It can be very disheartening."
"You have to be more hands-on during that phase of their life," says Aaron.
Karen and Aaron began volunteering at their local shelter 16 years ago, caring for dogs and cats. 
"That was Aaron's first exposure to volunteer work," Karen says. "If kids can get on board to help, it's a great way to get them to care about something besides themselves. And you want them to respect life."
When Karen heard that the ASPCA needed fosters during kitten season, she signed up. Today, more than 9,000 kittens have been supported through the ASPCA's Kitten Foster Program in Los Angeles—kittens that most likely would have been euthanized without the level of care that foster caregivers provide. The ASPCA hopes that, by 2023, their foster program will reach a goal of helping 10,000 kittens.
"It's people coming together for the greater good," says Karen. "Fosters give kittens the start they need, and to see them flourish is wonderful. Every milestone—from opening their eyes to walking—is like that of a proud parent. And watching them play is better than watching TV!"
Aaron also volunteers at the ASPCA Kitten Way Station, a stopover for adoption-ready kittens graduating the foster program. On their way to an ASPCA adoption partner, kittens receive spay or neuter surgery, vaccinations and lots of love from dedicated volunteers like Aaron. 
Though Karen and Aaron, who have two dogs, have not adopted any of their fosters, Karen's sister, Keisa, adopted two kittens that Karen and Aaron nursed through upper respiratory infections last year.
Karen says she and her siblings always brought pets home when they were growing up. It wasn't long before the family was feeding an entire group of community cats. 
"We trapped 14 and fixed them all," Karen says. "It left an impression on me; it was a family affair. That's where my passion comes from." 
For those considering becoming fosters, Karen has one word: dedication.
"It's a commitment—you're either all the way in or not," she says. "But it's a priceless experience. I get excited talking about it because I love it. And the ASPCA provides support 24/7."
Karen and Aaron hope their story will inspire others. Any amount of time foster caregivers can dedicate to supporting kittens in need makes a lifetime of a difference for them. 
"We want more people to give fostering a chance," she says. 
'An Awesome Family Experience'
Alison Latimer L., her partner Howard, and daughters Alta, 13, and Piper, 15, have fostered 33 kittens since May 2019. They currently care for three four-week-old sisters—Macaroni, Cheese and Peanut—in addition to their four resident cats.
It was during one "sleepless and stressful" night that Alison read a story about L.A.'s kitten crisis and how the ASPCA was helping. 
"I signed us up not long afterward because we wanted to be a part of the solution," says Alison. "That story was the trigger."
From the start, the entire household dived in, with Alison and Howard handling bottle feeding responsibilities through the night while Alta and Piper act as chief socializers helping the kittens become comfortable with humans. 
Alison and Howard, who work remotely and have demanding careers, participated in an online class for bottle-feeding.
"Nights can be hard, but the class made us comfortable enough to give it a go," says Howard. "The time gap between feedings grows as they get older." 
Both Alison and Howard, who grew up with cats and other pets, agree that caring for kittens with medical challenges can be difficult.
"We've had a couple of tough litters, and bottle feedings were hard," says Alison, who adds that in 2021 they lost a kitten. "It was devastating. Her little body didn't make it."  
But, she says, the ASPCA is always there to help.
"When two of our fosters had upper respiratory infections, we got them in to see Dr. Casey Connors [Veterinary Program Manager for L.A.] right away," says Alison. "He takes our calls. And the rest of the team has been there every step of the way. They are not dismissive of any questions we have. I feel so supported. If something happens, the ASPCA is there for us."
After 10 to 12 weeks, Alison and her family find adopters for their kittens, which is sometimes an extended family affair.
"Most of our friends and family who have our cats probably wouldn't have adopted them if it hadn't been for us," says Alta, whose grandmother and great uncle also adopted cats she helped foster. 
"We provide a Google share album for every family that adopts from us, so they have their new kitten's whole life documented," says Alison. "It's nice to get updates, and so far, everyone has kept their cats, so we've made good matches. 
"It's been an awesome family experience for us," adds Alison. "The cats bring us together, and there's no greater common denominator than a fluffy, adorable kitten." 
Becoming A Foster
All ASPCA fosters receive plenty of support, ongoing medical care for their kittens and free supplies for every stage of a kitten's life. Those fostering bottle-fed kittens receive a nesting box for kittens, a heating disc, oral syringes, a bottle with a miracle nipple, and kitten milk. 
"The supplies make taking on bottle babies so much easier," says Alison. "It was a game changer for us because it saved 30 or more minutes during nighttime feedings. "As for kittens who are old enough to eat on their own, the ASPCA provides a kitten playpen for housing, litter boxes and litter, food and toys.
"The journey of taking care of kittens and watching them grow is what I like most," Aaron says. "Fostering means you're making a positive impact and saving lives."
Learn more about becoming a kitten foster for the ASPCA.  
Source: Read Full Article