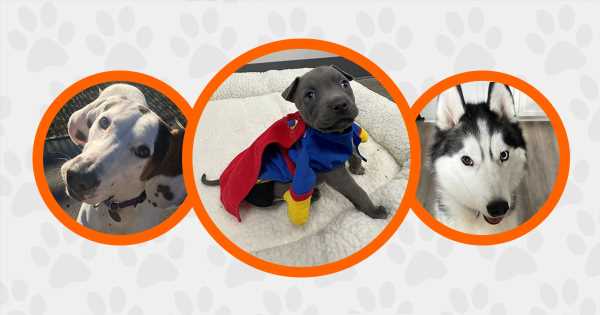 March 23 is National Puppy Day, which means its time to celebrate all the cute and fuzzy pups out there! It's also a wonderful time to consider adopting a new best friend! Are you looking for a perfect addition to your family? These young dogs are waiting for you! Make this National Puppy Day one to remember!
This NYC/Tri-state area pooch is ready to go home!
Atlas
Atlas is a big fan of everyone he meets, and his playfulness is that of mythical proportions. He's looking for a person that shares his legendary love of playtime and outdoor activities! If you're ready to meet the perfect partner for all of life's travels, check out his profile to submit an application!
How about a pup in Ohio?
Bean Sprout
Bean Sprout is tiny but mighty! Bean Sprout was rescued from a "ruff" start in life and has overcome a lot in his short life so far. He will be available for adoption when he is eight weeks old! If he's the superhero you need in your life, and you'd like to learn more about Bean Sprout, please fill out his adoption application!
Meet our North Carolina pups!
Yukon
Yukon is a distinguished pup who adores other dogs and thrives on running around with his doggie companions. He was rescued from a cruelty situation and is ready to feel safe and loved by an adopter! If you think you could be the person for Yukon, please email [email protected] to submit an adoption inquiry! 
Jillian
Jillian is a silly, adorable gal with a curious personality. She came in as a stray and would love for her new active family to enjoy spending time outside! If you are ready to laugh a lot, get your steps in and to stroke some long and luxurious hound ears, please email [email protected] to submit an adoption inquiry! 
Portland
Portland is a sweet, young pup who came to the ASPCA from a hoarding situation. He may be shy upon meeting new people but treats and toys are the way into his heart. If Portland sounds like the match for you, please email [email protected] to submit an adoption inquiry! 
Milwaukee
Milwaukee is a laid-back dude who prefers to relax and enjoy the good things in life like pets and treats. If you're looking for a snuggle buddy to watch your favorite shows in bed with—he's your guy! If Milwaukee sounds like your dream come true, please email [email protected] to submit an adoption inquiry!
If you're outside of these areas, locate a shelter near you to adopt your new BFF. 
If you're not ready for a long-term commitment like adoption, but do have the space in your home, consider making an impact for animals in need by becoming a foster caregiver! You can foster for the ASPCA in Columbus, Ohio, Weaverville, North Carolina, New York City and Los Angeles.
Source: Read Full Article