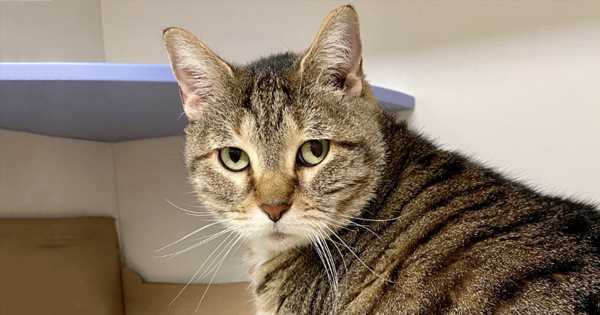 With a name as sweet as Jellybeans how could anyone not want to bring this little treat home!
Since being in foster, Jellybeans has flourished beautifully and is showing off her sweet, affectionate and fun side each passing day! Her foster parents describe her as a sweet, friendly, and independent girl who spends her day following them from room to room. Jellybeans loves being the center of attention and will show you through head butts and low rumbly purring. Like any superstar, she also needs alone time since too much attention can disrupt her peace. Jellybeans would like an adopter who can keep the petting sessions short, offer playtime with wand toys and help her stick to her diet so she can live a long and happy life! 
Her fosters shared some other cute tidbits about Jellybeans: she is a big fan of nighttime snuggles! She follows them to bed every night and hops onto the sheets but doesn't like being under them. She also likes to perch high up and watch her adoring friends from a distance. 
She's the purrrfect addition for someone that understands she likes coming to you for petting, not the other way around. Stay in her comfort zone and you'll have the sweetest baby in your hands! 
Jellybeans would do best in a home with kids ages eight and up, and when it comes to other kitties in the home, she prefers to be queen of the castle! It is unknown how Jellybeans would do with dogs. A Matchmaker will be able to provide you with information about Jellybeans' medical needs and give you tips to help set up Jellybeans for success!
If you live in NYC or the tri-state area and Jellybeans sounds like your new BFF, check out her profile to complete an application!

Source: Read Full Article