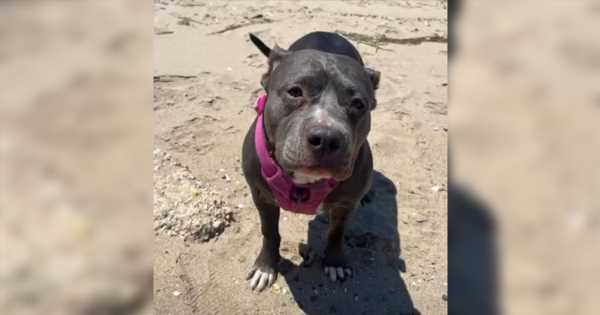 On August 7, Jose P. got off work early and decided to take his two dogs—Nova, a four-year-old pit bull, and Amber, a 10-year-old Chihuahua—to Canarsie Pier in Brooklyn, a popular fishing spot where Nova and Amber enjoy splashing and playing in the water.
Jose was soon joined by his nephew, who set up his fishing pole and supplies. 
After returning from a quick errand, Jose noticed Nova chewing on octopus bait connected to a fishhook. Jose saw the fishhook go into Nova's mouth and tried to get it out, but Nova had swallowed the whole thing—hook, line and sinker.
Emergency Surgery
Jose cut the fishing line from Nova's mouth and immediately drove her to an emergency clinic, where X-rays revealed the fishhook in her stomach. The following day, he took Nova to the ASPCA Community Veterinary Clinic in Brooklyn, where she was evaluated by Dr. Elaine Kosik.
"Nova didn't have an appointment, but aware of her situation, we fit her in as a walk-in," says Dr. Kosik. "She looked pretty happy and stable when we examined her and didn't even have any abdominal pain. Even her blood work was normal."
However, knowing that Nova had swallowed a fishhook and realizing what problems that could create, Dr. Kosik and Emeli Ramirez, a Patient Liaison, referred Nova to the ASPCA Animal Hospital (AAH) in Manhattan for surgery.
Dr. Daniela Gilbert, Staff Veterinary Manager at the AAH, performed Nova's surgery on August 8. Nova was also spayed at the same time.
"The hook, nearly three inches long, was embedded in Nova's stomach wall, which we needed to pierce through to remove the hook," explains Dr. Gilbert. "The puncture was created and repaired during the surgery, which lasted about an hour."
ASPCA veterinarians have performed nearly 100 foreign body removal surgeries in 2023, extracting items including corn cobs, clothing, toys, craft glues and string.
Though Dr. Gilbert says she had never seen a fishhook before, it's easy to see how they can pose a significant danger.
"If swallowed, they can cause internal damage to the throat, digestive system, stomach and intestines, leading to pain and life-threatening complications. Larger hooks can get lodged in a dog's throat and cause choking or breathing difficulties."
Dr. Gilbert says Nova is fortunate Jose acted quickly and sought help.
Jose picked up Nova after work the following day.
"Everything healed nicely," he says. "I'm really grateful."
Hooked on Food
Though Nova gets fed twice a day, just like Amber and Jose's cat, Libby, Jose says she is always tempted by food.
"Nova is a vacuum," says Jose. 
Wiser from the frightening experience, Jose is now better prepared to protect Nova and knows what to do should she ever again bite off more than she can chew.

Source: Read Full Article