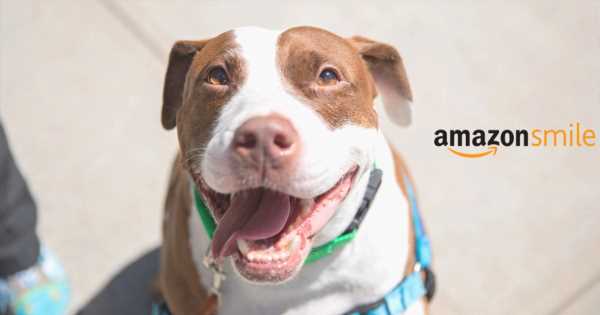 Thanks to our amazing supporters who shop with AmazonSmile, we are honored to announce that to date, over $15 million has been raised to help support our lifesaving work!
AmazonSmile is a charitable program that raises critical funding for a charity of your choice when you shop at smile.amazon.com or with AmazonSmile turned on in the Amazon Shopping app. When you complete a purchase through AmazonSmile, 0.5% of the purchase price of eligible products will be donated to the charitable organization you have selected.
Donations received through AmazonSmile have helped thousands of animals in need, like Aggie, a senior dog rescued by the ASPCA from cruelty and neglect. Aggie was brought to the ASPCA Cruelty Recovery Center, where she received the medical and behavioral care needed to recover. 
One of the ASPCA's professional field responders, Kay, referred to Aggie as "a sweet old soul who helped the scared and shy dogs in play groups." Kay and her husband decided to foster Aggie and they fell in love, formally adopting her soon after. 
"The funding we receive through AmazonSmile helps us continue to rescue vulnerable and victimized animals like Aggie and find them safe and loving homes," said Matt Bershadker, ASPCA CEO. "We thank everyone using AmazonSmile to support our work to help animals in need across the country. It's a simple but powerful way to turn compassion into action."
Aggie spent her golden years going to the beach and on trail walks with her new family. Over time, her walks gradually became slower, but her family allowed her to take her time enjoying the outdoors. When her time came, Aggie passed on peacefully, surrounded by her loving family and free from a life of cruelty and neglect. 
At no additional cost to you, shopping with AmazonSmile can support the ASPCA's lifesaving programs and help us continue to reach the nation's most vulnerable animals, like Aggie. Just visit smile.amazon.com/aspca to select your charity of choice and turn AmazonSmile on in the Amazon Shopping app. 
We extend our heartfelt gratitude to all those who have chosen to support us through AmazonSmile. Reaching this exciting milestone would not be possible without support from people like you! 
AmazonSmile Charity Lists
As another part of their charitable giving program, you can also support the ASPCA's various program teams by donating items we need through our AmazonSmile Charity Lists. 
In memory of Aggie, Kay later donated a total of $1,000 worth of products from the ASPCA Cruelty Recover Center's Charity List. These products will help support the recovery and care of animals who are victims of cruelty and neglect and those who have been rescued from natural disasters and emergencies at this specialized facility. 
"We are so grateful to the ASPCA for allowing us the honor of having Aggie in our home and in our hearts," said Kay. "Rest well my sweet Aggie."
Source: Read Full Article