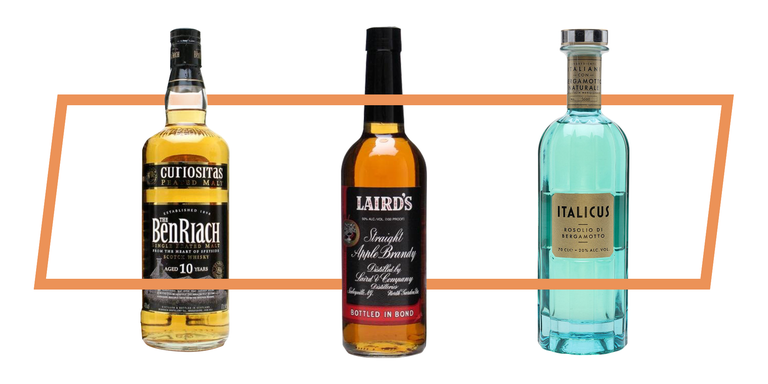 If your old man is really young at heart and loves to drink (who can blame him?), why not get him something on Father's Day that he'll actually use? Thinking about the ideal bottle, it should be something he hasn't tried before, whether it's a new age of his favorite whiskey or the perfect liqueur to create a flavorful cocktail. Either way you mix it (or if he prefers to sip it neat), he'll think of you every time he pours himself a glass. To make it easier, we've rounded up these picks from the unique all the way to the extra high brow. They go beyond your standard bottle, and suit a variety of tastes, to amp up his drinking game.
ITALICUS Rosolio Di Bergamatto
With summer on the horizon, this liqueur is the perfect addition to dad's before-dinner drink. Light, airy, and crisp, it pairs well with anything bubbly or any bottle of gin currently in his home bar. It's a modern take on the original elixir loved during the Medici era with similar ingredients as the original sourced and grown in Italy, of course, including bergamot oranges, Cedro lemons, and more. It's sweet but balanced by bitter tastes, too.
Buy It Here
Flor De Caña 25 Years
If the dark amber hue of this superior spirit is any indication, inside both the aroma and the taste is exactly what you'd imagine. One waft delivers vanilla, woody, and cocoa aromas and one taste delights with sweet caramel notes balanced by fruity and nutty ones. A buttery-smooth finish makes it a luxury to sip. No wonder it won the Best Rum of the Year at the International Rum Conference in Madrid in 2017.
Buy It Here
Laird & Company's Straight Applejack 86
The perfect whiskey alternative in Manhattans and Old Fashioneds, this bottle contains 17 pounds of fresh apples along with other woody and caramel flavors for a full-bodied spirit. It's modeled off a pre-Prohibition apple brandy the Laird family made back then and still produces at 86 proof even now. Plus, it's 100 percent apple brandy—not cut with another grain—so it's spicy but also rich and warm.
Buy It Here
Mr. Black Cold Brew
Although dad probably enjoys his cup of joe in the morning, this caffeine-infused boozy bottle brings coffee culture into nighttime. If he's a coffee purist, even better, because the richly dark liqueur is made with just four ingredients: coffee, alcohol, cane sugar, and water. With only 300 bottles made by hand at a time, it's reflective of the slow process producing cold brew requires. It pairs well with other types of liquor, too, although it might be super tempting for dad to pour it over ice and chug it like a regular coffee.
Buy It Here
BenRiach Curiositas 10 Year
Heavily peated malt barley gives this single malt a woody flavor that's unlike other whiskies dad has probably sipped in the past. Notes of a smoky campfire dominate in this Highland distillation—which is unique for a Speyside—rather than those from the sea, which are more typical in Islay whiskies. It deserves a spot in every drink cabinet.
BuyIt Here
Casa Noble Crystal Tequila
A work of art in more ways than one, this intricate, hand-blown glass bottle houses an equally distinct-tasting tequila. Rather just distilling the tequila two times, it goes above and beyond to do it three times which results in a finer spirit. Similarly, the blue agave is also left to mature for twice as long. No lime is necessary when shooting this, since it goes down smoother than other blancos.
Buy It Here
Ancho Reyes Chile Liqueur
Much like how spices up the ante for any dish when you're cooking, they also add a kick to any cocktail via this chile liqueur. It brings the heat without lacking for flavor. Created in Puebla, Mexico, it's made of ancho chiles steeped in sugar cane spirit for a spicy, smoky, and sweet flavor complex that's super potent. Ramp up dad's margarita or any of his other favorite tequila, rum, and whiskey drinks—it plays nice with them all.
Buy It Here
Sombra Mezcal
Expertly distilled in Oaxaca at 8,000 feet above sea level, this mezcal is smoky but still approachable. It mixes well in cocktails without overpowering but soon dad will be sipping it by itself because it won't take long to get hooked. Plus, it's one of the most sustainable bottles that comes out of Mexico, so if dad is worried about his carbon footprint, too, he'll appreciate the eco-conscious story behind this bottle.
Buy It Here
Woodford Reserve Malt Whiskey
Forget everything you know about malt whiskies because this expression is not any of those. For starters, it comes from Kentucky, not Scotland, unlike most malt whiskies, and it's not 100% malt, but rather is crafted from 51% malt and aged in charred oak barrels for a greater nutty taste. If dad is a bourbon drinker, then he'll love pouring himself a glass of this.
Buy It Here
Grey Goose Ducasse
This is not the same Grey Goose bottle of vodka you're used to seeing at the liquor store. Coming from a collaboration between Grey Goose Cellar Master, François Thibault, and Michelin-starred chef, Alain Ducasse, the formula uses three different levels of soft winter wheat (light, medium, and dark). The varied intensities bring out notes of fresh vanilla and florals for light, toasted brioche, toffee and almonds for medium, and rich dark chocolate with espresso and cooked walnuts for dark. It's the kind of vodka you sip with your meal rather than before or after—yes, it's good enough to replace dad's favorite glass of wine.
Buy It Here
Patron Extra Añejo
A tequila meant to be sipped like a fine whiskey, this 100-percent blue agave spirit combines the best of both flavors, so really you're gifting dad two bottles in one. Besides the typical agave and oak flavors, it also has rich notes of dried fruits, banana, honey, and vanilla. That's because it's been aged for more than three years in American, French, and Hungarian oak barrels. It adds depth to typical tequila cocktails and is a great substitute for whiskey in others for a new spin.
Buy It Here
Benham's Gin
We know Northern California for its wine but the Graton Distillery is putting it on the map for a different reason. This gin was inspired by the kind Derek George Benham, owner of the distillery, had in Spain. Formulated with 12 botanicals like juniper and coriander but also chamomile and mint, it's super refreshing and crisp. Additional fruit flavors heighten the botanicals, making it a great cocktail-ready counterpart.
Buy It Here
Braulio Amaro
A unique and delicate amaro, this liqueur has been around since 1875. A little earthy, a little floraly, a little minty—it combines numerous herbs that are 100 percent natural and indicative of the Valtellina valley in Northern Italy. It's also aged for two years in Slovenian oak barrels. Since it's easy on the stomach, dad will enjoy pouring a glass or mixing into a cocktail to digest after a big meal.
Buy It Here
Frerot XO Cognac
This crowd-tasted cognac was determined by the people, specifically the members of the liquor subscription service Flaviar, to create a full-size bottle of a rich cognac. Chilled at room temperature—a risk that paid off—the different notes of tobacco, cardamom, cinnamon, and dried fruits can make themselves known both in aroma and taste. Bottled at a higher ABV of 42 percent, it's ideal if dad is also a whiskey lover. Plus, you can even engrave it for a personalized touch.
Buy It Here
Source: Read Full Article