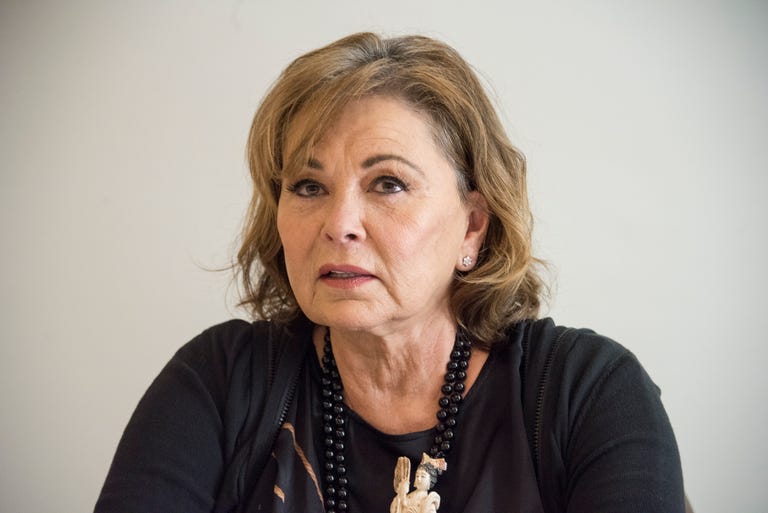 It may produce strange dreams or bouts of daytime drowsiness. It may ruin your balance or make you eat in your sleep.
Ambien comes with more than a few inconvenient side effects — but according to the company that makes it, racism isn't one of them.
Wondering why we have to clear this up?
On Tuesday, ABC cancelled Roseanne after its star, Roseanne Barr, tweeted and deleted a racist message about former Barack Obama advisor Valerie Jarrett. In a statement about the sitcom's cancellation, ABC Entertainment President Channing Dungey called Barr's tweet "abhorrent, repugnant, and inconsistent with our values."
Though Barr apologized to Jarrett and said she was leaving Twitter, the 65-year-old returned to the platform Tuesday night to insist her racist tweet was somehow linked to Ambien.
"Guys I did something unforgiveable so do not defend me," Barr tweeted, according to People. "It was 2 in the morning and I was ambien tweeting-it was memorial day too-i went 2 far & do not want it defended-it was egregious Indefensible [sic]. I made a mistake I wish I hadn't but…don't defend it please."
Racist outbursts as a side effect of Ambien?
MensHealth.com reached out to Sanofi, the pharmaceutical company that makes Ambien, to find out if it was possible. Here's what Ashleigh Koss, Head of Media Relations in North America, said in a statement:
"People of all races, religions and nationalities work at Sanofi every day to improve the lives of people around the world. While all pharmaceutical treatments have side effects, racism is not a known side effect of any Sanofi medication."
There you have it, folks.
Barr has since attempted to clarify her remarks, tweeting in response to another social media user: "i blamed myself. not ambien, stop lying."
She made the same assertion when responding to a tweet by political commentator David Pakman, who'd shared a People article about Barr's Ambien tweet. "no, i didnt i blamed myself. stop lying," she said. "Yes, I have had odd ambien experiences on tweeting late at night-like many other ppl do. I BLAME MYSELF OK? it's just an explanation not an excuse, Ok, bully?"
To learn more about what side effects Ambien does (and doesn't) produce, click here.
Source: Read Full Article