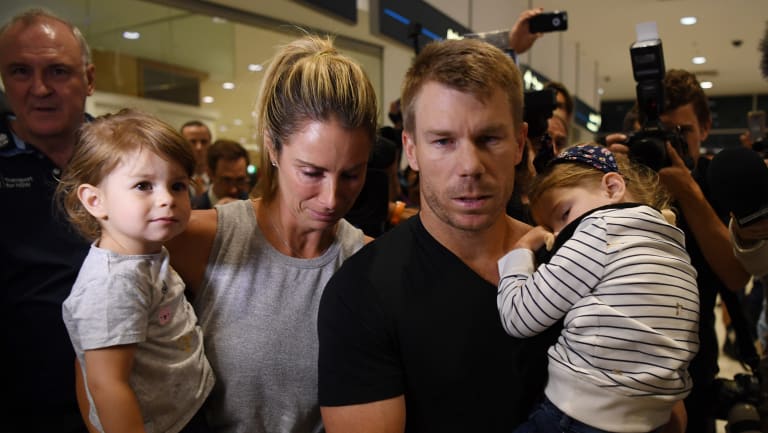 Candice Warner has spoken about suffering a miscarriage amid the ball-tampering scandal involving her cricketer husband, David Warner.
When Candice Warner arrived back in Australia after her husband's role in the Australian cricket team's ball tampering scandal, she was photographed looking understandably distraught.
What the world didn't know at the time was that the 33 year-old mother of two (Ivy Mae is 3, and Indi Rae, 2) was also pregnant.
Now, in a new interview with Australian Women's Weekly Candice has opened up about suffering a miscarriage just one week after her husband's public apology at a Sydney press conference.
"I'd have to be bullet-proof for the taunting not to have affected me," she said in the interview. "It rocked my very foundation and I paid the ultimate price, losing our baby."
"The miscarriage was a tragic consequence, a heartbreaking end to a horror tour."
While Candice is clearly devastated about the loss of a much-wanted pregnancy, her interview has sparked concern among expectant women seeking to discover whether stress can affect the risk of miscarriage.
If you look at the research alone, you'd likely be concerned. That's because a meta-analysis published in Scientific Reports in May 2017 found that psychological stress before and during pregnancy can increase the risk of miscarriage by approximately 42 per cent.
The authors suggested the effects of stress hormones, which can impact some of the biochemical pathways essential for maintaining a pregnancy, could be the cause of such findings.
But Dr Raelia Lew isn't convinced, nor is she alarmed by these results. The fertility specialist from Melbourne IVF and Women's Health Melbourne, says any study measuring the effect of emotional stress is complex. After all, what one person finds stressful may be water off a duck's back for someone else.
The research also had other downfalls, including the fact that many of the studies measured stress in different ways.
The researchers themselves noted potential issues, such as recall bias. That is, when asked whether they experienced stress during pregnancy, women who miscarried may be more likely to remember such incidents compared to those whose pregnancies continued.
As Dr Lew explains, "I think it's one of these areas where the research isn't robust so it's very hard to draw a scientific conclusion."
When it comes to known causes of miscarriage, the main reason is genetic issues and Dr Lew says stress has no impact on that whatsoever. She also can't see how it could affect many other known causes of pregnancy loss, such as placental problems and clotting disorders.
And yet, when women come to see her following a miscarriage, she says they often analyse their previous behaviours, trying to work out what they may have done to lead to such an outcome. But the truth is, she says, most miscarriages have nothing to do with anything a woman did, or didn't do.
Unfortunately, if a woman miscarries she is naturally more likely to be stressed in her following pregnancy, creating even more pressure.
While Dr Lew doesn't believe stress is a key cause of miscarriage, due its other known detrimental effects on health she says, "It makes sense that, if you are pregnant, [you aim to] reduce your emotional stress as much as possible".
Of course, that may be easier said than done, especially when taking into account external factors. But even if those situations, there are ways you can minimise its impact, says psychologist Dr Nicole Highet, founder and executive director of the Centre of Perinatal Excellence, COPE.
"Sometimes just recognising you cannot control everything in itself can play a big part in helping you retain perspective and take the pressure off yourself."
Then, she says, it's all about self-care: nurturing your body with good quality food, incorporating gentle exercise in your life and resting when needed.
Before you roll your eyes, Dr Highet says engaging in such practices have been shown to reduce the impact of stress.
She also recommends stepping back from commitments that make you feel overwhelmed and taking other steps to protect your emotional wellbeing, such as increasing your supports.
Mind you, increasing your supports can be tricky in early pregnancy, especially if you're trying to keep mum about the fact you're expecting.
However, Dr Lew believes sharing news of your pregnancy with close friends and family allows them to better support you, which can reduce your emotional burden.
If you're worried about how stress is impacting your mental health, see a healthcare professional. But Dr Lew reassures you don't need to panic if you're pregnant and worried about how an anxiety-inducing time is affecting your chances of miscarrying.
"The take home message is: The vast majority of miscarriages are completely outside of our control."
Source: Read Full Article