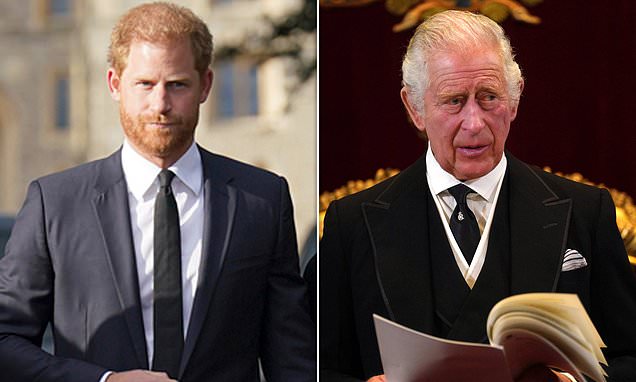 As Harry reveals Charles suffered 'constant' back pain fuelled by King's love of polo, MailOnline shares ultimate guide on the ailment that blights the lives of millions – including Adele, Charlize Theron and George Clooney
Prince Harry has made a series of stunning claims in explosive new book Spare
He wrote about how his father King Charles III suffered with neck and back pain
Breaking royal protocol he revealed that his father did daily physiotherapy 
Read more: Prince Harry called his THERAPIST before his wife Meghan
Prince Harry has discussed his father's chronic neck and back pain in his sensational new memoir.
Detailing King Charles's health woes, the Duke of Sussex wrote about how his father battled 'constant neck and back pain' for which he partly credited to his father's old polo injuries.
But Charles, 74, is not alone in suffering from the agony. 
Here, MailOnline explains everything you need to know about the common ailment that blights the lives of millions across the world.
Prince Harry has broken royal protocol in his memoir Spare, revealing that his father suffered from neck and back pain
Chronic back pain — described as aching, hot, burning, shooting or stabbing agony — affects roughly one in 13 adults, data suggests.
And eight in 10 people will suffer back pain at some point in their life.
It can be caused by an array of factors, including a pulled muscle, a slipped disc — when soft tissue between the bones in the spine bulges out — and sciatica, which is a trapped nerve.
Charles himself slipped a disc in the early 1990s, which saw him miss Royal Ascot in 1991.
Two years later, he aggravated the injury when he fell off a horse at Windsor. 
He agreed to only play for charity after warnings from his doctor that his condition could worsen if he kept playing competitively.
His trademark walk — with his fingers interlinked behind his back — is thought to be a therapeutic trick to help ease his back pain. 
But many cases of back pain — which usually fade on their own within a matter of weeks — are not triggered by an injury. Instead, stress, low mood and inactivity can be to blame.
Normal activities and movements when stressed, tense or tired can also increase the risk of pain, as they make the back more sensitive to movement.
Getting older is not a cause of back pain, nor is poor posture or lifting and bending — even though all are widely-held beliefs. 
In extremely rare cases, back pain can be a sign of a more serious problem, such as cancer, an infection or broken bone. 
Back pain is rarely dangerous and unlikely to be linked with serious tissue damage or require sufferers to use a wheelchair, according to the NHS. 
Staying active — even if just through walking — taking anti-inflammatory drugs, such as ibuprofen, and using an ice or heat pack can all ease back pain.
Staying in bed for longer periods will not help, however, even if sufferers experience some pain when moving and exercising.
Doctors say this is because pain merely reflects how sensitive the body is — not how damaged a person's back is. The pain usually settles down with more activity. 
Sufferers are advised to reach out to their doctor if it does not improve within a few weeks of following these remedies.
Medical help should also be sought if the pain is bad enough to daily activities, is getting worse over time or difficult to manage, the NHS says.
A doctor can prescribe painkillers or other medication to relax the muscles in the back. 
The Duke of Sussex, 38, described how King Charles III, suffers from old polo injuries and must do physiotherapy every day 
Charles, pictured here with Harry, would practice headstands and beg people not to open the door and walk in on him
Reading between the lines Harry hinted at his father's want of privacy on his bad back and neck problems 
Within Spare, the Duke of Sussex revealed how at Sandringham his father would play with him and his brother the Prince of Wales
Harry explains how he felt that his father King Charles III stopped engaging with physical games, before him and William needed him to
Prince Harry's SPARE, memoir will be published globally on 10th January 
They may also refer a back pain sufferers to physiotherapy, manual therapy — when a trained therapist massages and moves the muscles in the back — or cognitive behavioural therapy to help cope with pain. 
Long-term lower back pain patients may be sent for a procedure to seal off nerves in their back so they stop sending pain signals.
But spine injections, surgery and strong drugs aren't usually a cure and aren't considered effective for long-lasting pain relief. 
And if the pain is caused by a specific medical condition — such as a slipped disc — surgery could be recommended. 
Scans are not usually required for back pain sufferers as they rarely reveal the cause of back pain.
Despite the royal family notoriously not speaking about their medical issues, Prince Harry revealed Charles' struggles in his book, which is not due out until next week but was mistakenly published early in Spain.
He details how his father performed daily exercises, including handstands, 'in his pants, leaning against the door or hanging from a bar like an experienced acrobat.' 
The father-of-two then went further, hinting at Charles' privacy about these exercises and health struggles.
He wrote: 'If you even as much as placed your little finger on the doorknob, you would hear him plea from the other side, "No, no, don't open it. Good God, don't dare open it."'
However, when Charles reached middle age, Harry remembered him becoming more 'sedentary, more predictable.'
He refers to him as liking his routine and said that 'he wasn't a typical father who would play catch tirelessly or throw a ball to you until nightfall. He was that at one point.'
But, alluding to the fact that Charles was an older father, Harry detailed how 'he stopped getting involved in those types of physical games much sooner' than he and William 'might have needed'.
He wrote: 'He didn't want to anymore and he was short of breath.'
The King has previously joked that 'bits of me keep falling off a regular intervals'. 
It comes after Adele laid bare her own battle with sciatica.
The condition happens when the sciatic nerve — which runs from the lower back to the feet — is irritated or compressed.
It causes the bottom, back of the leg, foot or toes to feel sore, tingle, numb or weak.
It is usually only lasts four to six weeks. 
The singer, 34, shared that she had 'really bad sciatica' during one of her Las Vegas residency performances last weekend.
She said she has to 'waddle these days' as a result.
READ MORE: 
Prince Harry claims brother William physically attacked him after calling Meghan 'difficult' and 'rude' in 2019 bust-up: Duke of Sussex was 'knocked to the floor' and left bruised, he says as he brands relationship a 'rolling catastrophe' in new book Spare     
Please boys, don't make my final years a misery': Charles' plea to warring William and Harry after Prince Philip's funeral is revealed in Duke of Sussex's bombshell book
How did left-wing Guardian get a leaked copy of Prince Harry's book Spare? Red faces at Duke's publisher as New York-based reporter gets copy of bombshell autobiography six days early 
Source: Read Full Article