Jazz Jennings is set to undergo gender confirmation surgery later this month—and she's not holding anything back.
In a YouTube video posted on June 1, the 17-year-old star of TLC's I Am Jazz and LGBTQ activist reveals that she's getting the surgery on June 26. "I am so looking forward to it. I have been ready for this my entire life," she says.
What is gender confirmation surgery?
Gender confirmation surgery gives "transgender individuals the physical appearance and functional abilities of the gender they know themselves to be," according to the American Society of Plastic Surgeons (ASPS).
For a male-to-female transition, that may include facial surgery, top surgery (for the breasts) and/or bottom surgery, to reconstruct male genitalia to female genitalia. In 2016, 3,200 gender reassignment surgeries were performed in the US, an increase of 20% from the previous year, says ASPS data.
Gender confirmation surgery—and the process leading up to it—is pretty complicated.
"For many patients, the surgery completes the transition process, where the body's external phenotype [appearance] is aligned with the person's internal sense of self," plastic surgeon Rachel Bluebond-Langner, M.D., associate professor in the Wyss Department of Plastic Surgery at NYU Langone previously told Women's Health.
Those who want to undergo gender-affirming treatments and procedures must first go through evaluations to be medically diagnosed as having gender dysphoria (when a person's emotional and psychological identity doesn't align with the sex they were assigned at birth). Jazz may have also had more obstacles before her procedure because of her age (genital surgeries often aren't done before the age of 18, says Bluebond-Langner).
Leading up to the surgery, Jazz says she lost 30 pounds, following a recommendation from her doctor to make her "BMI perfect," she said in another YouTube video. "If you're healthier, that makes you better prepared for surgery, which makes a thousand percent sense," she adds.
Another added complication: Jazz is going to have a slightly "different procedure" than typical gender confirmation surgeries. Jazz started using hormone blockers at age 11, according to the Daily Mail, and so never went through puberty. The blocker, she explains, is an implant in her arm that blocks testosterone in her body so she doesn't develop male characteristics, like facial hair and a deep voice.
My surgery date is coming up in less than a month and I can't wait! I've been ready to get this operation for so long as it's the final step to complete my transition. Watch my new Youtube video (link in bio) to see how I'm preparing for my journey! I hope you all enjoyed #Jazzweek, and stay tuned for future uploads!
A post shared by Jazz Jennings (@jazzjennings_) on
However, while it helped keep her feminine, she says, the "blocker" hindered the growth of her penis, so there's not enough tissue to construct her vagina. The new "experimental" procedure, she says, involves extracting her peritoneal lining (a thin membrane that surrounds the stomach, Jazz explains) to build the vaginal canal. Jazz adds that this creates more realistic vaginal tissue.
"These are life-changing, live-saving procedures," says Bluebond-Langner. She explains that treatment for gender dysphoria, which can include surgery, improves someone's quality of life and reduces depression risk.
Despite the challenges ahead, nothing seems to have dampened Jazz's excitement for the procedure. "I'm going to have new genitalia…like penis to vagina…that's some serious sh*t, ya'll," she says.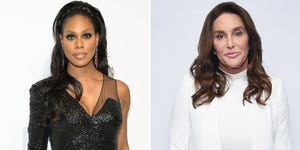 To the people who think it's "too personal" of a subject, Jazz explains that she's being open about her journey is to educate the public. "If I put out this information for people to see, they won't need to ask any more questions," she says. It also serves to educate those in the trans community, too (particularly for parents of trans kids), she adds.
Of course, she says she'll document the whole thing on I Am Jazz. And she'll be popping back up on YouTube to tell everyone how it went and how she's feeling about her new vagina.
Source: Read Full Article