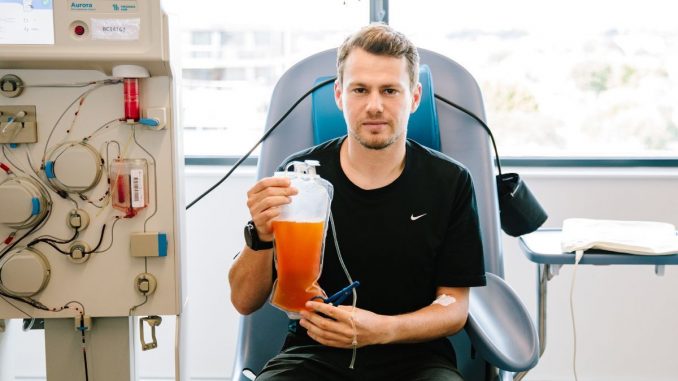 https://www.youtube.com/embed/HF3GQIzZSSM
Some 706 children received immunoglobulin medicine for Kawasaki disease in 2020/21, compared to an average of 336 per year over the previous five years.
The causes are not fully understood but the condition is thought to be related to the body's immune response to infections.
Experts said the sudden increase may have been a result of cases triggered by Covid.
A further 135 children also needed immunoglobulin for paediatric inflammatory multisystem syndrome – a new similar disorder linked to Covid.
Gerry Gogarty, director of plasma for medicines at NHS Blood and Transplant (NHSBT), said: "You can help by donating plasma or blood – you have a medicine in you."
We use your sign-up to provide content in ways you've consented to and to improve our understanding of you. This may include adverts from us and 3rd parties based on our understanding. You can unsubscribe at any time. More info
Kawasaki disease is the leading cause of heart disease that develops after birth in children under five.
It causes the blood vessels to become inflamed and swollen, which can lead to heart failure and death if not treated quickly.
Symptoms include a rash, swollen glands in the neck, dry or cracked lips, a swollen or bumpy red tongue, and swollen hands and feet.
Immunoglobulin medicine is made with infection-fighting antibodies extracted from plasma – the liquid part of the blood.
In total around 17,000 people in England receive a treatment made from plasma each year.
Between 1998 and 2021, there was a ban on using plasma from UK donors due to concerns about the spread of Creutzfeld–Jakob disease, the human form of mad cow disease.
After relying on international supplies for decades, donations have now restarted as the NHS sets up a domestic supply chain.
But more are desperately needed. NHSBT has 5,850 registered plasma donors, around half the 10,200 needed to ensure a stable supply.
Dr Jethro Herberg, paediatric infectious disease expert at Imperial College London, said: "Immunoglobulin is a precious resource as it is a crucial medicine for the treatment of Kawasaki disease. We absolutely need to ensure a safe supply."
Rachael McCormack, founder of Societi Foundation, the UK foundation for Kawasaki Disease, said: "Quick diagnosis and rapid treatment with immunoglobulin in children with Kawasaki disease can be transformational – saving lives and protecting tiny hearts from the devastating impact of lifelong heart disease.
"With more and more children being affected by Kawasaki disease every year, donating plasma means children can get the urgent treatment they need and will have a much better chance of recovery."
Health Minister Neil O'Brien said: "More plasma donors are needed to treat Kawasaki's disease and we are working closely with NHS Blood and Transplant to boost supplies so we can provide the best possible care to patients.
"Thank you to existing donors who have generously come forward. If you can, please consider donating blood or plasma – it could save someone's life."
Dedicated plasma donation centres are open in Twickenham, Reading, and Birmingham. Plasma can also be recovered from normal blood donations.
During a plasma donation, a machine filters out around 700ml of yellow plasma from the blood over about 35 minutes.
To find out more click here.
Blood vessels around Bella's heart swelled as the disease took hold
Three-year-old Bella Hessey's life was saved by immunoglobulin treatment after she was struck by Kawasaki disease as a baby.
She developed symptoms including a whole body rash, red eyes and high temperature, which were initially misdiagnosed as an ear and throat infection.
As the disease ravaged her tiny body, she suffered bulges in the blood vessels around her heart.
One artery which should have been one to two millimetres wide swelled to 12mm.
Bella's mum Abigail Baker, 26, said: "The immunoglobulin's effect was instant. Straight away, her colour came back to normal.
"By the next morning she was eating again and her fever had completely gone. It saved her life."
Abigail, a recruitment consultant from Bicester, is supporting the appeal for more plasma donors.
She added: "You see comments online from people all over the world trying to get hold of immunoglobulin because it's expensive.
"It's very important that people can donate again in England so we can have a more secure supply here, especially because treatment for Kawasaki disease is time restricted."
Source: Read Full Article