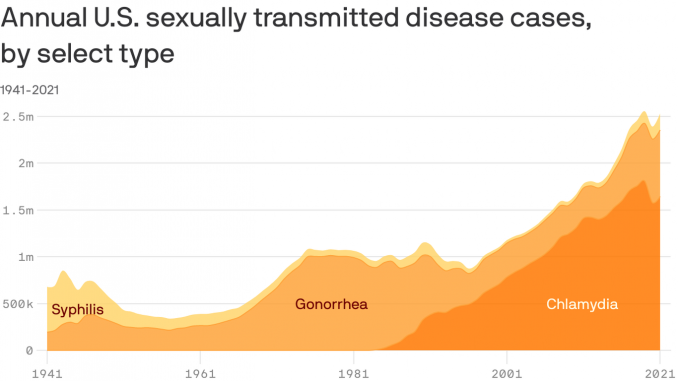 Chlamydia, gonorrhea and syphilis surged in the U.S. in the second year of the pandemic, reaching more than 2.5 million cases in 2021, the CDC said on Tuesday.
Why it matters: STI's have been on the rise since 2017 — and the number of syphilis cases recorded in 2021 was the highest in 70 years.
State of play: Undetected spread of the diseases could worsen if courts uphold a recent ruling striking down the Affordable Care Act's full coverage requirement of certain preventative services, including STI screening.
Concern is also growing around antibiotic-resistant strains of gonorrhea. In January, U.S. officials reported two cases of a particularly worrisome strain, CBS News reported.
By the numbers: The CDC focused on four nationally notifiable conditions, finding cases of syphilis jumped 32% in 2021 over 2020, and have increased by 74% over the past five years.
Syphilis among newborns, has increased more than 203% in five years.
Gonorrhea and chlamydia rates increased more than 4% between 2020 and 2021.
The intrigue: CDC officials are eyeing a potential solution for slowing the spread of infection in an old antibiotic, doxycycline, following a promising study in the New England Journal of Medicine, the Associated Press reports.
The agency is drafting recommendations for using it as a "kind of morning-after pill for preventing STDs," they write.
Source: Read Full Article