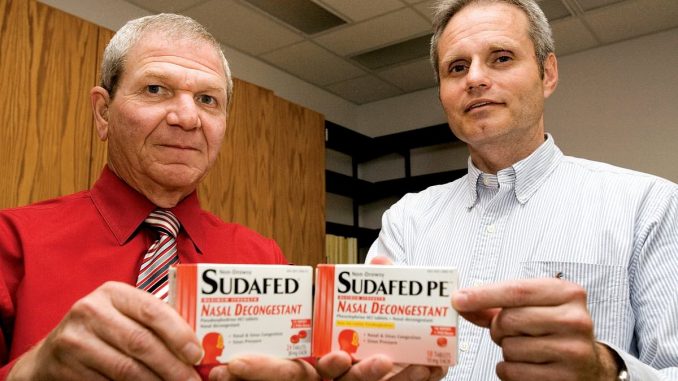 Two scientists who took down America's favorite cold meds: Florida pair have been warning ingredient in some OTC Sudafed and Benadryl doesn't work for 20 YEARS say they feel 'vindicated' after FDA ruling
University of Florida pharmacists have been pressing for FDA action since 2006
A panel of experts at the FDA finally agreed with them at a meeting last month
READ MORE:  CVS pulls popular, ineffective over-the-counter cold medicines 
When the FDA announced last month that the main ingredient in the country's favorite cold and flu meds didn't work, it was 'vindication' for the two scientists who dedicated nearly two decades to proving it was a dud. 
Randy Hatton and Leslie Hendeles have been warning since the 1990s that phenylephrine – found in Sudafed PE or Dayquil Cold and Flu – was as ineffective as a placebo pill that when ingested did not enter the bloodstream to go to the nose.
Dr Hendeles, an expert in pharmacokinetics, or the way medicines move throughout the body, was the first to critique phenylephrine in 1993 in a study that compared the efficacy of that and other more cold remedies including pseudoephedrine, the main ingredient of Sudafed.
But for all their findings pointing to its inefficacy since that first 1993 report, the FDA and consumer groups continued to brush off their concerns, insisting that the ingredient was worth keeping on store shelves. 
This also kept drug manufacturers happy, given that the phenylephrine medicine industry reaped nearly $2 billion in profits last year. 
Dr Leslie Hendeles [shown left] and Dr Randy Hatton [right] pressured the FDA to take action on ineffective phenylephrine for nearly two decades before the agency agreed last month that the ingredient was no better than a placebo
The FDA panel's unanimous vote agreeing that phenylephrine is ineffective is not binding but strongly suggests the agency could soon heed their advice and pull its approval, forcing companies to pull or reformulate their products
The FDA's announcement on September 12 that its advisory committee had concluded phenylephrine was ineffective as an oral decongestant (the nasal sprays are still considered highly effective) caught millions of Americans by surprise.
That included Hatton and Hendeles, both pharmacy professors at the University of Florida.
Dr Hatton told the Wall Street Journal: 'We felt vindicated for something that we've been working on for nearly 20 years that the FDA staffers and the advisory committee voted unanimously of what we had been saying for quite a long time. So that's quite rewarding.'
CVS has decided to pull certain cough and cold medicines whose main ingredient is phenylephrine.
Dr Hendeles said: 'That was exhilarating for me to hear that.'
As FDA rules some cold drugs don't work, docs say what to take instead 
The US FDA announced an ingredient in common cold medications doesn't actually work, but it turns out Grandma may have been right all along: Chicken soup is the perfect remedy. 
But other major chains such as Walgreens and RiteAid have told DailyMail.com that they will only pull products from shelves if the FDA demands them to do so.
Phenylephrine hit the market in the 1930s and has been used in more than 260 over-the-counter cold medicines since the 1970s. The medication was meant to constrict blood vessels to clear congestion.
Until 2006, the cold medicine Sudafed was millions of Americans' go-to for cold and sinus troubles.
Its main ingredient pseudoephedrine is a highly sought-after chemical precursor in clandestine labs manufacturing methamphetamine, a fact that until Breaking Bad character Jesse Pinkman showed up in Americans' living rooms, many may not have known.
But many experts did know, including Dr Hendeles, who had already found that that phenylephrine in pill form is rapidly absorbed in the gut and eliminated before it can have any effect, rendering it essentially worthless.
By comparison, pseudoephedrine is hardly metabolized at all, and 90 percent of it goes into the bloodstream and the blood carries it to the nose.
With pseudoephedrine now relegated to the back of the pharmacy behind the counter, most cough and cold medicine manufacturers replaced the amphetamine with phenylephrine.
At the time, Dr Hatton was running a pharmacy research lab at UF where students would field questions from medical professionals about certain drugs and work to find the answers.
They were suddenly receiving an influx of calls from pharmacists saying customers have complained about their cold medicines not working. 
Dr Hatton's lab's research led them to Dr Hendeles' 1993 study. Given their offices were down the hall from one another, it did not take long for the two to collaborate.
They compiled every study they could find on phenylephrine, evaluated them all, and in 2007 concluded that the standard 10-milligram dose was no more effective than a sugar pill.
CVS will begin pulling popular oral cough and cold products with phenylephrine as the only active ingredient from its store shelves. Pictured: Empty CVS shelves in New York City
The pharmacy chain is removing the products voluntarily after a panel of advisers to the FDA last month refused to back the effectiveness of oral over-the-counter medicines made with the ingredient
They wrote a petition to the FDA asking to increase the standard dose to 25-mg and rescind approval for the drug's use in children 12 and under. They were not asking the FDA to pull the drug from store shelves.
An FDA hearing to discuss the issue included testimony from representatives of Schering Plough (now Merck), which at the time made mega-popular pseudoephedrine decongestant, Claritin-D.
The company conducted several studies on phenylephrine efficacy in 2015 and 2016 and found that the ingredient was not only ineffective at 10mgs, it was just as ineffective at a dose four times as high. Only one percent of the medicine was active in the bloodstream.
Drs Hatton and Hendeles pounced on these findings and wrote another petition to the FDA in 2015 which led to the agency's Non-prescription Drug Advisory Committee to vote unanimously to agree that the ingredient did not work, wrapping up about two decades of Drs Hatton and Hendeles' hard work.
Dr Hendeles said: 'That's a big lesson for people to learn and they need to ask their pharmacists before they pick up a product. So that's one thing the drug companies are learning that they're having to answer the question why are they selling something that they know is not effective?' 
Their ruling is not binding but strongly suggests the agency could soon heed their advice and pull its approval, forcing companies to pull or reformulate their products.
The ingredient is protected under the FDA's Generally Recognized as Safe and Effective (GRASE) designation, but a reversal of its approval could mean manufacturers including Bayer and Johnson and Johnson might need to reformulate.
For now, anyone with a cold and stuffy nose would probably fare better with a bowl of chicken soup over a pack of Tylenol Cold & Flu.
Source: Read Full Article