Prince Harry and Meghan Markle are officially Duke and Duchess of Sussex, and the royal couple duly celebrated by sharing a ridiculously romantic kiss outside the chapel.
And by doing so, the royal couple have set a precedent because their kiss has broken royal tradition, and thus made royal history – according to Bridebook.co.uk
Back in 2011, Prince William and Kate Middleton kissed on the balcony at Buckingham Palace because their wedding was a state one.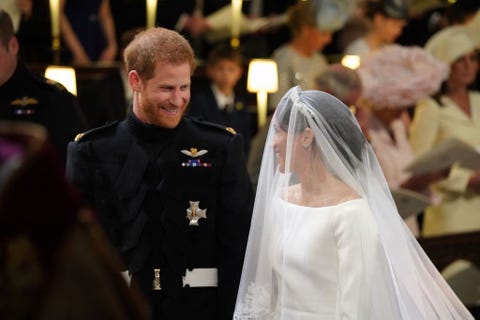 Getty Images
Harry and Meghan's wedding wasn't a state wedding, but they obviously wanted to share their kiss with all the well-wishers gathered outside St George's Chapel in Windsor, which is why they had a cutie little smooch on the steps.
Their royal kiss on the steps of the chapel is a first, as no other royal couple who have married at St George's Chapel have kissed outside the West Door before.
Royal couples who have tied the knot at the chapel have included the Queen's youngest son, Prince Edward and Sophie Rhys Jones in 1999, and Prince Charles and Camilla Parker Bowles in 2005.
"Harry and Meghan's wedding is full of firsts, not least with the kiss," Bridebook.co.uk tells Cosmopolitan UK.
Getty Images
"While the British public were denied a balcony kiss due to the location, their kiss upon leaving St George's Chapel was the first ever royal kiss to be had on the steps outside the West Door (despite it being the location for many a royal wedding previously."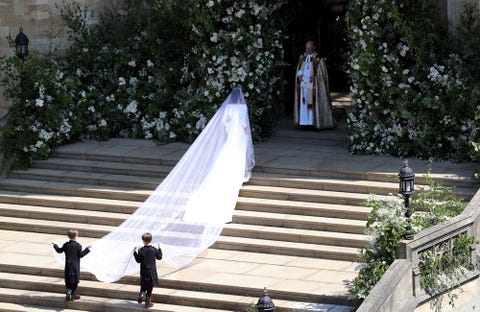 Getty Images
Meghan looked stunning in a long, flowing veil draped over her Queen Mary Diamond Bandeau tiara, and opted for a simple, chic Givency gown by British designer Clare Waight Keller with no embroidery or beading.
Prince Harry and Meghan left the chapel and are on their royal procession around Windsor.
Celebrity guests at the wedding have included Oprah Winfrey, Victoria and David Beckham, and the cast of Suits.
From: Cosmopolitan UK
Source: Read Full Article