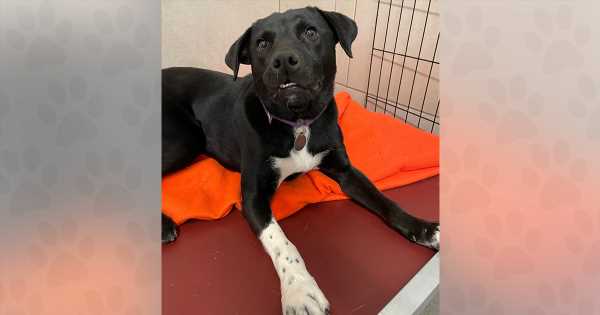 Hey, new pet parent!
My name is Portland and I'm so excited to meet you! I've been waiting for you for some time, and my moment to shine is finally here! I want to tell you ALL about myself—I don't want there to be any secrets between us!
Before I arrived at the ASPCA Behavioral Rehabilitation Center in Weaverville, North Carolina, I was living with many, many other dogs. As much as I enjoy other dogs, it was too crowded—I just wasn't getting all the individual attention, care and structure that a young, energetic dog like me needs! Thanks to the help I received from my new friends at the BRC, I'm ready to find a family who will dote on me and help me learn the way of the world. I might be a shy guy when we first meet, but if you have toys and treats, we'll be best pals in no time!
I really love playing and getting exercise, especially with other dogs—they help make me feel more confident! It's great to have doggy role models to look up to. Going for walks with a human buddy is also great fun, and when I'm playing with my toys, I can have a great time all on my own! I'm sure you'll see me throwing my toys around without a care in the world. It's cute and I know it!
My other great love is food, but I might love it a little too much for my own good! I used to have so much competition for food in my past life, so I hope you'll be patient with me! My friends at the BRC say you should "puppy-proof" your home to make sure I don't get into any mischief during the day. They've also helped me learn that a crate is a wonderful place where I get lots of tasty treats and can take a nice nap, too. I'm also learning how to share, so they recommend keeping an eye on me if I ever have my favorite snacks around other dog buddies.
Now that you know all about my favorite things, I'm so excited to move in with you and join the family! I really enjoy having a lot of beds to choose from during the day—sometimes I'll skooch my bed around the house to find juuust the right spot! I'm already scheduling my daily snoozes by your side while you're working or just hanging out. As your new family member, I know I have some doggy skills to work on, but if you have some tasty treats for me, I'll be learning the ropes in no time!
I'm so glad you believe in second chances as much as I do! To find out how to adopt me, please email [email protected] to submit an inquiry!
I cannot wait to see you!
Love,
Portland


Source: Read Full Article