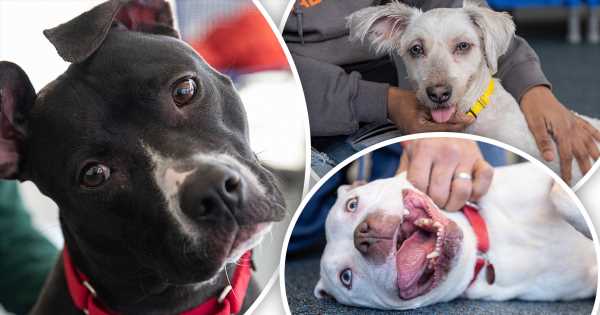 Here at the ASPCA Adoption Center in New York City, some of the dogs in our care have had a rough time getting by in the big city. All the city noises, sights and smells can be overwhelming for anyone—but that's especially true for these sensitive pooches. Some dogs really flourish and show off their best canine qualities in a calmer neighborhood—a fenced-in yard would also be a plus!
If you are looking for a new furry family member, and you live outside of the city or in a quieter, low-traffic neighborhood, we'd love for you to meet these wonderful, loving pups. They'd be thrilled to settle down with you and enjoy some peace and quiet in your home!
 
Winnifred
Winnifred is a very sweet girl with the cutest, floppiest ears! She's looking for that special someone who will help build her confidence and use a slow approach to help her come out of her shell. She loves playing fetch, as well as playtime with her dog friends, so we think she would thrive in a backyard of her own! Are you ready to meet Winnifred? Read her profile to learn more!
 
Toto
Does a yellow brick road lead to your home? Then Toto may be the lapdog for you! She's adorable as can be, but she needs some warm encouragement when she's feeling overwhelmed. She's working on how to ask for playtime and pets, and she's been learning quickly with gentle redirection. She's a real sweetheart, and we can't wait for you to meet her! Check out her profile to learn all about terrific Toto!
 
Sunshine
Our own Little Miss Sunshine is looking for someone to love on! She wants nothing more than to sit at your side, giving you all the kisses she can, and then ask for belly rubs! She's been working a lot on her doggy manners, so her ideal adopter would be experienced with dogs like her. If she sounds like the Sunshine you need in your life, learn more about her on her profile!
 
If you aren't ready to adopt right now, please share this post with your family and friends who are! If they live in a quiet area, they may be the perfect match these cuties are looking for. Spreading the word may help these dogs find the loving homes they deserve!
Source: Read Full Article