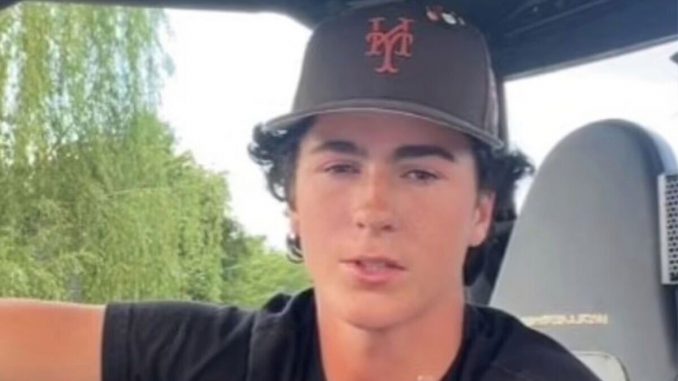 Canadian teenager Harrisson Gilk died peacefully on March 30th with his "mum, dad and brother holding his hands and by his side", according to his obituary. The popular TikToker had gained a legion of followers as he began documenting the completion of his bucket list, following news from doctors that his cancer was untreatable in 2022.
The TikTok star, who amassed more than 314,000 followers while recording his battle with cancer on TikTok, passed away peacefully.
Harrison first announced that he was diagnosed with rhabdomyosarcoma – one of the most common soft tissue sarcoma in children – in 2020.
The disease accounts for just one percent of cancer-related deaths in the USA but is notoriously deadly once it starts spreading to neighbouring tissue in the body.
In 2022, Harrison received news from his doctors that he was in remission, after undergoing months of chemotherapy and radiation. It wasn't until the disease returned in June of that same year, that doctors said the cancer had become untreatable.
@harrisongilks1 #fuckcancer ♬ original sound – Harrison
Harrisson shared the devastating news on his TikTok account, marking the beginning of his journey to complete his bucket list and live life to the fullest.
He remained frank about the realities of his disease throughout the journey, giving viewers regular updates on his health.
In recent clips, the 18-year-old was seen taking helicopter rides, embarking on trips around the world, and meeting some of his favourite sports figures.
As part of his bucket list, the content creator travelled to Mexico last month with loved ones before sharing a tragic clip with his followers.
Don't miss…
Bowel cancer patient thought symptoms were a haemorrhoid [LATEST]
New bride told she has 'days left to live' after misdiagnosis [LATEST]
Woman, 52, hit with bowel cancer after experiencing two warning signs [LATEST]
In one of his latest videos, the popular TikToker said: "Hey everyone, so I have a pretty big update here.
"I had some complications during the trip."
Harrison explained that the disease has metastasised to his liver and one of his lungs, causing it to fill with fluid.
"The doctor said I don't have a whole lot of time left. The chances of me going home are very slim," he added.
"So I'll be in the hospital for probably the remainder of whatever time I've got left, which is obviously very upsetting."
He went on: "I wish there was something that you guys could do, that I could do, that the doctors could do, but there isn't.
"The best thing you guys could do for me I guess, is praying for me. […] It's been a great ride with you guys, on the bucket list."
@harrisongilks1 #fuckcancer ♬ original sound – Harrison
Earlier this week, Harrison's brother, David, took to TikTok to announce the death of his older sibling.
He said: "He was in pain when he passed away and he was with his family."
"I just wanted to come on here and say thank you to everybody from around the world for their support and encouragement. It really did mean a lot to him."
Source: Read Full Article