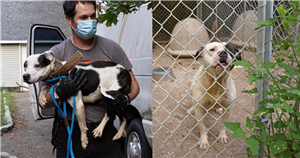 In late July 2021, we assisted with the removal of 89 dogs from a dogfighting ring operating across Long Island, New York City and in several other states. On the property, the dogs were found in various locations in the residences, including basements, garages and sheds, and some were without food and water. Many of the dogs displayed various medical conditions consistent with dogfighting, including scarring and broken teeth, and were exhibiting fearful behavior. Dogfighting paraphernalia was also found on the scene. 
Two things were clear: these dogs had been through trauma we couldn't begin to imagine, and they needed help immediately. In the group of dogs rescued that day were Fiona and Rascal, who were both displaying signs of extreme fear. 
A Second Chance
Following their rescue, Fiona and Rascal were transported to the ASPCA Cruelty Recovery Center (CRC) in Columbus, Ohio, where they could receive ongoing care for both their medical and behavioral needs. But most of all, this is where they would finally receive some time to heal.
"During her initial evaluation, Fiona was growling, barking and lunging toward people, but it became clear that it was coming from a place of fear," explains CRC Behavior Specialist, Jacque Nikitaras, who worked with both Fiona and Rascal. 
To help ease their fears and show Fiona and Rascal that the world isn't such a scary place, Jacque and the rest of the behavior team worked with them on confidence building. For many dogs, combining items they enjoy with items they're scared of helps to create positive associations with the "scary" items and experience. The behavior team at the CRC began associating treats—things Fiona and Rascal love—with scary things like new people or stimuli. 
They also worked with both dogs on leash work and other essential skills. Fiona specifically did a lot of car work as she was pretty fearful of car rides and traveling.
After roughly three months of rehabilitation, both Rascal and Fiona had become completely different dogs. 
By the end of their time at the CRC, Fiona had grown so immensely that she even became a helper dog for other fearful canines. Helper dogs act as guides and provide confident canine support to fearful dogs during their rehabilitation, so it's safe to say that Fiona had come nearly full circle. 
Though both dogs were still somewhat fearful—and potentially always will be due to their trauma—the two were ready to be companion animals.
Learning Together
Around the same time Fiona and Rascal came to the CRC, Becky Spohn had just begun her job as the Senior Manager of Facilities.  
"I joke that we all started with the ASPCA at the same time. My first day was July 26, 2021, and they were rescued on July 31, 2021," remembers Becky. 
Up until this time, Becky had been traveling a lot for work and had been without an animal companion. But now that she had relocated to Ohio to work for the ASPCA and to be closer to family, she felt ready to expand her family. Becky had found a house with a big yard and was searching for a pair of medium or large-sized dogs to take hiking, go on long walks and cuddle on the couch with.  
"I really wanted a bonded pair. I work away from home during the day and wanted two dogs to keep each other company while I was away," says Becky. 
Becky asked Jessi Henry, Senior Manager of Animal Behavior, to find her a good match, so she introduced her to Rascal. 
"It was love at first sight for both of us," Becky remembers. "Jessi asked me to come into Rascal's kennel with her;  I sat on the floor, he crawled into my lap and laid down. That was it! He was my new fur baby! We spent as much time together as possible in the shelter until I could take him home. He was my 'office dog' and I was able to join him in play group."
Since Becky was looking for a pair, Rascal was only one piece of the puzzle. She asked Jessi next who they thought would be a good partner for Rascal. That's when Jessi introduced Becky to Fiona. 
"At first I was very unsure," explains Becky. "She came into the shelter with concerns. But Jessi assured me she would be a good fit and that she was a different dog out of the kennel." 
Fortunately for everyone, Jessi was right! 
"Out of the kennel Fiona was a different dog, very calm and friendly," Becky says. "She also got to spend time with me as an office dog and we quickly became friends. After a few weeks she would let me come into her kennel and she accepted treats from me and would ask for pets."
After thoroughly getting to know these two survivors, on November 23, one day before Thanksgiving, Becky officially adopted Rascal and Fiona. After adopting the dynamic duo, Becky changed Fiona's name to Arya. 
A Tough Transition
Going to a new home can be scary for many dogs, especially dogs with violent and traumatic pasts like Arya and Rascal.
"The first few months were tough," explains Becky. "Arya was afraid of everything including me. She spent most of her time running outside (through the doggie doors) or hiding in corners. It really took time to earn her trust and we worked very closely with her veterinarian to help her stay happy."
In addition, since both Arya and Rascal had lived in cages for most of their lives, they weren't housetrained. This was likely the first time either dog had experienced the comforts of a real home. 
"There was a bit of a learning curve for all of us," says Becky. 
During the bumps in the road, Becky was so excited to have her new pals at home and couldn't wait for family members to come meet them. 
"Rascal loved meeting new people, but Arya did not," Becky remembers. "It took her a long time to warm up to people. It took her the better part of a year before she really started to want to meet new people in the house."
Rascal and Arya were also pretty scared of other dogs in the neighborhood. Neither dog would want to go on walks and Rascal would "pancake" himself on the ground when other dogs approached. 
But Becky never gave up on the pair. She knew she could help them live comfortable and happy lives, so she worked hard with both of them on housetraining and gave them the time and space to heal and overcome their fears. 
Someone to Lean On
More than a year later, Arya and Rascal have settled into their home and let their personalities blossom. 
"Rascal lives up to his name. He is a total Rascal!" Becky tells us. "If anything is left lying around, he assumes it belongs to him. Shoes, socks, sweatshirts, kitchen towels hanging in the oven door, water bottles. He has this way of looking at me out of the corner of his eye as he steals the blanket off the couch and makes a mad dash for the doggie door." 
She continues: "He also loves to be a lap dog and be petted for a limited time. When he decides he's had enough, he will move to the other end of the couch. He likes to sleep in total darkness. If Arya and I are watching TV past his bedtime he will go sleep on the couch in my office or his kennel where it is dark and quiet."
"Arya is my Velcro girl!" Becky says of her little girl. "Such a transformation from the scared dog I brought home. She is very jealous if Rascal gets attention and she doesn't. If he is lying next to me on the couch, she will squeeze herself between Rascal and the back of the couch and will move her legs to push him off the couch. If he's on my lap she will sit on him or climb on me. I tell her 'I'm allowed to pet your brother!'"
In her new life, Arya now loves to go on walks and hikes and meet every person and dog on the path—something that would have terrified her just a year ago. She also protects her brother and helps to boost his confidence when he needs it.
"Arya helps Rascal when the three of us walk together," says Becky. "I've learned that I need to walk her first, by herself for a mile or two so she can get her energy out and meet everyone else (dogs and humans) on their walks. Then, we go back home and get Rascal. Arya helps him walk; when he pancakes, she will nudge him and lick his face as if to say, 'It's okay brother, you can do it!'"
Though, it's not just Arya helping Rascal. 
Arya has always been pretty fearful of cars, even though she loves going to new places and meeting new people. But she feels better with her brother by her side.
"Arya has to be lifted into the car; she shakes until Rascal lays down next to her," Becky explains. 
Arya also loves to wear sweaters; however, Rascal does not, so he will take Arya's sweaters off her. Once removed, Arya will bring Becky her sweater to put it back on her. Sometimes this routine can go on and on, all day long!
Overcoming an Unfair Stigma 
Becky helped to change Rascal and Arya's lives for the better, and they try to return the favor. Becky has Season Affective Disorder and winters can be very hard for her. Having her best friends by her side makes all the difference. 
"These two pups get me out of myself and out of my depression and make me smile," says Becky. "I'm single and lived alone. I just love having cuddle buddies on the couch or in bed on cold winter nights. They keep me on my toes and make me laugh! They get me up and moving and help me stay on my fitness routine. And…I never get to go to the bathroom alone."
Though Becky didn't think twice about adopting dogfighting survivors, unfair and untrue stigmas still surround dogs rescued from fighting. These biases and stigmas can often leave dogs waiting in shelters hoping that someone will give them the second chance they deserve. While every dog will experience trauma differently and heal in different ways, and though every dog will have its own specific set of needs, we've seen countless dogfighting survivors like Arya and Rascal go on to find loving homes. 
As someone who knows a bit about dogfighting survivors, Becky offers some advice: 
"Go in with an open heart. Take your time with them, work with them to earn your trust. Know that they may be terrified of some humans or situations due to the abuse they suffered. They are the biggest babies and just love to cuddle."
"Educate others," Becky adds. "I've spoken with neighbors and family members to reassure them that my dogs are just as loving and cuddly as their dogs—and in many cases even friendlier!"
Though it's a felony in all 50 states, dogfighting persists all over the country. At the ASPCA, we work tirelessly to rescue and rehabilitate victims of this cruel and heinous practice, and to hopefully one day eradicate dogfighting so that no dog ever has to experience the horrific abuse and inhumane conditions that dogs like Arya and Rascal once did. 
As we recognize National Dogfighting Awareness Day on April 8, consider becoming an advocate for dogfighting victims like Arya and Rascal. Whether that means adopting a former victim or simply sharing Arya and Rascal's story with your friends, family or on your social media, you can make a life-changing difference for victims. 
Source: Read Full Article